Will Michigan soon allow an EMT to refuse emergency treatment to a gay person on religious grounds? That's one of the consequences critics fear a controversial religious freedom measure may have if passed into law.
The bill, HB 5958, zipped through the Michigan House Judiciary Committee last week and then the full chamber on a 59-50 party-line vote -- all in one day. It now heads to the Republican-controlled state Senate for consideration, and then to the desk of Republican Gov. Rick Snyder.
With Republicans poised to take control over more state legislatures next year, civil liberties advocates warn the Michigan measure signals a coming storm of GOP-backed legislation that could cripple LGBT rights.
Also known as the "Religious Freedom and Restoration Act" (RFRA,) HB 5958 is modeled after a federal law at issue in the Supreme Court's notorious Hobby Lobby ruling. That decision determined that closely held corporations, like the evangelical-owned craft chain, wouldn't have to cover the cost of contraception for their employees based on the owners' sincerely held religious objections. Nineteen states have adopted RFRA laws that mirror the federal measure, which the high court determined in 1997 did not apply to the states.
Related: "The law that could sink birth control coverage"
Like the federal RFRA, Michigan's bill protects people from laws that substantially burden their sincerely held religious beliefs, unless the government can prove that the offending law serves a compelling interest and accomplishes that goal using the least restrictive means possible. President Bill Clinton signed RFRA into law in 1993 as a protective measure for religious minorities, something Michigan House Speaker Jase Bolger -- HB 5958's sponsor -- now points to in the face of accusations that his bill is extreme.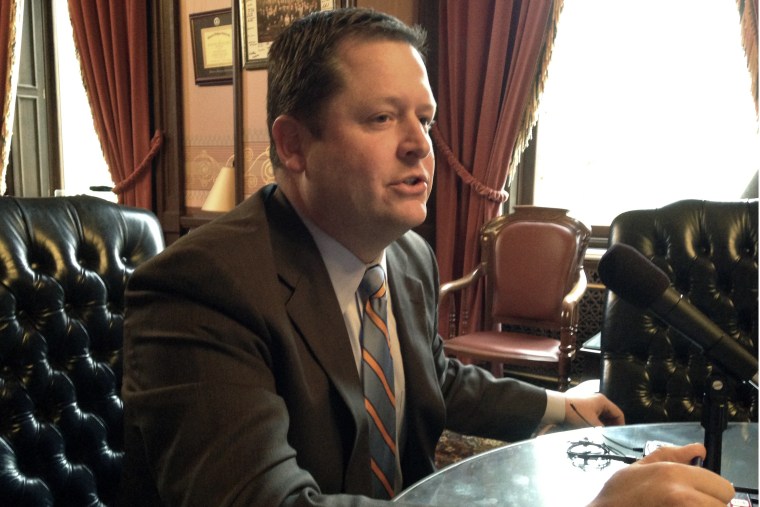 "Do you think that Bill Clinton and Ted Kennedy were extremists?" Bolger said in an interview with msnbc. "We modeled [this bill] directly after what they did. I'm baffled to hear that what we're doing is out of line." 
But opponents say otherwise. While Bolger insists the bill is meant to protect, say, the Muslim butcher who wants to prepare food in line with halal practices, or the Jewish mother who doesn't want an autopsy performed on her son, civil liberties advocates warn it could be used as a defense for the landlord who wants to evict a gay tenant, or the pharmacist who doesn't want to provide birth control, all because of sincerely held religious beliefs.
In some of the ugliest scenarios, critics say the measure could allow Catholic-owned hospitals to refuse admittance to people who need a procedure that violates the institution's religious directives, such as a pre-viability pregnancy termination in the case of a miscarriage. In another instance, opponents foresee the bill being cited as a legal defense in domestic violence cases.
"In many religions, it's OK for a man to beat his wife," Brooke Tucker, staff attorney at the ACLU of Michigan, told msnbc. "Based on language in this bill, all he has to say is my religion allows me to do this."
In the last legislative session, religious freedom measures were percolating in more than a dozen states, fueled in large part by high-profile discrimination claims such as one in Colorado – where a baker refused to make a wedding cake for a same-sex couple – and another in New Mexico – where a photographer refused to shoot a same-sex commitment ceremony. Both of those business owners ended up losing in court, having violated their states' non-discrimination laws. (New Mexico and Colorado happen to be two of the 18 states that prohibit discrimination based on sexual orientation and gender identity; most states, including Michigan, have no such protections.)
"Do you think that Bill Clinton and Ted Kennedy were extremists? We modeled [this bill] directly after what they did."'
For the most part, the religious freedom movement lost too -- only it was in the court of public opinion. Under enormous pressure from major corporations like Apple, Delta, American Airlines, and the NFL, Arizona Gov. Jan Brewer earlier this year was forced to kill a religious freedom measure that passed her state's Republican-controlled legislature. The move effectively stopped similar bills dead in their tracks, save one in Mississippi, where a state RFRA went into effect on July 1.
The Hobby Lobby decision, however, as well as the Republican sweep in November's midterm elections, seems to be encouraging "religious freedom" supporters to try again.
"We are very concerned as marriage equality becomes a reality that proponents of these bills are going to regroup and pour more resources into it, and that the push will be even more aggressive," said Eunice Rho, an advocacy and policy counsel with the ACLU. "We're certainly expecting [religious freedom bills] to be a very real threat in the upcoming year."
Related: "Religious Freedom' strikes back against marriage equality gains"
Marriage equality is now legal in 35 states, including one in the Deep South. But though same-sex couples can wed in South Carolina, lawmakers there have introduced legislation that would explicitly allow any employee of a clerk's office to deny gay and lesbian couples marriage licenses on religious grounds. In Texas -- another Deep South state that could soon see marriage equality -- lawmakers have pre-filed a measure that would enshrine the state's existing RFRA statue into the Texas Constitution. Unlike the statutory RFRA, Rho says, Texas' proposed constitutional amendment does not include a provision barring its use as a defense in civil rights law violations, making it considerably more broad and potentially harmful to the LGBT community.
Bolger denies that his bill would be the "parade of horribles" he's heard. He insists it would simply give people the freedom to practice their faith in public and add another layer of protection to their First Amendment free exercise guarantees -- much like how the Open Meetings Act builds off freedom of the press protections, he said.
Additionally, Bolger stressed that the law is meant to exist between an individual and a government action, not between two individuals like, for example, the religious landlord and his gay tenant. The landlord may try to use RFRA as a defense in court for evicting his tenant based on sexual orientation, but that doesn't mean he'd win, Bolger explained.
The ACLU, however, says that interpretation is off base.
"One of the ways that anti-discrimination laws work is that you have government agencies going after the people accused of discrimination. In that case, it would be a 'government action,'" said Tucker. "For the landlord who violates the Fair Housing Act, a lot of times it's the government who goes after him. The government takes a lot of steps to protect people from discrimination by others, and that's something that could be severely impacted by this bill."
Furthermore, she said, even if the government is able to prove it had a compelling interest in protecting the tenant from eviction on the basis of his sexual orientation, and that the non-discrimination ordinance was the least restrictive means of accomplishing that goal, the effect would still be a massive clog in the court system, and the tenant would be homeless for the duration of the proceedings.
"What RFRA will do is give businesses and landlords the opportunity to contest everything in court."'
"What RFRA will do is give businesses and landlords the opportunity to contest everything in court, and force individuals who are now able to live discrimination-free lives to demonstrate that the government has a compelling interest in making those landlords act in a nondiscriminatory fashion," said Tucker. "Even if that individual prevails, he will have spent a lot of time and money, and may be out of a job or out of a home while he's waiting."
Adding to the backlash against RFRA's rapid advancement in Michigan, the state House this week also passed a bill allowing adoption agencies to refuse service to people if doing so would violate their sincerely held religious beliefs. If signed into law, LGBT advocates fear it will be used to turn away same-sex couples hoping to become parents -- already a difficult feat in Michigan, as the state's adoption code does not allow same-sex couples to jointly adopt. Additionally, a different measure that would expand the state's Elliott-Larsen Civil Rights Act to include non-discrimination protections for gay and lesbian Michiganders seems to have died after a contentious hearing in the House Commerce Committee.  
Bolger supported the expansion of the Elliott-Larsen Act to bar discrimination based on sexual orientation, but opposed the push to include specific protections for transgender individuals. He originally introduced the state RFRA along with the expansion of civil rights protections to "provide the right balance" between respecting one another and not forcing people to violate their core beliefs, he told msnbc. Now, only RFRA is moving forward.
"When I had announced my support for the two [measures,] I said they should be placed on separate but parallel paths," said Bolger. "I was sad and it's a shame that the path had ended for the expansion of the civil rights act, but that doesn't mean that the path should end for RFRA."
Though Michigan won't be getting statewide protections for the LGBT community, it does lead the nation in municipal ordinances barring discrimination on the basis of sexual orientation or gender identity. Thirty-six municipalities currently have such ordinances in place, protecting gay and transgender people from discrimination in employment and housing. But advocates worry that RFRA, if passed, will undermine those strides for equality.
"We have at this point set the standard in the country for casting local nondiscrimination policies," Emily Dievendorf, executive director at Equality Michigan, told msnbc. "We do believe that RFRA was introduced specifically to negate the progress that the speaker saw us possibly making."