ST. LOUIS — In the days and weeks after Michael Brown Jr. was shot dead in Ferguson, customers streamed into a bakery about a dozen miles away and talked race, class and the killing over coffee and cupcakes.
The bakery, SweetArt, in St. Louis's eclectic Shaw neighborhood, was a world away from the angry protests and police presence in Ferguson. But it became a conduit for tough conversation about black boys and the police that many nearby residents had never had.
Owner Cbabi Bayoc, who, with his wife opened the bakery/art space six years ago, called the informal meetings Cupcakes and Conversation, and kept his shop open after hours on Fridays to host them. "Then it all just came crashing home," Bayoc said.
Just two months after Brown was shot and killed on Aug. 9 by Ferguson police officer Darren Wilson, another black teenager, Vonderrit Myers, was shot and killed by a cop. This time it was in Shaw, just blocks from Bayoc's shop and by an off-duty St. Louis police officer.
Protests began almost immediately around the scene of the killing. Police said Myers shot at the officer first and that a gun was recovered at the scene. But family and witnesses say Myers was armed with little more than a sandwich purchased at a corner store just minutes before his death.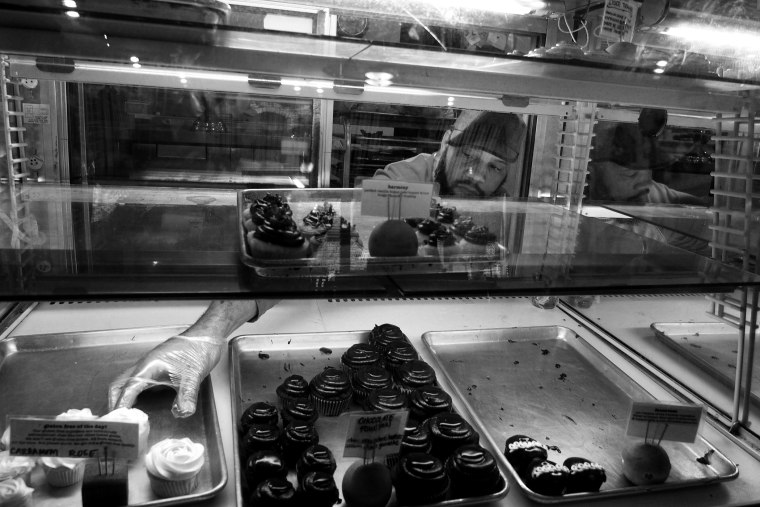 Many of the veterans of the Ferguson protests relocated to Shaw and confronted police there, demanding answers in the teen's death and proclaiming what has become a rallying cry for the broad movement spawned by the teens' deaths: "Black lives matter!" The protests in Shaw went on for weeks and reenergized many Ferguson activists who'd grown weary from the nightly, emotional battles.
StreetArt bakery again became a centerpiece for many seeking answers or at least some sort of emotional or intellectual solace from the storms whipped up by the killings of Brown and Myers at the hands of police.
Now, with a grand jury in the Brown case expected to announce a decision on whether or not to indict Wilson in the coming days, the entire region is bracing for the possibility of a return of mass protests and perhaps more violence.
Organizers have a list of protests sites. Shaw is high on that list, along with multiple locations in Ferguson and the St. Louis County courthouse in Clayton where the decision will likely be read. On Wednesday night about half-dozen protesters were arrested while protesting in front of the Ferguson police department, breaking what had been weeks of relative calm and inaction there, but perhaps a prelude of things to come.
Bayoc, who is African American and has three children, the two youngest of which are boys, said he plans on staying at his shop late on the night the decision is read to offer refuge for anyone who might need it. "There might be some people in the thick of it who might need a place to take a break or rest," said Bayoc, a prolific painter. "Come on in."
RELATED: Ferguson's businesses prepare for the worst
While many businesses have boarded up their shops ahead of the grand jury's announcement and some business owners in Shaw are considering if they should follow suit, Bayoc said he hasn't even considered it. It would send the wrong message, he said. "I think that would be giving in to the fear," Bayoc said, sitting in his shop, whose counters were filled with an array of sweet baked goods and walls are draped in sweet art. "For the whole city to be in fear is ridiculous, even though there will be many who will probably be angy."
Just days ago Gov. Jay Nixon declared a preemptive state of emergency and signed an executive order mobilizing the National Guard to support local law enforcement in the possibility of unrest following the grand jury's announcement. St. Louis Mayor Francis Slay said he'll request 400 from the Guard to be dispatched with city police to 45 locations to prevent spontaneous violence and looting.
"The best thing I can do is be here in the open and offer a space to talk and not be cooped up in the house watching it all on the news or out in the streets," Bayoc said.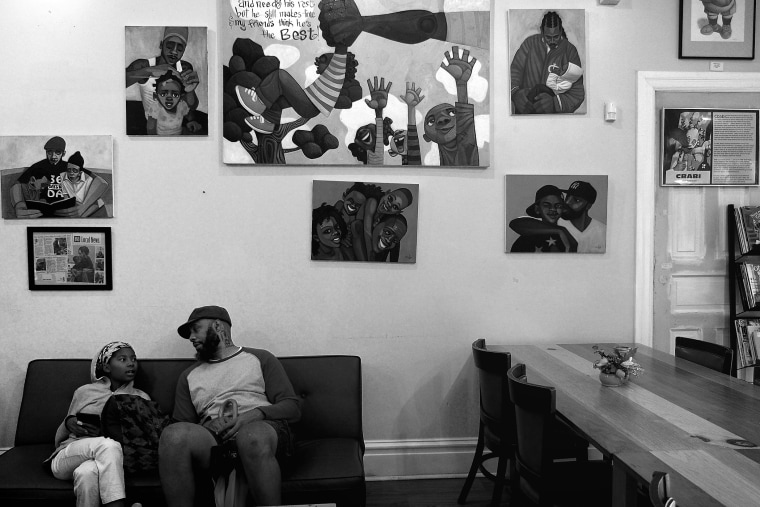 Before either of the shootings, the black experience had weighed heavily on Bayoc and played into his work. Earlier this year, he finished up a project called 365 Days with Dad, in which he painted an image of fatherhood for each day of the year. The project ended up taking about a year and a half to complete, but the collection of art created in that space mostly from other people's family photographs is at once beautiful and poignant. The paintings all feature a black father with his children or a black family. There are small children wrapped up in their daddy's arms, father-son music lessons and little girls hoisted on their father's broad shoulders.
The collection is perhaps more striking given the heartache and tumult that has consumed this region for more than 100 days now, especially in the black communities that have weathered so much violence, from the police or otherwise. "There's really such a deep connection between art and purpose," Bayoc said. "It's not just art for art's sake. All of this has definitely changed my brush stroke. I just look at my own two boys and my girl and realize just how easily they could be taken."
Bayoc said he's taken his children— 14, 11 and 9— to the memorial set up in Shaw for Vonderrit Myers and driven them over to W. Florissant Ave. in Ferguson, which was ground zero for weeks of protests following Mike Brown's death. He drove them past the QuikTrip market that was burned down the night after Brown was killed and explained in brief why so many people were out in the streets shouting, marching and with so many different signs.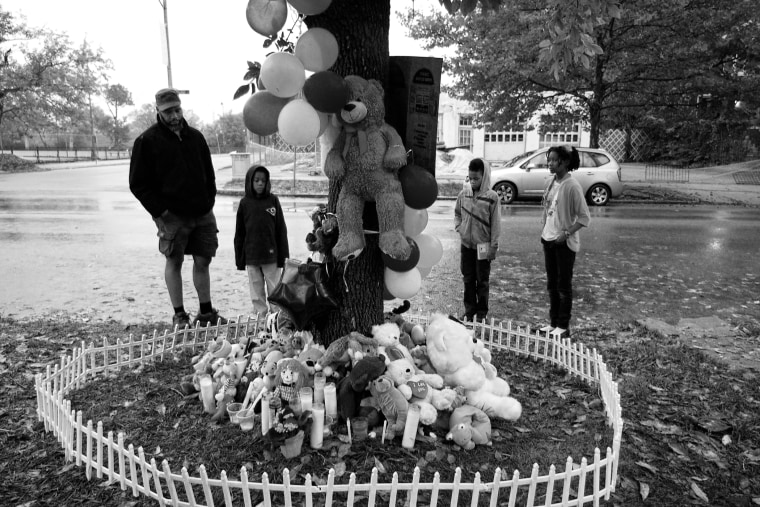 "We don't spend too much time talking about it though," he said. "I don't want them really thinking about that stuff too much."
On the night of the grand jury announcement, Bayoc said he'll finish up a painting he began in late September under a street light at the corner of W. Florrisant and Canefield Drive, near the site where Brown was killed. It's of a large black man, stoic in the face and with a thick beard and a shaved head. Standing between his legs is a boy in a red baseball cap and around his shoulders another boy, this one smiling, has his arms draped around the man's neck. Behind them are stripes, a-la the American flag with the silhouette of the letters F – E – A – R.
The man represents Michael Brown Sr. and Tracey Martin, the fathers of Michael Brown Jr. and Trayvon Martin, an unarmed black teenager shot and killed in 2012 by a former neighborhood watch volunteer in Florida.
 "The night of the announcement I'll just be in here with the lights on," Bayoc said. "In the window with my easel and my painting so everyone can see me."