Ferguson, Missouri Police Officer Darren Wilson told a grand jury hearing evidence in the case of the shooting death of Michael Brown that he believed the teenager was going to shoot him, according to a slew of documents released late Monday in the wake of the panel's decision not to indict Wilson in the Aug. 9 incident.
The trove of newly released information includes photos of Wilson taken during his post-shooting trip to the hospital, more than 20 images from the scene of the incident and details from autopsies conducted on Brown. St. Louis County prosecutor Robert McCulloch teased the release of the documents during his 20-minute-long remarks on the grand jury's decision that "no probable cause exists to indict Darren Wilson."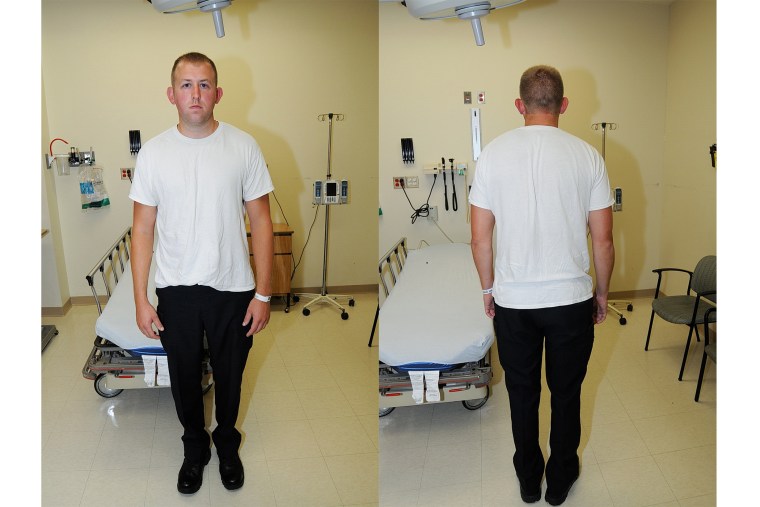 The documents reveal that during testimony before the grand jury on Sept. 16, Wilson claimed Brown assaulted him when he confronted the teen about being a possible suspect in a local robbery. According to Wilson, when he tried to exit his police car, Brown slammed the officer's door shut twice and hit Wilson across his cheek.
"I believe somewhere in there I put my hand up tryin' to just get him away from me and there I was, I was already trapped and didn't know what he was gonna do to me but I knew it wasn't gonna be good," Wilson testified.
Wilson described a harrowing struggle for his gun, with Brown at one point grabbing hold of the officer's weapon and pointing it towards Wilson's hip. Wilson told detectives on Aug. 10, a day after the shooting, that during the struggle for Wilson's gun, the teenager told the officer, "You're too much of a f------- p---- to shoot me." Eventually, the situation escalated to the point where Wilson told the grand jury he feared for his own life.
PHOTOS: On the scene in Ferguson
"At that point, I was guaranteed he was going to shoot me. That's what I thought his goal was," Wilson testified. A protracted struggle ensued, during which Wilson claimed he regained control of his gun, but not his suspect. 
Wilson said Brown started running at him and "during his first stride, he took his right hand, put it under his shirt and into his waistband. And I ordered him to stop and get on the ground again. He didn't; I fired, a, multiple shots." A crime lab report confirmed that 12 rounds were fired from Wilson's gun in his encounter with Brown.
"After I fired the multiple shots I paused for a second, yelled at him to get on the ground again, he was still in the same state. Still charging hands still in his waistband, hadn't slowed down. I fired another set of shots. Same thing, still running at me, hadn't slowed down, hands still in his waistband. He gets about eight to ten feet away, and he's still coming at me in the same way. I fired more shots. One of those, however many of them hit on him in the head and he went down right there. When he went down, his hand was still under his, his right hand was still under his body looked like it was still in his waistband. I never touched him," Wilson told jurors.
RELATED: Darren Wilson quietly married last month
Medical records show that Wilson was admitted to Christian Hospital in Ferguson at 2:20 p.m. and was discharged almost two hours later. According to the hospital, Wilson was treated for an unspecified injury to the face and neck as well as "jaw pain." He was diagnosed as having a "contusion of mandibular joint area" as a result of "assault by other bodily force." Wilson told jurors he had "some redness to my left jaw line then I had swollen right cheek and jaw. I had scratches on my back and neck, on my shoulders." Wilson told detectives on Aug. 10, the day after the shooting, that Brown delivered two "solid blows" to his face and jaw line. After the Brown shooting, Wilson was subjected to a drug screening, the results came back negative, according to court documents.
The documents also detail the considerable amount of blood retrieved from the scene of the shooting. The lab found blood on Brown's clothing and more on the exterior and inside of Wilson's police vehicle. According to lab findings, a small piece of apparent skin or nasal mucus with blood in it was found on the driver's side door and there was also blood in the interior of the driver's side front door handle of Wilson's police car.  
The summary of the medical examiner's report on Brown found that the teen had two gunshot wounds to the head, three to the chest and two in the arms, a finding that was consistent with previously released autopsy material. 
Tests showed blood was also found on the upper left thigh of Wilson's pants. During his address to reporters earlier on Monday, McCulloch said Brown's DNA was present on Wilson and on the officer's weapon. Brown's now infamous red hat and flip-flop shoes were found near the scene and there was reportedly sufficient evidence to confirm the presence of blood. 
In an interview with detectives on the day after the shooting, Wilson called Brown "very aggressive. Um, he is, I don't really know how to describe it. Um, he turns, I looked at his face. It was just like intense. It was, I've never seen anybody look that, for lack of a better words, crazy. I've never seen that. I mean, it was very aggravated, um aggressive, hostile. Just, you couldn't, you could, you could tell he was lookin' through ya. There was nothin' he was seeing."
Msnbc will continue updating this story as more details from the case documents become available.