The intense political wrangling over Merrick Garland's nomination to the Supreme Court has overshadowed the traditional purpose of Senate confirmation — a serious look at the career and life of the contender.
Garland, a veteran appellate court judge, may not get that kind of thorough consideration. In fact, several Senate Republicans argue that Garland's record is literally irrelevant because they oppose any nomination offered by President Barack Obama in this election year.
But who is Merrick Garland, and how did he come to be the kind of judge selected to navigate this unprecedented confirmation fight?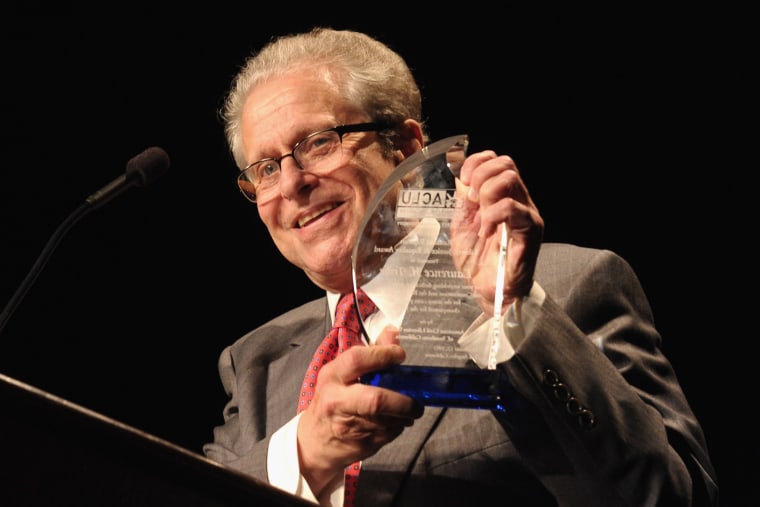 Harvard Law Professor Laurence Tribe has unique experience to answer the question. He taught both Garland and Obama when they were students at the prestigious school. He continues to advise the White House on legal issues.
Tribe discussed Garland's nomination with MSNBC. This interview has been edited for length and clarity.
Q: Who is Merrick Garland?
A: Well, to start with, he was clearly one of the most talented students I have ever taught. He was in an advanced constitutional law course of mine at Harvard Law School in 1975-76, and it was obvious even then that he had an amazing comprehension of everything and a remarkable legal career ahead of him. He went on to clerk at the U.S. Supreme Court for Justice William Brennan, then he became a federal prosecutor, and he did a terrific job heading up the prosecution of Timothy McVeigh, the homegrown terrorist who blew up the Murrah Building in Oklahoma City, killing well over a hundred innocent people, including children. I was really impressed with how Merrick handled every aspect of the prosecution — and how much concern he had for the victims, whom he kept in touch with over the years.
RELATED: Mark Kirk will be the first Republican senator to meet with nominee Merrick Garland
Then he continued in a really stellar career, serving for nearly 20 years on the U.S. Court of Appeals for the D.C. Circuit, the second highest court in the country. He became the chief judge, and in that role he built bridges across the ideological aisles. He is an extraordinarily capable lawyer, in part because he is so good at finding common ground with his colleagues, which is one of the things that made him appeal to President Obama.
One of the longest serving Republicans in the Senate, Orrin Hatch, publicly said right after Justice Scalia died that the president would do well to nominate Merrick Garland to fill the Scalia vacancy. He is a first-rate jurist, he is as good as anyone I know at building bridges, he is a dedicated public servant, he is a truly wonderful person, and he is someone that nobody has anything bad to say about — except that he has the misfortune of being nominated by a president whom some Republicans frankly seem to have regarded from the very first day as an illegitimate holder of that office.
Q: You have taught Obama, Garland, Chief Justice John Roberts and Justice Elena Kagan. Who has changed the most?
A: That's hard to say. But it does amaze me sometimes that, if Merrick Garland were to be confirmed, three of the members of the court, the chief justice, Justice Kagan and hopefully Justice Garland, would have been my former students or research assistants. And that's in addition to the president, who was my chief research assistant for a couple of years. So I have gotten to know the players — and I can sense a spectacular talent when I see one — and we've got one in Merrick Garland.
As a student, the chief justice was a little bit closer to the center, so I guess I'd say he has moved a bit further right.
Elena Kagan is exactly as I remember her as a student. She is funny, she is affable, she is brilliant — and she is fairly liberal on lots of key issues.
As for Merrick Garland, I think we'll have to wait and see, because in his role as a lower court judge there were severe constraints on what he could do, given his duty to follow Supreme Court precedents. He had a little less room to be himself, but the Merrick Garland I know is somebody whom I would trust with my life. He is enormously decent, and I have never heard of anyone who has argued before him, whether winning or losing, who has felt unfairly treated or who didn't think Garland had approached the case with an open mind. And that's what you ultimately want in a judge.
Q: Vice President Joe Biden is making the argument that what we are seeing now is not just worse in the sense that it is more partisan, but it is of a different kind and category — one that endangers the independence and functioning of the Supreme Court. Do you think Biden overstates the case?
A: I don't think he overstated the case at all. What the Senate is doing is really unprecedented.
If you go back to the beginning of the country, the fact that a vacancy on the Supreme Court has fallen in the last year of a president's term hasn't made any difference and has never been a reason for the Senate to let the court stay at less than full strength. In fact, since the Civil War, the Senate has never just refused to engage a nominee at all. It doesn't have to confirm, but it has always voted.
When that court is rendered basically dysfunctional in lots of cases, because there are a lot of cases where it's going to come out 4-4 along ideological lines, when that happens not only do we have a dysfunctional Congress, but we end up having an impotent Supreme Court.
What your rights are is going to end up depending on where you happen to live in the country. It's a patchwork constitution, and it's going to last for a long time.
Q: Garland has extensive experience on the federal bench, but very few cases that reveal a strong ideological preference. What should liberal supporters of President Obama make of this selection?
A: I don't think it's possible to predict exactly where a Justice Garland will come out on every case or every issue. But he is certainly a person with a progressive and humane view of the world and a deep commitment to the rule of law. And he is somebody who has manifested in many cases a concern about the real-life effects of his rulings.
One example that comes to mind involves the terrible abuses at Abu Ghraib. The question was whether the private contractors, the mercenaries, who committed many of those abuses, whether those contractors could ever be held accountable. The majority of the D.C. Circuit said, no, they were immune from any liability.
Merrick Garland dissented, in an opinion that was very powerful, in describing the terrible brutality to which these people were subjected. It was obviously sensitive not only to them, but to how terrible it would make the United States look, and how powerful a recruiting tool this would be for terrorism. (Editor's note: The court ruled, 2-1, that private military contractors Titan Corporation and CACI International were effectively immune from suits by Iraqi nationals for alleged abuse or torture.)
Q: Lastly, did the president reach out to you about Judge Garland, and can you share what you may have told him?
A: I can't answer yes or no. I can say only that I have talked to the White House about this whole issue, and I think I had better leave it there.