Two gun rights advocates have authored a book in an attempt to teach kids about self-defense and the Second Amendment.
Brian Jeffs and Nathan Nephew co-wrote "My Parents Open Carry" after they founded Michigan Open Carry, a group dedicated to promoting the practice of possessing a handgun in public. They believed that Americans are confused about open carry laws, so they hoped the book would answer common questions and make clear that each state has its own public gun laws.
The story details 13-year-old Brenna Strong's "typical" Saturday, which is spent running errands with her mom and dad, who carry guns for self-defense. The book's cover shows Brenna with her parents, who are both packing heat.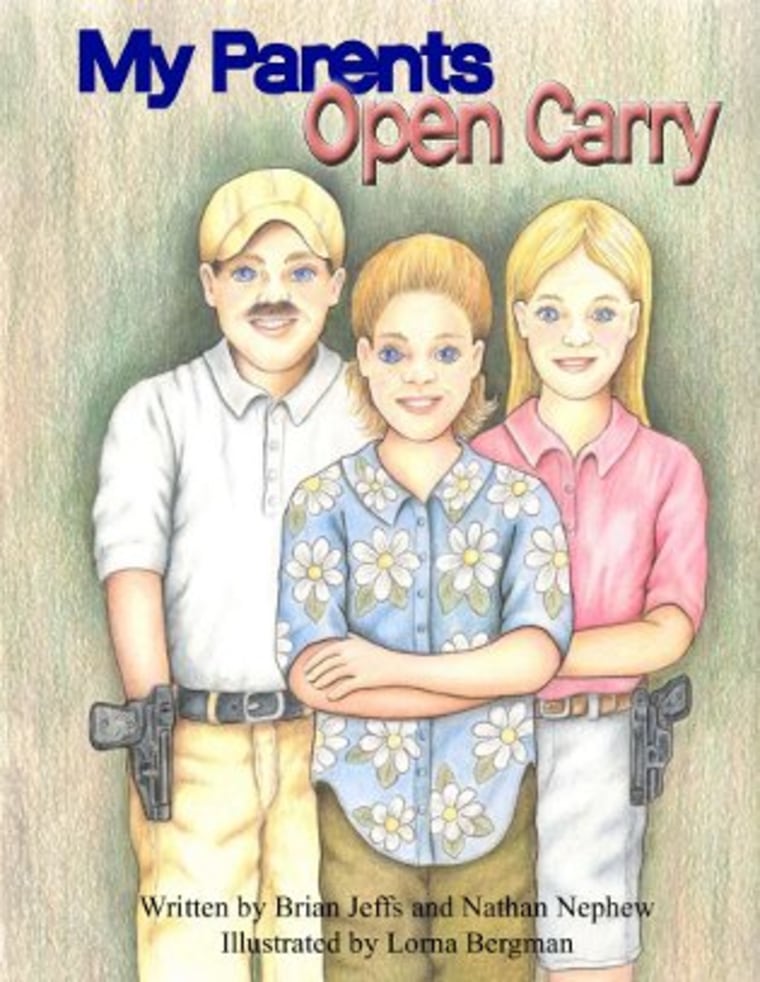 "We wanted to sort of normalize the idea of carrying a gun," Jeffs, a geologist, told msnbc. "We wanted people to realize that good people carry guns," including pastors, doctors and friends, he added.
The book was released in January 2011, but it recently gained attention amid the national debate about open carry gun laws. Stephen Colbert featured the book Tuesday on his show.
"What a beautiful bedtime story. 'The world is full of maniacs who want to hurt you and the police can't help. Goodnight, honey,'" Colbert said after reading a passage where Brenna's father explains that people need to carry guns because there is "evil" in society.
A spokesperson for Moms Demand Action for Gun Sense in America, the gun-control group launching national campaigns to pressure owners of large businesses to change their firearms policies, said the organization is "very aware" of the book.
"The book perpetuates the idea that we should be comfortable with guns everywhere — even in the places we go with our children. As long as laws don't do their part to make sure that the people holding the guns have passed a background check and received the proper training, we will do their part to call on corporations and small businesses to stand with moms and adopt gun safety policies that make sense," said Erika Soto Lamb, communications director for the Indiana-based organization. 
"It's most important to note that the issue is not the guns — but the fact that the laws in most states allow people to openly carry loaded rifles in public with absolutely no training, permitting or minimum age requirement," she added. "This means that moms can't possibly know if the person carrying an assault rifle is a responsible gun owner, or if that person is a threat to our children."
RELATED: Waitresses carry guns at Colorado restaurant
Federal law doesn't restrict the open carry of firearms in public, but laws vary by state. Michigan doesn't prohibit residents from carrying guns. Other states, including Texas, ban people from the open carry of handguns, but allow residents to carry long guns with the proper licenses.
Pro-gun activists have been staging "open carry" demonstrations at restaurants and retail stores across the country in recent months to assert their Second Amendment rights. The individuals are sometimes met with criticism from employees, who request the armed people promptly leave the premises.
Most recently, Moms Demand Action successfully pushed management at Target to impose a ban on weapons at the retailer's locations. Local governments can enact regulations banning open carry in a building or specific area within its jurisdiction, as long as management posts signs about the rules.
More than half — 55% — of Americans want to prohibit guns in public places, according to a Huffington Post/YouGov poll released last month.