A super PAC supporting Hillary Clinton is welcoming Donald Trump to Tuesday night's GOP debate in Las Vegas with a little tech trolling that will let locals wear virtual versions of Trump's trademark red baseball caps. But instead of bearing the billionaire's slogan "Make America Great Again," the digital hats read, "Deport Trump."
In Nevada, users of Snapchat, the quickly growing social media app popular with millennials, will have access to a geofilter paid for by Priorities USA that adds a Trump cap, complete with little tufts of blond hair, to their selfies. The deportation message is a reference to Trump's punitive anti-immigration stances, and is targeted to a state that is heavily Hispanic.
RELATED: Bernie Sanders joins Snapchat: 'What is this Snapshot thing?'
"Donald Trump has offended nearly every segment of the population during his run for President and while we don't expect Ted Cruz, Marco Rubio or the rest of the GOP field to use this filter since they've all promised to support him if he's the nominee, voters in Nevada now have a fun way to tell Donald Trump just what they think of him and his offensive ideas," said Priorities USA spokesperson Justin Barasky.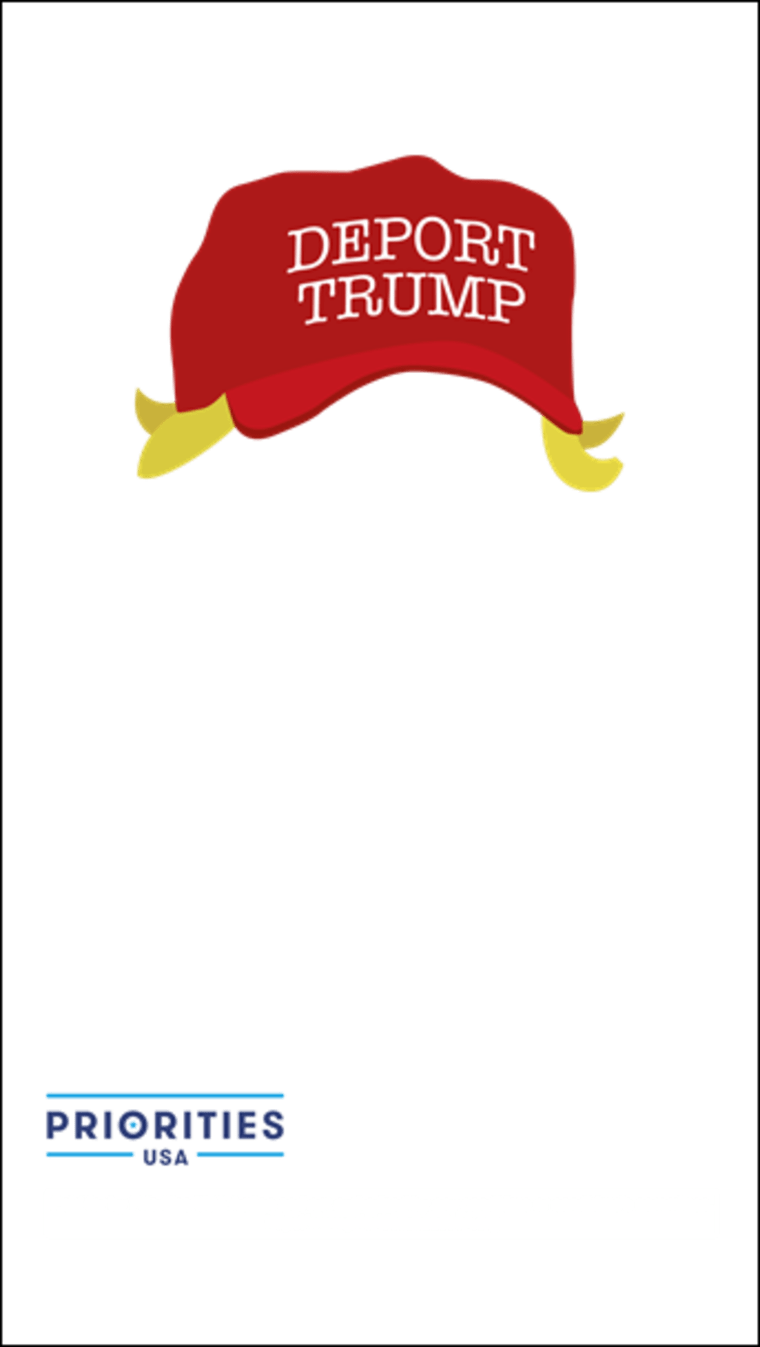 While the gimmick isn't costing the super PAC much money — just "five figures," according to aide, for a group that plans to spend hundreds of millions next year — it's an innovative application of new technology that campaigns and political groups are just beginning to explore as they seek new ways to reach voters.
More than 60% of smartphone users between the ages of 13 and 34 have Snapchat, according to the super PAC, and millennials on the platform are more politically engaged and more likely to vote than the cohort as a whole. And geofilters like this one, which are only accessible in certain areas, are viewed 400 to 500 million times a day.
"We look forward to watching Nevadans send Donald Trump a message and will continue to engage millennials in new and exciting ways as we hold Republican candidates accountable and help elect Hillary Clinton in 2016," said Barasky.
Priorities USA, which spent $75 million supporting the reelection of President Obama in 2012, is now backing Clinton. Like the official Clinton campaign, the super PAC has been trying to tie the rest of the GOP field to Trump, believing that he damages the GOP brand, especially when it comes to minorities. 
A new NBC News/Wall Street Journal poll shows Clinton would beat Trump by 10 percentage points in a hypothetical head-to-head matchup (the larges margin of any GOP candidate). Among Hispanics, the gap is even bigger — Clinton would get 69% compared to just 24% for Trump.