When the votes are tallied in Virginia's race for governor on Tuesday, over 300,000 citizens will be missing from the voting rolls -- including 20% of the state's black population. The reason is not low turnout or voter ID, but a growing and often invisible barrier to voting that is upending elections around the country.
Over 5 million Americans are barred from voting because they have criminal records, according to a report this year from the Sentencing Project.
The crackdown on ballot access is so intense, a majority of states actually bar former convicts from voting even after they are released from prison. 
If voting rights were restored to those former inmates, about 4.3 million more Americans would be able to vote. That is over three times margin of victory in the last House midterm elections. 
"You have this chunk of voters that's not there," explains NBC News political director Chuck Todd. "When you see the decisions that have been made on this issue -- and a lot of voting access issues -- it's clear that political partisans are operating on what's best for their own party's cause, period," says Todd.
Researchers have found that restrictions on voting by ex-felons "tend to take more votes" from Democrats – and that universal suffrage could change the outcome in Senate and presidential elections.  
Focusing only on the electoral impact, however, can distract from the fundamental rights at stake.  
"If you care about this issue – and you believe this issue of felony rights is about full restoration of rights after you've paid your penalty to society," says Todd, "then [put aside] these studies. Who cares the political impact – it shouldn't matter."
Some politicians are coming around to that view as well, criticizing the crackdown on voting rights regardless of the potential effect on their party.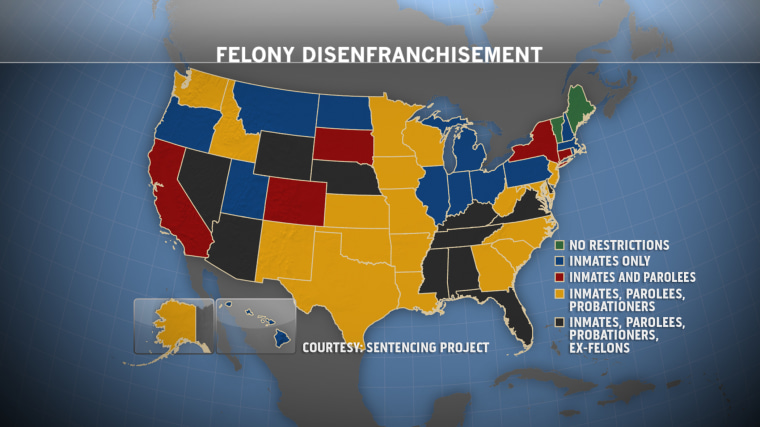 The color line
"If I told you that one out of three African-American males is forbidden by law from voting, you might think I was talking about Jim Crow 50 years ago," said Sen. Rand Paul at a Senate hearing last month. "Yet today," Paul lamented, "a third of African-American males are still prevented from voting because of the War on Drugs."
Likening today's felony voting laws to the racist oppression of the former confederacy is an especially resonant criticism from Paul, a Kentucky Republican and popular Tea Party figure. It also echoes a concern of many scholars and civil rights advocates – that these policies reflect a drive to incarcerate and politically marginalize black Americans. 
"The states that have the harshest policies just happen to be those states with legacies of slavery, segregation, discrimination, voter suppression and the denial of the right to vote," National Urban League President Marc Morial told MSNBC.
Law professor Michelle Alexander presses a similar point in her bestselling 2010 book, The New Jim Crow. While the nature of "racial exclusion" in American law has visibly changed, she suggests its "outcome has remained largely the same." A large percentage of "black men in the United States are legally barred from voting today," she writes, "just as they have been throughout most of American history." 
That is especially true in the South -- laws in just six southern states serve to disenfranchise over half of the ex-felons barred from voting across the country. 
Alexander cites such restrictions as part of a spike in putatively "colorblind" policies that function to criminalize, segregate and effectively disappear many minorities. "Today it is perfectly legal to discriminate against criminals," she stresses, "in nearly all the ways that it was once legal to discriminate against African Americans." 
It is also relatively easy, since convicts are not politically popular to advocate for, and, thanks to felony disenfranchisement, are largely barred from politically advocating for themselves.
Jean Chung, a researcher at the Sentencing Project, found that Black Americans over 18 years old are disenfranchised at "a rate more than four times greater than the rest of the adult population." 
Restricting felony voting naturally perpetuates racial disparities at earlier steps in the criminal justice process, from presuming the guilt of blacks by disproportionately profiling and policing them, to punishing black drug defendants more harshly than white defendants.
It also reflects the explosion in the number of Americans incarcerated during the war on drugs. Over the 30 years since drug punishments were increased in the 1970s, the prison population more than quadrupled – with the U.S. besting Russia and China for the highest incarceration rate in the world. In 1976, felony disenfranchisement laws barred about 1.2 million Americans from voting – a sliver of the 5.5 million barred from voting today.
For the first time in a generation, the prison population began declining in 2010, reflecting a gradual shift away from harsh incarceration policies.
While that shift does not automatically restore the rights of any Americans who have already been to prison, the backlash to the war on drugs is nudging the politics of the issue.
Eleven states have now amended lifetime bans on voting by ex-felons, or expanded voting access to ex-felons still on parole or probation, including states with Republican governors, like Virginia. (Only two states, Florida and Iowa, have tightened similar restrictions.) The net effect of the reforms has restored voting rights to about 800,000 citizens since 1997, according to estimates from the Sentencing Project.
Still, it seems odd that a citizen's ability to vote in a federal election depends entirely on state laws.
"This is a larger problem, where basically, if you live in a blue state – you have one set of rights," says NBC News' Chuck Todd, "and if you live in a red state – you have another set of rights."
Some members of Congress have proposed reforming that patchwork approach.
A federal standard for federal elections?
In 2007, then-Sen. Hillary Clinton introduced legislation to enable all ex-felons to vote in federal elections across the country. The bill, called the Count Every Vote Act, restores voting rights to ex-felons who finish both their sentence and any parole or probation. "State disenfranchisement laws disproportionately impact ethnic minorities," the bill notes in its factual "findings" section, while "regaining the right to vote reintegrates offenders into free society."
Barack Obama co-sponsored the legislation. (In 2008, he also told the NAACP in 2008 he would sign it into law as president.) While the bill died in committee, when the topic arose at a GOP presidential debate in 2012, several candidates backed some level of reform. Romney argued that only "violent offenders" should be barred from voting, while Santorum said people who "served their time" should be able to vote, adding, "this is a huge deal in the African American community." 
Isolating a democratic right
Ultimately, the politics of felon disenfranchisement are moving far faster than Congress or most state legislatures.  In a democracy, laws that bar a certain category of free citizens from voting are hard to defend. 
Proponents of these laws must argue that all former convicts should effectively face additional punishment after their incarceration has ended – an approach generally reserved for only the most severe crimes, such as a pedophilia – or that all felonies are so violative of the social contract that ex-offenders have surrendered any chance of responsibly joining civic life.
"There are a certain minimum objectives of responsibility and loyalty," says Roger Clegg, a conservative legal advocate, which "we demand of people if they are going to participate in self-governance." "People who have committed crimes don't pass that test," Clegg told journalist Alyse Shorland, and he points to children and the mentally incompetent as other people that are not allowed to vote. The U.S. may also bar ex-felons from jury service and gun purchases, (though 11 states allow such sales). Still, virtually no other right of peaceful expression is legally denied to free citizens.
"The right to speech, the right to free exercise of worship and religion, the right to due process, the right to own property -- we don't deny any of those rights to the formally incarcerated," says the Urban League's Morial. "Which is why this sticks out as not only being unfair, but also being inconsistent with the principles on which this country was founded," he told MSNBC.
The Supreme Court upheld the practice in 1974. Justice Rehnquist acknowledged that some policymakers think rehabilitation requires turning a former inmate into a "fully participating citizen," such policy judgments were best left to legislators. Justice Marshall, the first and only African-American on the court at the time, dissented to state there was simply "no basis for asserting that ex-felons have any less interest in the democratic process than any other citizen."  
By leaving voting rights up to politicians, the U.S. is increasingly isolated on the international stage. The idea that the government may revoke voting rights from free citizens is abhorred in most Western democracies. In 2005, the European Court of Human Rights ruled that banning voting from prison is a violation of an individual's right to participate in free elections, and similar court rulings bar the practice in democracies such as Canada and Israel. 
The practice is not only unusual for a democracy, but for the U.S., its application is uneven, racially suspect and electorally disruptive. And that makes it a policy which is hard to change, but uncomfortable to leave in place.