In a ceremony in the White House Rose Garden, President Barack Obama announced his intention to nominate Merrick Garland, Chief Judge of the U.S. Court of Appeals for the D.C. Circuit, to fill the Supreme Court seat left vacant by the death of Antonin Scalia. Now comes the hard part.
"I have fulfilled my constitutional duty," said Obama. "Now it's time for the Senate to do theirs." Minutes later, Garland's nomination was sent to the U.S. Senate, where it faces an all-but-certain blockade by Republican senators determined to wait out the rest of the Obama term, at the very least. 
Obama described Garland, his fellow Illinoisan, as "a thoughtful, fair-minded judge who follows the law" who had built consensus and brought coalitions together. He warned that if Republicans refused to hold a hearing on Garland, "it would mean everything is subject to the most partisan of politics."
If so, Obama said, "The reputation of the Supreme Court will inevitably suffer. Faith in our justice system will inevitably suffer. Our democracy will ultimately suffer as well." 
Garland, his voice choked by tears, spoke briefly to thank the president and pledge his commitment to the law.  "Fidelity to the Constitution and the law has been the cornerstone of my professional life and it is the hallmark of the kind of judge I have tried to be over the last 18 years," he said. 
Republican leader Sen. Mitch McConnell, who just hours after Scalia's death declared that no Obama nominee would even get a hearing, spoke soon after President Obama's announcement from the Senate floor.
"It seems clear that President Obama made this nomination not — not with the intent of seeing the nominee confirmed but in order to politicize it for purposes of the election," McConnell said, adding that the disagreement about the president's nomination "remains about a principle, and not a person." 
At stake is the direction of the court for a generation, in the middle of a term in which it has already taken up fiercely political issues like abortion, immigration, contraception, labor unions, and affirmative action. Many of these cases may now end in 4-4 deadlocks, leaving in place the lower court results and creating a patchwork of laws in different regions across the country. 
WATCH: Merrick Garland's Judicial Experience
Having nominated two women to the Supreme Court, including the first Latina to serve, the first black president has opted for a 63-year-old white man with a moderate reputation.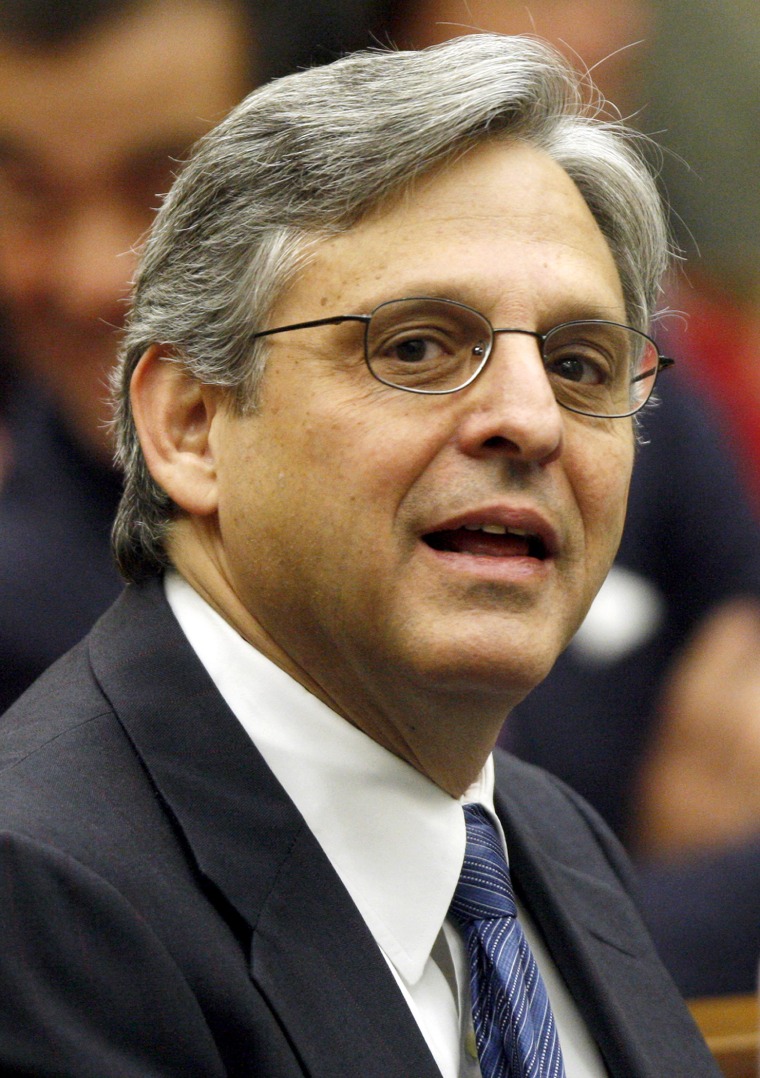 And though the Democratic political coalition increasingly does not look like the well-liked Garland, that itself may have contributed to Obama's decision. Garland, wrote Ian Millhiser at ThinkProgress, "is the sort of nominee that Obama and Senate Republicans might agree to elevate to the Supreme Court as a compromise, if compromise is actually possible with the current Senate majority."
Indeed, back when he was nominated by Bill Clinton to the D.C. Circuit in 1997, Utah Republican Sen. Orrin Hatch called Garland "not only a fine nominee, but as good as Republicans can expect from [the Clinton] administration." More recently, Hatch called Garland a "fine man" in a March interview with conservative news site Newsmax, but added that Obama "probably won't do that because this appointment is about the election. So I'm pretty sure he'll name someone the [liberal Democratic base] wants."
When his name came up in 2010 for the seat that went to Justice Elena Kagan, conservative legal activists, who are now expected to lead the charge against any nominee, also said nice things about him.
Despite clerking for liberal stalwart Justice William Brennan after Harvard Law School, Garland's reputation since Bill Clinton appointed him to the D.C. Circuit in 1997 is as a centrist. He is also a former prosecutor who won convictions of the Oklahoma City bombers.
The D.C. Circuit largely hears regulatory and administrative issues, so Garland has been shielded from many of the fiercest culture war battles. His relative conservatism has been evident, though, in criminal justice cases. In 2010, SCOTUSblog's Tom Goldstein noted, "Judge Garland rarely votes in favor of criminal defendants' appeals of their convictions…. Most striking, in 10 criminal cases, Judge Garland has disagreed with his more-liberal colleagues." Some liberals also raised concerns about Garland's rulings on Bush-era policies in Guantanamo Bay.
In a phone call with press after Obama's announcement, the White House said it contacted the office of every single senator prior to naming Garland. 
"We continue to believe there will be an ample number of Republicans who believe the constitution goes above their party's leadership," Deputy Press Secretary Eric Schultz said. 
Most Senate Republicans, including Chuck Grassley, chairman of the Judiciary Committee, have largely followed McConnell's lead, declaring their intent not to hold so much as a hearing. But a few have broken slightly from the party line. 
"The Senate's constitutionally defined role to provide advice and consent is as important as the president's role in proposing a nominee, and I will assess Judge Merrick Garland based on his record and qualifications," Sen. Mark Kirk (R-IL) said in a statement.
Maine Republican Sen. Susan Collins also indicated that she would consider Garland's nomination. 
"Judge Garland is a capable and accomplished jurist. The White House has requested that I meet with him, and I look forward to doing so, as has been my practice with all Supreme Court nominees," Collins said in a statement.
Hillary Clinton, front-runner for the Democratic presidential nomination, released a statement that praised Garland as a judge with "considerable experience on the bench and in public service, a brilliant legal mind, and a long history of bipartisan support and admiration."  She also reiterated her calls for Senate Republicans to "perform the Constitutional duty they swore to undertake" and begin considering Garland on his merits. Democratic presidential candidate Sen. Bernie Sanders said in a statement that "refusing to hold hearings on the president's nominee would be unprecedented."
"President Obama has done his job. It's time for Republicans to do theirs. I call on Sen. Grassley to hold confirmation hearings immediately and for Leader McConnell to bring the nomination to floor of the Senate if Judge Garland is approved by the Judiciary Committee," Sanders said.
A recent Washington Post poll found that, by a 2-1 margin, independents agreed with Democrats that the Senate should at least hold hearings on Obama's nominee.  
This story has been updated.