While there are still several months between now and the general election in November, attention is rapidly moving to the hypothetical match-up between Donald Trump—the presumptive Republican nominee—and Hillary Clinton, the clear Democratic front-runner. According to results from the latest NBC News|SurveyMonkey Election Tracking Poll conducted online from May 16 through May 22, Americans are nearly split when given a choice between Trump and Clinton. Clinton currently leads Trump by 4 points (47 percent to 43 percent) among registered voters; this margin is nearly unchanged from last week's results.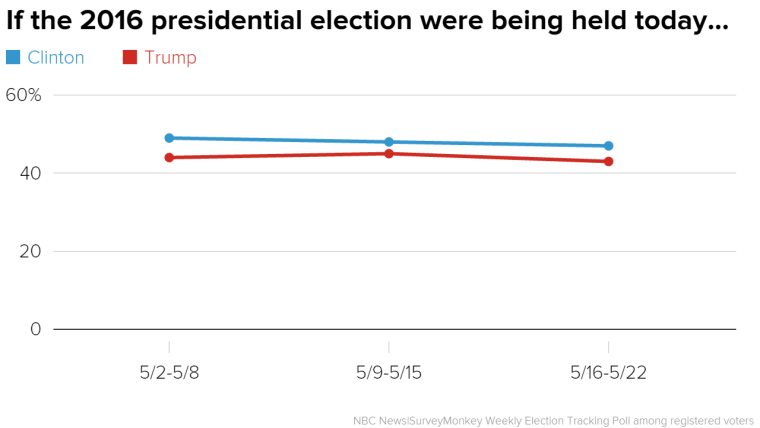 This week's poll probed how American voters feel about both Trump and Clinton. A majority of voters expressed negative feelings about both leading candidates. Traditionally a fair number of partisans on either side of the aisle express negative opinions about the other party's candidate, but the latest poll found that a majority of voters express negative feelings about both leading candidates. Nearly six in 10 Americans said they either "dislike" or "hate" Clinton, while slightly more—63 percent—expressed negative opinions about Trump. Four in 10 voters said they "admire" or "like" Clinton, and 36 percent said they "admire" or "like" Trump.
A deeper look into which demographic groups are currently supporting the candidates reveals some early clues about who the campaigns will need to focus their efforts on in the coming months.
When looking at demographic support in a hypothetical November match-up, Clinton continues to enjoy a large amount of support among women, and expands her margin among this group to 18 points from 15 points last week. A slim majority—54 percent—currently support her over Trump (36 percent). Trump, however, does much better among men—beating Clinton by 10 points (51 percent to 41 percent).
Black voters, who traditionally vote Democrat in general elections, support Clinton by an overwhelming 82-point margin (88 percent to 6 percent). This is up 7 points from last week among black voters. Hispanics support Clinton over Trump by 35 points (64 percent to 29 percent). Trump is the preferred candidate among white voters by 14 points over Clinton (52 percent to 38 percent). These numbers are consistent with margins from last week's tracking poll.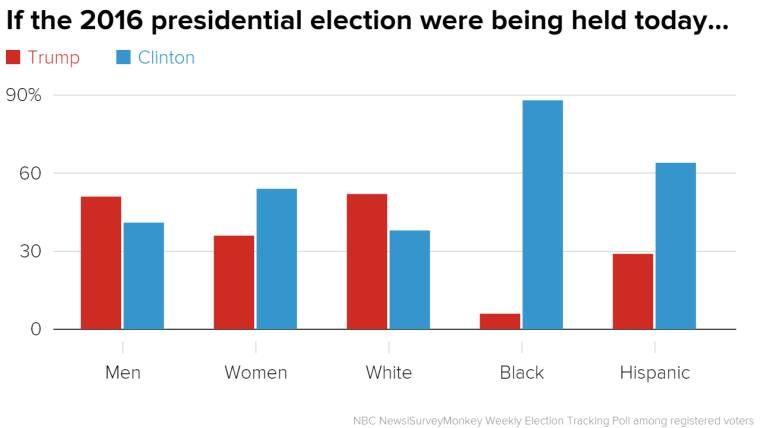 The poll also found that about a third of Clinton and Trump supporters said the most important reason they support their candidate is in opposition to the other party's candidate. Just over three in 10 (33 percent) of Clinton supporters said they support her in opposition to Trump, and a similar share of Trump supporters (36 percent) said they support him in opposition to Clinton.
Though Trump has been criticized by the media and politicians for his lack of clarity on specific policy issues, 31 percent of his supporters say that his positions on the issues are the most important reason for their vote choice. Nearly a quarter say that his leadership ability is the most important factor. Less than one in 10 say they mainly support him because he is the Republican nominee (6 percent) or because of his experience (2 percent). 

On the Democratic side, 30 percent of Clinton supporters say her experience is the most important reason for their support. 

Though this week's results are only a snapshot of how the race currently stands, it is clear that negative feelings about both candidates are important factors in the presidential race and something that both candidates will need to overcome.  
The NBC News|SurveyMonkey Weekly Election Tracking poll was conducted online May 16 through May 22, 2016 among a national sample of 16,710 adults aged 18 and over, including 14,513 who say they are registered to vote. Respondents for this non-probability survey were selected from the nearly three million people who take surveys on the SurveyMonkey platform each day. Results have an error estimate of plus or minus 1.0 percentage points. A full description of our methodology and the poll can be found here.