Following his victory in the Indiana Democratic primary last week, Bernie Sanders has closed the gap slightly with Hillary Clinton nationally this week. The candidates went from a 14-point to 12-point spread. Sanders has 41 percent support this week, and Clinton has 53 percent support among Democrats and Democratic-leaners, according to the latest NBC News|SurveyMonkey Weekly Election Tracking Poll conducted online from May 2 through May 8 of 12,714 adults including 11,089 registered voters.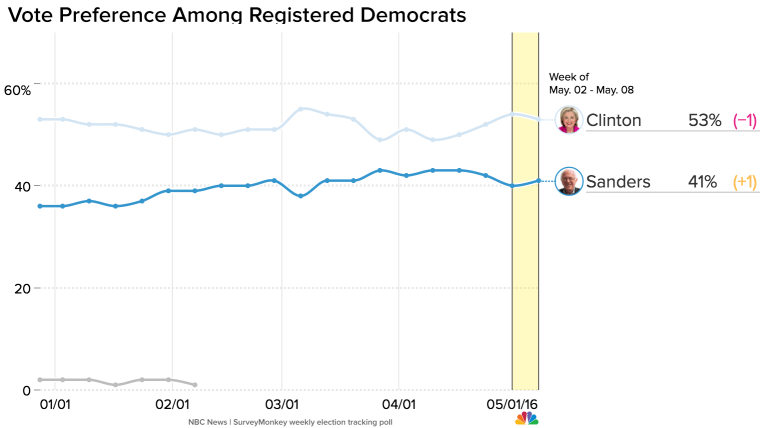 While support for the Democratic candidates has remained fairly consistent over the last several weeks, the presumptive Republican nominee, Donald Trump, has started to look ahead as if Clinton is already his opponent in November. On the campaign trail, Clinton has also continued to focus most of her attention on Trump instead of Sanders despite the fact that Sanders is poised to do well in several primary contests in May and June.
Support for both Democratic candidates has remained consistent among specific voter demographics. Clinton continues to do well among black voters nationally, with 64 percent support to 28 percent for Sanders. And she has a majority of support from women voters, 56 percent to 38 percent for Sanders.  

Young people have been a key constituency for Sanders throughout the primary season both in the tracking poll and according to NBC News Exit Poll results. While Sanders is still ahead of Clinton with young voters nationally, his support has dropped somewhat from last week. Among those under 30 years old, Sanders has 70 percent support this week compared to 26 percent for Clinton. He has fallen 2 points among those under 30 years old from last week but has continually fared ahead of Clinton among young voters.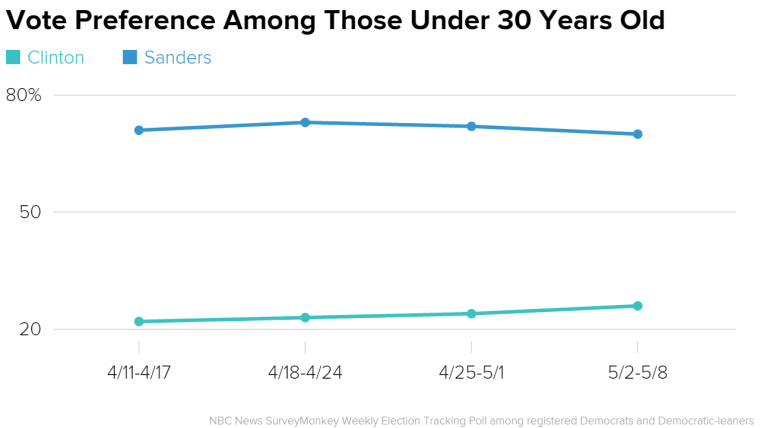 Among Independents who lean toward the Democratic Party, Sanders has a 15-point lead over Clinton. This week, he has 55 percent support from Independents who lean Democratic, whereas Clinton has 40 percent support. Support for Sanders among this group has been fairly consistent since the beginning of the tracking poll.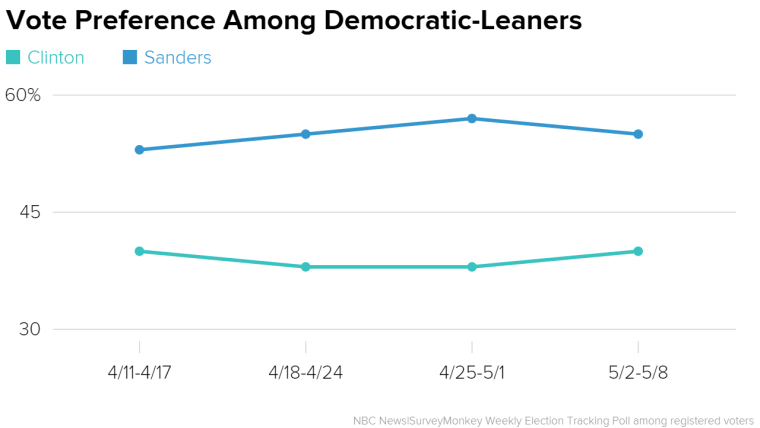 The eventual nominee will need to unite the Democratic Party and win the support of all groups to secure the presidency. If Clinton wins the nomination, she will need to secure young voters as well as Independents to forge a path to victory against Trump in November.
The NBC News|SurveyMonkey Weekly Election Tracking poll was conducted online May 2 through May 8, 2016 among a national sample of 12,714 adults aged 18 and over, including 11,089 who say they are registered to vote. Respondents for this non-probability survey were selected from the nearly three million people who take surveys on the SurveyMonkey platform each day. Results have an error estimate of plus or minus 1.3 percentage points. For full results and methodology for this weekly tracking poll, please click here.