Nearly three-quarters of likely California voters say the economy and jobs are among the most important issues in deciding their vote ahead of the June 7 presidential primary, according to a USC Schwarzenegger Institute/Field Poll .
The poll, which was shared exclusively to NBC News, finds that Democratic and Republican primary voters care almost equally about the economy and jobs: 73 percent of Democrats and 77 percent of Republicans say they are among their most important issues in deciding their vote.
But that is where the similarities between the parties mostly end.
Other than the economy, the most important issues among Democrats include education, environmental concerns and health care.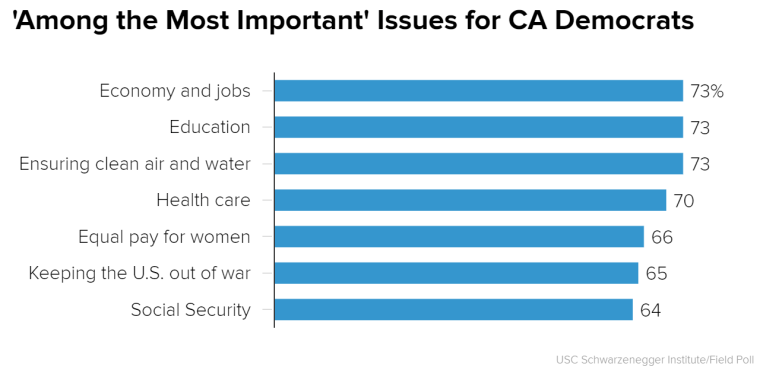 The most important issues among Republicans include terrorism and reducing the size of government.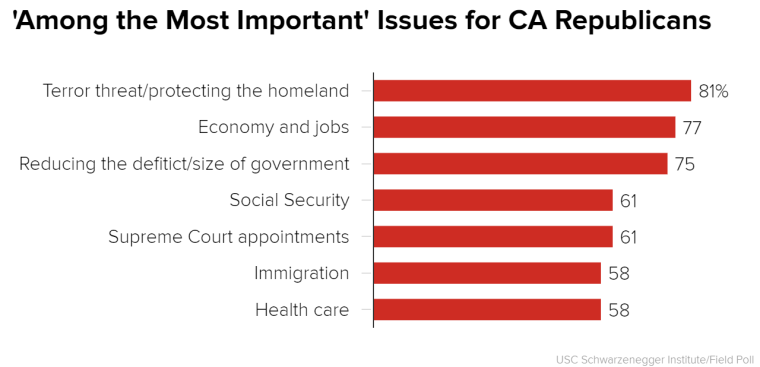 On June 7, California Democrats will go to the polls to choose between Hillary Clinton and Bernie Sanders in the state's presidential primary, while GOP presumptive nominee Donald Trump is the last Republican standing in that race.
With the state also holding its Senate primary on June 7 -- to replace retiring Sen. Barbara Boxer, D-Calif. -- the poll finds a majority of likely voters preferring a candidate who wants to make compromise.
Sixty-nine percent of all likely California voters want a candidate willing to make compromises to get legislation passed, versus 27 percent who want a candidate who will hold true to his or her beliefs.
The USC Schwarzenegger Institute for State and Global Policy/Field Poll was conducted May 4-11 among 1,001 likely voters for California's upcoming June 7 presidential primary, and it has an overall margin of error of plus-minus 3.2 percentage points.