McALLEN, Texas --The communities on the front lines of the border crisis knew the situation was growing into a massive humanitarian emergency long before the Feds arrived. When detention centers were still warehouses and it hadn't occurred to politicians to issue press releases, residents were already gathering baby formula, diapers and toys.
It began in the Spring. More and more mothers with their young children were parked at the main bus terminal, often without food, supplies and clean clothes. Most had not showered in days, stranded in an unfamiliar town with no way to reach loved ones living in the U.S. Women, on their way to work or errands, began to notice and with little plan or organization began arriving with help. But they could hardly meet the demand, and the bus station parking lot began to resemble a never-ending tailgate party. 
"Pretty soon it became such a bottleneck there that they were told to leave," recalled Ofelia de los Santos, who works with Catholic Charities of the Rio Grande Valley.
That's when Sister Norma got the call.
"They came to me and asked me to please help," Sister Norma Pimentel said in an interview. Within days, Pimental tasked Catholic Charities with expanding the operation to the parish halls at Sacred Heart, a few blocks away from the central bus station. The makeshift shelter opened in only a matter of weeks.
"What started out of the trunk of a car, in a church basement and over parking lot chatter has become the collective outpouring of an entire community."'
What started out of the trunk of a car, in a church basement and over parking lot chatter has become the collective outpouring of an entire community. Pop-up shelters in McAllen, run by community groups and faith-based organizations, now fill a crucial void in services for migrant mothers and children as the government struggles to keep up with the demand. 
While the Obama administration scrambles to deal with the humanitarian crisis at hand, faith-based and community organizations are also in emergency response mode. The groups fill a crucial gap in care for the thousands of migrant families who braved a treacherous journey north. And in times when the political optics are just as important, these organizations are not just providing care for those in need, but also serve a cushion to the government's response to the crisis.
"You know, if the church doesn't help these people, who will?" de los Santos said.
The Rio Grande Valley was hit first and hardest, with the surge of unaccompanied minors coming to the U.S from Central America. Its very location makes the region a heavy traffic point for illegal border crossings, but this time was different. There were more and more children, from toddlers to teenagers, traveling on their own. And they weren't trying to sneak into Texas -- many were immediately turning themselves in.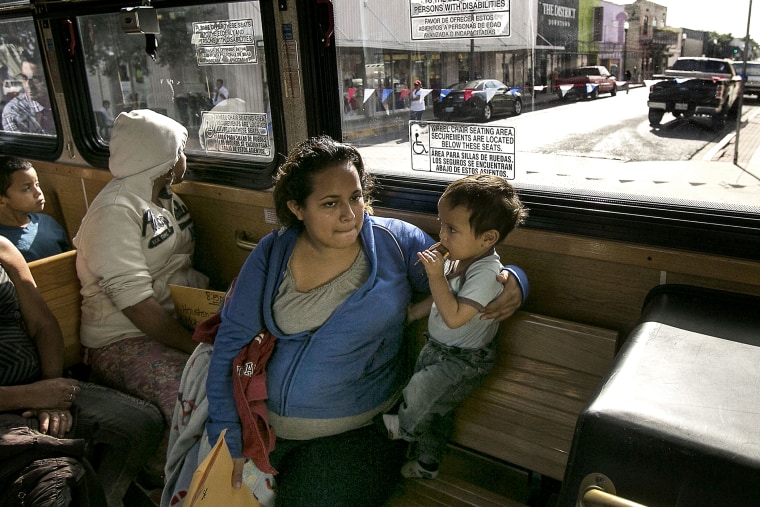 By the time President Obama formally declared the situation a "humanitarian crisis" and funneled emergency money and resources to the border, federal immigration agents had already run out of beds for the apprehended kids. The Rio Grande Valley saw a more than 178% increase in the number of migrant children crossing into Texas. Federal facilities were unequipped and ill-prepared to fill the unique needs of children who were traveling alone.
"Our government seems to be taking its time and declaring it an emergency," de los Santos says. "It is a crisis, we have families that have been authorized to be here temporarily that are in trouble and they need help."
The core tenets of service set up a unique dynamic for congregations and church volunteers. Many are from churches that hold staunchly conservative social values, and live in deep-red pockets with some of the harshest anti-immigration laws in the country. Yet when called to serve, volunteers are putting compassion and humanity ahead of political beliefs.
"This is our calling, our opportunity to serve," said Sister Leticia Benavides with the Catholic Charities. "As a Christian myself, I find that this is my obligation to be here. And I think that all of the volunteers that you see here are here because of that. They have a call, we all have a call to serve, and this is our time to serve."
---
The frustration and vitriol of immigration opponents was on full display in Murrieta, Calif., this month, when groups of protesters stopped busloads of migrants en route to Border Patrol facilities. There were reports of racial epithets being flung, and some said they were even spit on. The protesters held signs saying "Return to Sender" and "Illegals Out!"
Flare-ups in Murrieta have become almost routine. But in the same region that's been a hotbed for anti-immigrant sentiment, many are now offering a safe haven for the families being released from federal immigration custody. On Thursday, two churches in San Bernardino County opened their doors to more than 50 immigrant families. Volunteers brought food, clothes and even air mattress to the churches to give families a respite before they're sent off yet again.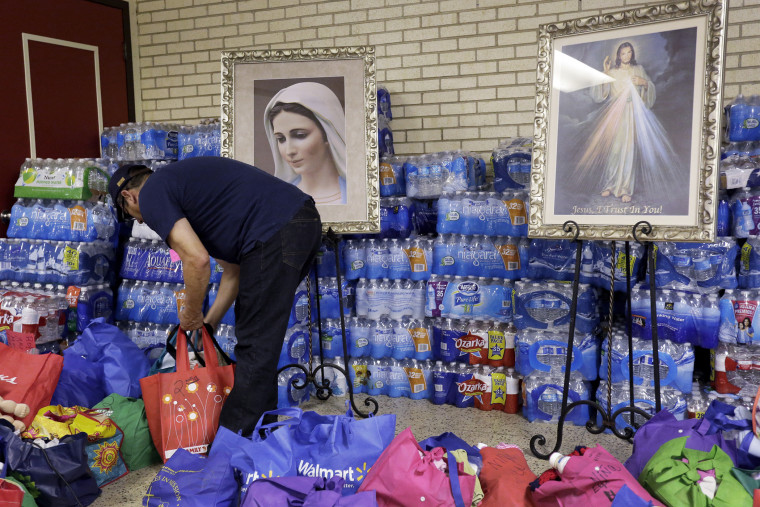 "As a church, we want to let them know that there are people here in the United States who love and support them, they're praying with them and for them," John Andrews of the Catholic Diocese of San Bernardino County told the local NBC News affiliate. "Maybe that can give them some of that spiritual food for the next leg of their journey."
The makeshift shelters being set up along the southwestern border not only offer aid but fill a crucial void left by the federal government. Last month, the feds were on the hook after busloads of immigrant families were left stranded at Greyhound stations in Tucson and Phoenix. Arizona Republican Gov. Jan Brewer used the controversy to jab Obama for "another disturbing example of a deliberate failure to enforce border security policies and repair a broken immigration system."
The bus station drop-offs are happening more and more these days as border facilities in Texas become so crowded they need to send children and families to nearby states simply to be processed. But increasingly, church groups are showing up at the stations with food and supplies, becoming the next link in the chain for the migrant families' journeys.
"[Immigration and Customs Enforcement] sincerely appreciates the support of the many volunteers who are aiding with the effort," Western Regional ICE spokesperson Virginia Kice said in a statement after migrants were being transferred to transition centers in Southern California. "The shared goal of all concerned is to mitigate the impact of the transfers on both migrants and the community and ensure individuals receive any assistance they need to facilitate travel to their final destinations."
--
On some days, more volunteers show up to help at the makeshift shelter in McAllen than there are families looking for help.
"The minute we put out a call for it, we need diapers or we need deodorant … the next day it appears -- in bulk," de los Santos boasted. 
Volunteers work in shifts as spotters by the bus station to identify families dropped off by immigration officials. Trolleys provided by the city of McAllen shuttle families back and forth from the station to the church. 
"Bienvenidos," volunteer greeters exclaim, applauding and cheering as new families arrive.
Each family is paired up with a sponsor who shepherds them through the winding obstacle course of stations set up for families. First a hot meal -- chicken noodle soup, along with fruit cups and Pedialyte for the kids. While the families eat, their sponsors search through the donated clothes spread over 20 tables. Volunteers take special care to find outfits that not only fit the children, but have matching tops and bottoms too. "It's a mom thing," one says with a laugh, eye-balling the size of a t-shirt from the pile of girl's clothes by holding it up to her own young daughter who is volunteering for the day.
The showers outside the parish hall are the main draw for the families. Nearly every mother sighs heavily the moment they exit the shower doors. For the first time since they entered the parish, the moms smile.
Catholic Charities and its partner, Save the Children, an international non-profit, are well-practiced in emergency relief. Catholic Charities operates much like a federal disaster agency throughout the region, swooping into areas devastated by anything from extreme weather to a health crisis. Save the Children is an expert in international refugee crises, which is exactly how they view the situation at the U.S. border.
"We do this work all around the world -- this psychological feeling of safety is so important for children, particularly when they've been through these horrendous circumstances," said the organization's CEO, Carolyn Miles.
Both groups have been pressing the government for access to federal centers that are ill-equipped and overcrowded with migrant kids.
"We would really like to get into those centers and provide services that we know how do from our experiences all around the world for those children," Miles said. "This is not about politics … it's about taking care of kids."
"That's the number one priority that we should have as a country."