Somewhere deep in the home of consumer advocate Ralph Nader, you might be able to dig up a few boxes of leftover pins from his 2008 presidential campaign. "I hope someday there'll be a collectors market," the five-time candidate told MSNBC. In fact, in the midst of one of the most intriguing primary campaigns in recent memory, a market for historic campaign memorabilia not only exists, but is booming.
While owning a 2008 Nader for President pin ($2.50 on eBay) may not make you wealthy, there are many similarly low-priced items that can serve as an entry into the world of campaign keepsakes, in which the most sought-after pieces can cost collectors up to six figures.
"Collecting of political material at an advanced level is probably at an all-time high," said Tom Slater, director of Americana auctions at Heritage Auctions. "Over time the value of campaign collectibles tends to increase incrementally, but it is almost unprecedented to see item after item selling for multiples of the expected prices." Slater is referring to some of his recent big-ticket auctions, one of which included what he believes to be the most expensive political item ever sold -- a cloth banner featuring James K. Polk and running-mate George Dallas -- which sold for $185,000 last summer.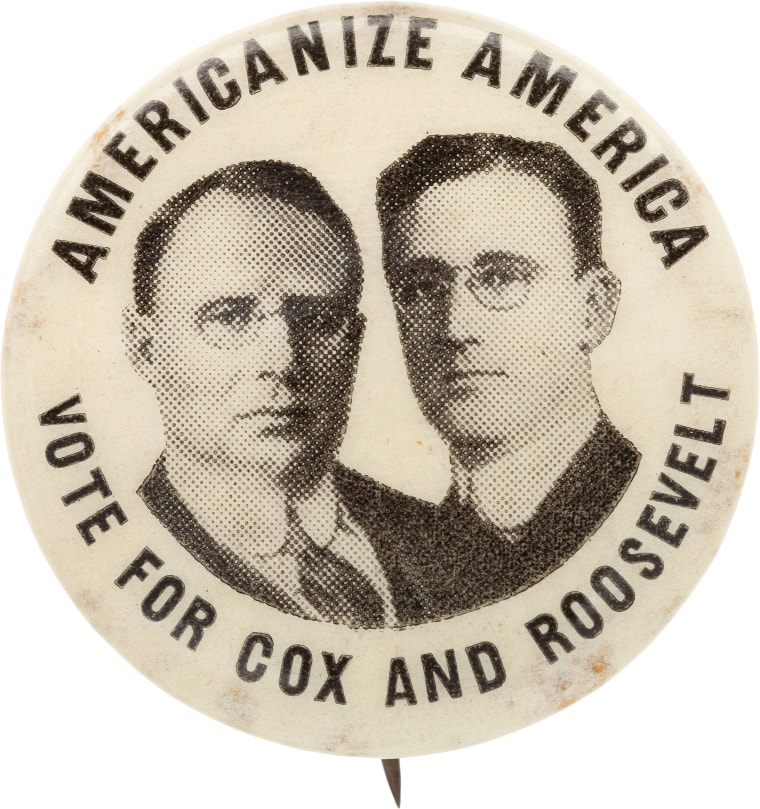 Similarly, the most desired campaign pins can sell for outrageous sums. One example -- the iconic James Cox/Franklin Roosevelt presidential campaign button -- sold at the same auction for $20,000, and according to Slater, can fetch more than $50,000 in perfect condition. Both pieces are examples of the highly sought-after "jugate" category of collectible, which feature images of both the presidential and vice presidential candidates on the same item.  
Political junkies with tighter budgets need not worry. There's plenty of opportunity to pick up a piece of electoral history at a fraction of the top auction prices. Countless original campaign pins, including those bearing names like Kennedy, Eisenhower and Nixon can be purchased online for less than $30 dollars each. And, of course, if you'd like to bet on one of the remaining 2016 candidates, you can generally do so for $10 or less -- or potentially free of charge if you're able to get one on the campaign trail.
With each of the 2016 campaigns operating official online shops, access to new memorabilia has never been easier. Ted Jackson, president of Spalding Group, which operated George W. Bush's official online store, said he received 4,000 to 5,000 orders a day during the 2004 election. Like direct donations, he believes these types of sales have more value to campaigns than just a dollar amount. "If somebody buys any kind of merchandise, said Jackson, "that's a vote." But numbers like these are also a challenge for collectors who want to find value in the current crop of candidates.  
Like with all genres of collectibles, the rule for profiting from campaign memorabilia is less is more. If you hope to see pins from this year's election appreciate, Slater recommends bypassing those that are mass produced by national campaigns and look for smaller batch pins created specifically for local events. One example according to Slater, is an antique car-themed pin given to guests at a 1980 Reagan/Bush dinner in Indiana, which now sells for up to $500. But while rarity is key when it comes to the item itself, collectors will be well served to channel their inner pollster. "The part that is hard to predict is that the nominees for each party will be the ones most collected later," said Ron Puechner, president of APIC (American Political Items Collectors). "So although some collect all of the other hopefuls, the number of collectors is fewer and therefore demand is therefore less."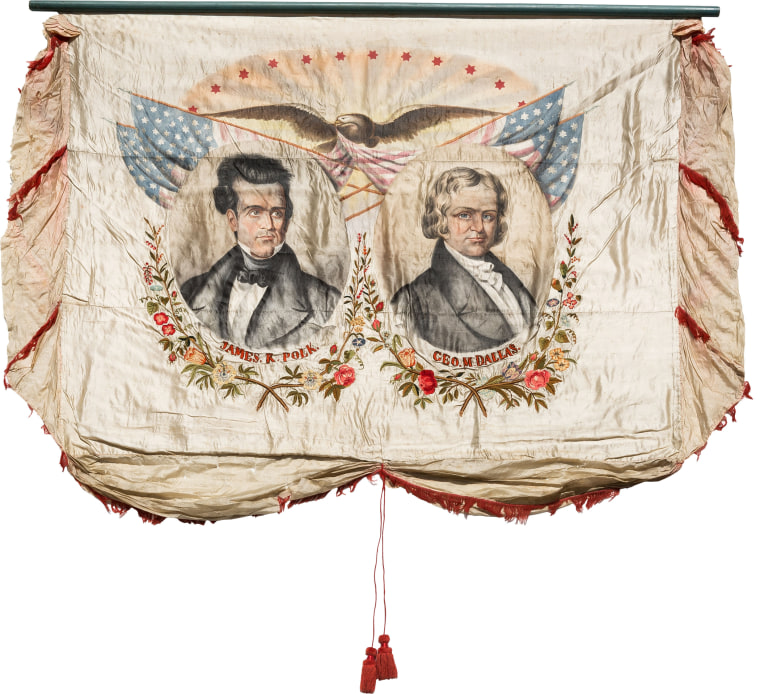 Along the same lines, Puechner said that collectors looking to candidates from the past tend to gravitate toward the most popular -- Washington, Lincoln, Teddy Roosevelt, Franklin Roosevelt and John F. Kennedy -- people, he explains that were at the center of some of the most important events in America's history. "In general, winners are always preferable to losers," said Slater. "And if you have a winner who has a dynamic personality and accomplished historically important things, that just adds to the value of his campaign items."
"Controversy also attracts collectors," added Puechner. "So a socialist like Eugene Debs who was a union leader and even ran a campaign while in jail is popular with collectors."
The names of these and countless other (celebrated and long forgotten) candidates can be bought, sold and collected on everything from vintage ribbons to iconic posters and, of course,  in the form of hand-signed autographs -- though autographs signed by future presidents on the campaign trail command lower prices than those signed while in office. Finances aside, it's the classic rally sign that Jackson said is most valued by the campaigns themselves. "That's the photo op that they want. Everyone holding up a sign, well choreographed, perfect picture."
Unlike in years when his company has worked for a particular campaign, Jackson has spent the current election cycle selling merchandise on his own unauthorized web stores dedicated to Ted Cruz, Marco Rubio, Jeb Bush and Donald Trump, with the latter offering a slightly adjusted "Let's Make America Great Again" hat. Among the four, Jackson estimates that Trump-related products have outsold the others by at least 10-to-1. What those numbers mean for the future value of Trump's famous headwear remains to be seen. "I don't expect those to be rare," said Slater. "But if Trump goes on to be president, there'll always certainly be a market for them. If he goes on to be a political asterisk, less so."
With primary fever still building and more than 200 years of presidential campaigns to mine from, even the perennial candidate himself can't resist holding on to some electoral history. "I have a lot from [Howard] Dean," said Nader of the pins he's saved over the years in addition to his own. Like many collectors, though, he too laments the item that got away. "The most famous one was a set of huge pencils that were like six feet long," recalled Nader, referencing a car mounted promotion for his 1992 New Hampshire write-in bid. "I don't have any left," he said of the dozen or so that were produced, noting that one was given to the Smithsonian. "Those are gonna be really worth something."