CHARLESTON, S.C. --  Police have captured the suspected gunman believed to have fatally shot nine church members gathered Wednesday night for Bible study and prayer, officials said Thursday. Dylann Storm Roof, 21, was taken into custody in Shelby, North Carolina, nearly 250 miles from the scene of the deadly shooting.
RELATED: The question hanging over Charleston
Among the dead in the massacre at one of the nation's oldest black churches here was beloved pastor Clementa Pinckney, a longtime state senator.
Roof waived his right to an attorney and said he would not fight extradition to South Carolina in his first court appearance later Thursday, an employee of the local Cleveland County Clerk's office said. He is expected to appear for a 2 p.m. ET bond hearing Friday in North Charleston, South Carolina.
Speaking to the public Thursday, President Obama paid tribute to the rich history of Emanuel African Methodist Episcopal Church and its leader, appearing visibly distraught over the many episodes of mass gun violence that have taken place during his time in office.
"This is a sacred place in the history of Charleston and in the history of America," Obama said. "Any death of this sort is a tragedy. Any shooting involving multiple victims is a tragedy. There is something particularly heartbreaking about death happening in a place in which we seek solace and we seek peace. In a place of worship."
Shots rang out Wednesday evening after Roof allegedly joined a weekly prayer group gathered at the historic church and asked members to identify the pastor. Roof sat next to the church leader for nearly an hour, authorities said, when around 9 p.m., the gunman opened fire. Police said three men and six women were killed in the massacre. 
Local, state and national law enforcement launched a massive manhunt that concluded Thursday morning after a tipster reported a suspicious-looking car to authorities. Police arrested Roof at a traffic stop, Charleston Police Chief Greg Mullen said in a news conference. 
"I cannot say how thankful I am and how appreciative I am of all the people who came together during a very tragic situation, a horrific situation, one that has touched the heart and soul for every person who lives in this community," Mullen said.
Charleston County coroner Rae Wooten released the names of the victims Thursday afternoon. In addition to Pinckney, other victims identified are Tywanza Sanders, 26, a recent graduate of Allen University; Cynthia Hurd, 54, a library manager at St. Andrews Regional Library; Sharonda Coleman-Singleton, 45, a reverend and mother; Susie Jackson, 87; Ethel Lance, 70; Myra Thompson, 59; Reverend Depayne Middleton, 49; and Rev. Daniel Simmons, 74, who died shortly after being taken to a local hospital. 
The Justice Department has opened a hate crime investigation into the shooting, U.S. Attorney General Loretta Lynch said Thursday, calling the deadly incident "heartbreaking and deeply tragic."
"Acts like this one have no place in our country and no place in a civilized society," Lynch said. "Even as we struggle to comprehend this heartbreaking event, I want everyone in Charleston and everyone who has been affected by this tragedy to know that we will do everything in our power to heal this community and make it whole again."
South Carolina Gov. Nikki Haley struggled through tears during a press conference Thursday morning, urging communities across the state to come together and heal. "We woke up today and the heart and soul of South Carolina was broken," she said while choking up. "And so we've got some grieving too. And we've got some pain we have to go through. Parents are having to explain to kids how they can go to church and feel safe. And that's not something we've ever thought we'd deal with."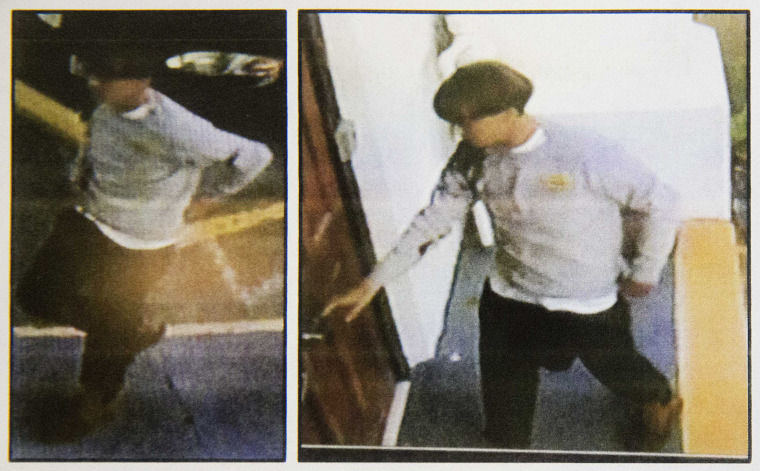 The violence erupted at Charleston's historic Emanuel African Methodist Episcopal (AME) church, the oldest such congregation in the South, known as much for the role it played at significant moments of racial distress as for its grand Gothic architecture.
It was the second time in three months that violence, death and race mixed in Charleston, where in April a white police officer fired eight bullets at Walter Scott, an unarmed African American man, killing him. The officer was charged with murder and is currently facing trial.
On a campaign stop in the city Wednesday, presidential contender Hillary Clinton spoke passionately about police violence, calling Scott's death a "terrible tragedy." She left the city before the shooting occurred, a campaign aide confirmed. There had been local reports that Pinckney was campaigning with Clinton in the state. But a campaign official told msnbc that he was not at her fundraiser.
Community members, clearly distraught, held impromptu prayer circles and gathered into the night as tensions ran high and new details emerged about the deadly shooting. In an interview with NBC affiliate station WIS, a woman claiming to be Pinckney's cousin relayed an account from a survivor in the room.
"She said that he had reloaded five different times and her son was trying to talk him out of doing that, killing people, and he just said, 'I have to do it' and he said, 'You rape our women and you're taking over our country and you have to go,'" Pinckney's cousin said.
Few details are known of the alleged gunman. Roof had been previously jailed on drug charges in March, NBC affiliate WIS-TV reported. He was arrested on trespassing charges a month later. The 21-year-old's uncle told Reuters that Roof had received a .45-caliber handgun for his birthday in April. 
Except for the immediate block by the church, movement was free Thursday morning. Buses rumbled by, people cooled off in the shade of the park across the street. The brutal heat kept the streets relatively clear. Onlookers were, all things considered, few and far between. One man set up a banner "PUT DOWN THE GUNS YOUNG PEOPLE." A Coca-Cola van stopped by to drop off free cold water for reporters camped out across the street.  
Pastor John Paul Brown of nearby Mt. Zion Church said churches in Charleston are generally welcoming of strangers. "Charleston is called the Holy City for a reason," Brown told msnbc. "To have that apprehension about the safety of churches, there's just no way to lock every door and check everyone who comes in ... You can't say 'I represent Christ, let me frisk you.'"
JA Moore, a family friend of Pinckney, said he had known the late pastor since he was a child. 
"People are just trying to process it, people are trying to figure everything out, it's hard to respond to this because it's this fringe group of people, and it's not like you can go after an establishment like the police department or the governor's office," Moore told msnbc. "It's a powder keg. You've got to think this community that is just getting over Walter Scott, I think everyone is kind of on edge. I think right now people are just kind of waiting to see what happens. This is crazy."
Bakari Sellers, a lawyer and former state legislator, described Pinckney as a "really good guy" who gave voice to the underserved. "People are just trying to figure out why. And asking the question, where can you be black, if you can't be black in the street and you can't even be black in church. That is a big question," Sellers said.
South Carolina Sen. Lindsey Graham issued a statement Thursday offering prayers to the victims and families of the tragedy.
"There are bad people in this world who are motivated by hate.  Every decent person has been victimized by the hateful, callous disregard for human life shown by the individual who perpetrated these horrible acts," Graham said in a statement. "Our sense of security and well-being has been robbed and shaken." 
"My heart is breaking for Charleston and South Carolina tonight," South Carolina Sen. Tim Scott said in a statement. "Tonight we stand together in prayer for Pastor Pinckney and his congregation at Emanuel AME, and for the families who are enduring unimaginable pain at the loss of their loved ones."
A prayer vigil was scheduled for noon Thursday at Morris Brown AME Church, Rev. Norvel Goff said during the late night press conference.
Jeb Bush, who had been scheduled to hold a town hall-style meeting in the city Thursday, cancelled the event "due to the tragic events unfolding in South Carolina," a member of his campaign said.
The family of Walter Scott, a black man who was unarmed when he was shot and killed by a white police officer in North Charleston in April, released a statement Thursday condemning the "horrific tragedy" at Emanuel AME Church. "It is our hope that justice will come swiftly," they said.
David Taintor and Trymaine Lee contributed to this report.