Nineteen-month-old Bou Bou Phonesavanh is the latest casualty of America's militarizing police forces.
One early morning in late May, the Habersham County Special Response Team conducted a predawn raid on a home near Cornelia, Georgia. After breaking down the door, one of the officers threw a flashbang grenade into the home. The grenade, of a type originally developed for British special operations forces to temporarily blind and confuse the enemy, landed in the toddler's crib and exploded. In horror, Bou Bou's parents could only listen to his cries. When his mother pleaded with one of the officers to let her go to him, members of the team screamed at her and told her he was fine, saying he had just lost a tooth.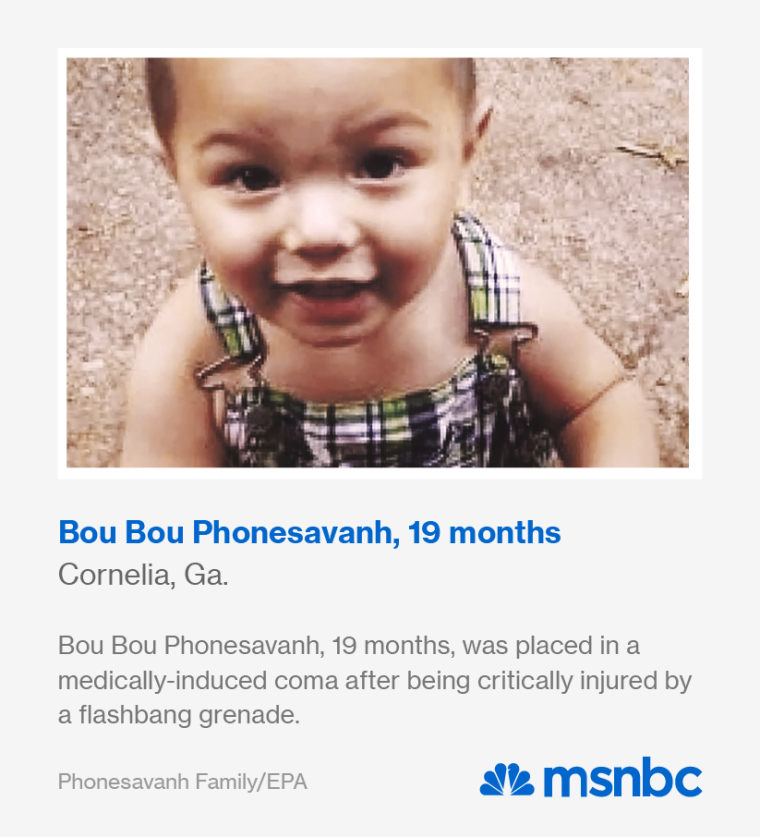 Bou Bou Phonesavanh spent three weeks in a medically induced coma with severe burns and a hole in his chest. He was taken out of the coma this week, but the hole hasn't healed. The SWAT team that threw the grenade into Bou Bou's crib weren't on the scene because Bou Bou, his parents, or anyone else in the house were in danger or dangerous. No, the police had deployed a SWAT team to look for a man they suspected of selling $50 worth of drugs, who did not even live in the home.
They didn't find him. They didn't find any guns or drugs in the house, either.
These raids and their horrific consequences aren't new. The raid that wounded Bou Bou has much in common with police SWAT deployments around the country, according to a new ACLU report on the militarization of America's police forces. Increasingly, police departments choose SWAT to handle relatively low-stakes and low-risk tasks in low-income communities of color.
We found that police often opt for the SWAT team, with its 10-or-more officers armed with assault rifles, to do routine police work in black and Latino neighborhoods. We reviewed multiple cases in which SWAT teams held children at gunpoint, killed family pets, and destroyed property simply because the cops believed they would find drugs. In the process, they have brought terror into people's homes, eroded public trust in law enforcement, and undermined civil liberties.
When police first started using SWAT teams, they reserved this tactic for extreme crises. Hostages? Yes. Barricade situation? Yes. Active shooter? Of course. Searches for drugs like marijuana? No way.  
But since the 1990s, the federal government -- including the Departments of Defense, Justice, and, more recently, Homeland Security -- has been funneling weapons and money into America's towns and cities to fight the War on Drugs. Police took this declaration of war seriously, and SWAT teams began to boom as police used their military power disproportionately on residents of poor communities of color.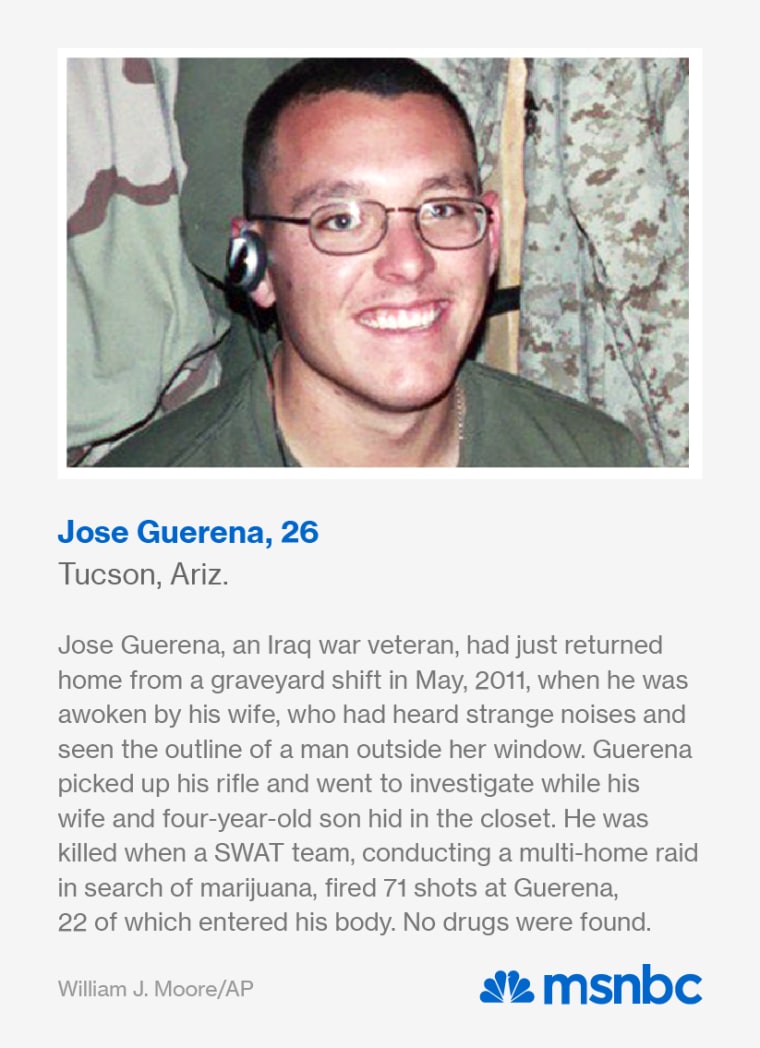 In our statistical analysis of raw data from more than 800 SWAT raids conducted across the country in 2011 and 2012, we uncovered especially stark disparities in the use of SWAT for ordinary law enforcement -- 80% of the raids we studied that involved minorities were simply for the purpose of executing a search warrant. In addition, although people use drugs at roughly equal rates regardless of race, our investigation exposed wide racial disparities in the people impacted by SWAT raids. Of the raids we studied that impacted minorities, 68% were for drug searches, but of the raids that impacted white people, only 38% were for drug searches.
This wildly disproportionate use of force needs to stop. The War on Drugs never should have targeted people of color more than any other group. And the war itself has failed -- over and over again -- destroying millions of lives while failing to achieve any of its stated objectives. Drug dependence and addiction continue. Drugs have become cheaper.
We need an exit strategy.
Fortunately, some reform efforts are already underway. Last year, the state of Utah passed a law to limit the police's ability to force their way into people's homes to serve search warrants. More states should follow suit. States should also collect data on the use of SWAT teams, including the race of the people impacted by them. At the ACLU, we are working with several police departments to develop internal SWAT policies ensuring that SWAT raids are conducted only when they are truly needed to save lives, not to terrorize people in their homes over small amounts of drugs.
It's time to keep flashbangs out of babies' cribs and to stop the police's paramilitary siege on communities of color.
Kara Dansky is senior counsel at the American Civil Liberties Union and author of the ACLU report, "War Comes Home: The Excessive Militarization of American Police."