The air inside the small, darkened theater was thick as gumbo on a hot summer night. Actors, some with beads of sweat tumbling down their brows, stood along a side wall waiting for their cues. The house lights flickered and the din of the packed audience fell into a hush.
It was showtime.
An actor in dingy sneakers and dirty sweatpants stood up from a cardboard box with an empty paper cup in his hand. He lifted it quietly, solemnly scanning the crowd. The cardboard box, he said, is his home. He is hungry and desperate. But to all those that pass him by each day, he is invisible.
Moments later, another young actor took center stage.
"I'm a slave," she called out, looking hauntingly into the audience. "How did this happen to me!"
The audience remained rapt in attention -- all but Kwasy Ahama, an 11-year-old boy who sat in the front row with his chin buried in his chest the entire performance. You wouldn't have known it by his demeanor, but those were his words being acted out on stage.  This was his night.
Kwasy, the young writer behind the extraordinarily heavy subject matter performed that night -- rife with the very real, very granular notes of race and class struggle -- is a sixth-grader at The GLOBE School for Environmental Research in the Bronx. He was named the first-ever Middle School Playwright of the Year by the Stella Adler Studio of Acting, the prestigious acting school whose alumni include Robert De Niro and Salma Hayek.
"I've been deeply moved by what you write, who you are and by your courage," said Tom Oppenheim, artistic director of the Adler studio, gazing down at the boy in the slightly-too-big navy blue suit and pink dress shirt.
The event in Kwasy's honor was the culmination of a 24-week program in which The Adler Studio teamed up with seven low-income and underperforming schools in the Bronx to teach students the nuances of acting and playwriting. But more than that, the program has served as a critical bridge between the academic and creative worlds, at a time when arts programs in many of the nation's most resource-starved schools have been all but eliminated.
"We're fighting against societal forces and economic injustice and economic inequality," Oppenheim said. "You see them coming in with their game faces on and then you slowly see them cracking open and you realize how multi-dimensional human beings are. You just water them and see what's there."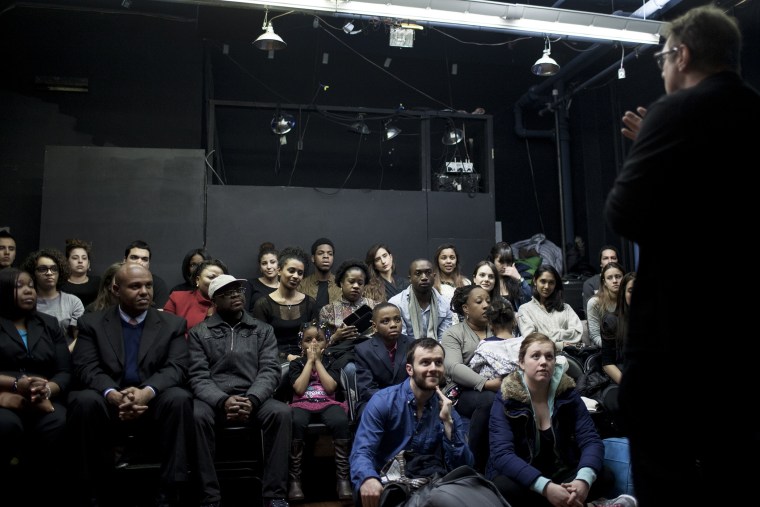 The goal isn't necessarily to create the next generation of writers and actors. Instead it is to help some of the most academically disadvantaged students expand their imaginations, improve their language skills and develop a greater sense of themselves and the world around them. 
Kwasy, whose volunteer acting coaches said he blew them away with his beyond-his-years sophistication and writing ability, was one of 700 students in 28 different classrooms that participated in the program this year. The curriculum incorporated course work on the nuances of speech and voice training, and movement and improvisation into their existing English classes.
The program was funded by a 21st Century Community Learning Center grant through the U.S. Department of Education, which will fund three years of programming in some of New York City's toughest learning environments. In 2012, the DOE awarded more than $1 billion in grants via the community learning center grants to 52 grantees.
"I think it's opened up their ideas of their world and their existence," said Barry Curtis, Kwasy's English teacher. "It allowed many of them to see their world from a different perspective. They learned empathy and, through their creative work, the ability to step into other people's shoes."
More than just meeting students' basic academic needs, the program allowed administrators and teachers to think creatively about applying the requirements of the tough (and controversial) Common Core standards, the rigorous new benchmarks most states have adopted to gauge students' proficiency.
Curtis described the Adler experiment as using "a little ingenuity to break things down" for the students who often come to class several grade levels behind.
Principal Rashaunda Shaw, in her first year at the GLOBE School for Environmental Research, said the pride she's seen in her young playwrights, particularly Kwasy, signals a new beginning for the school. The positive energy seems to have spread from classroom to classroom, belying the difficult task of educating a tough-to-engage demographic of mostly poor, minority students who come to school bearing the weight and scars of so many disparities.
"It's a new start for the school," Shaw said. "That's what keeps me grounded."
After the new Common Core standards were implemented in 2013, proficiency rates in Math and Science for the state's sixth, seventh and eighth-graders plummeted dramatically. In schools that were already struggling with student proficiency, the declines were even starker.
In 2013, the most recent year for which testing data is available, just 5% of Kwasy's fellow sixth-graders at the GLOBE School for Environmental Research were proficient in English Language Arts, down from 22% in 2012. The proficiency rates for sixth-graders in Math were only slightly better, with 9% proficient, down from 42% in 2012.
The Stella Adler Studio of Acting has long had outreach programs aimed at at-risk youth, including one the studio offers at Riker's Island, New York City's infamous city jail. But this year was the first in which the studio was able to connect in a sustained, continuous manner in New York's public schools.
"It's like a dream come true. I've wanted to do something like this for many years," said Oppenheim. "It's about creating an environment that nurtures the arts and not just for those that can afford to take acting classes." 
The awards ceremony was somewhat of a coming out party for Kwasy, a quiet boy who teachers say has always been studious and respectful, if not reserved. Kwasy's father, who sat on the front row during the performances with Kwasy's mother and little sister, said he was surprised to discover that his son had such a gift for writing.
"This is so very good," said Kosi Ahama, Kwasy's father, watching as the Adler actors clamored around his boy, snapping pictures and fawning over him. "I never believe this. He's amazing to me. I'm very, very happy to see him on that stage."
Ahama said Kwasy had never expressed any interest in the arts; he always said he dreamed of being an engineer. Most nights, he said, Kwasi is holed up in his room with his face in book, not a notepad.
Ahama, a lab technician at a hospital, said that he moved to the United States from Togo in 2003, and that the rest of his family, including Kwasy, arrived five years later in 2008. There had been some adjustments for the family, but if Kwasy's new-found talent is any indication, the future is brighter than they could have imagined.
"I really wish he'll do more," the father said, allowing a hint of a smile to spread across his stoic face.
This year was Kwasy's first at the school, and he's faced challenges getting used to new classmates, new teachers and navigating sixth-grade politics. Through writing, he said he's found a way to speak louder than his voice ever could. Kwasy said he has been inspired by books, including the harrowing tales of Percy Jackson and Greek mythology, and all the fables and foibles of the gods. But as a writer he says he's also been guided by his own life and what he sees on the hardscrabble streets of the Bronx: "guys on the streets, poor people."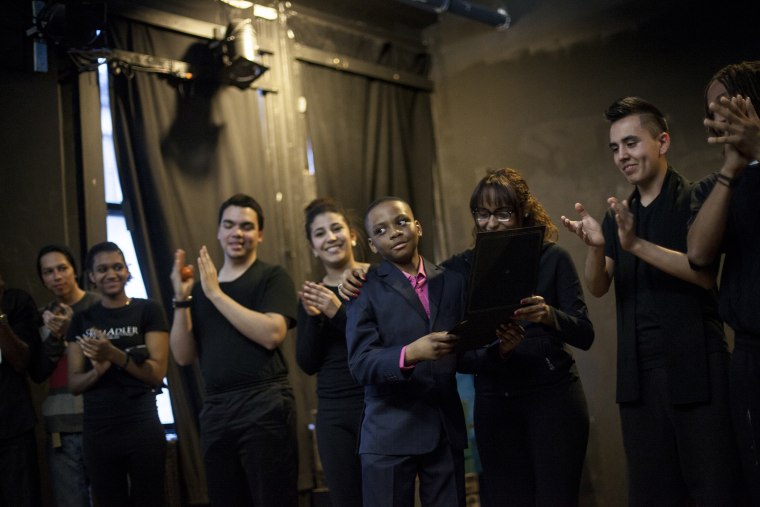 In one of Kwasy's plays, a young woman wrestles philosophically and physically with a man who reinforces that the woman is a slave, that she was born that way and will never escape her fate.
He described the play's essence this way: "you know how some people are racist and some people get put into tough spots. It's kinda like that. But how you can't give up."
"Kwasy is a young, impressionable writer and clearly he has seen some things and cares about things like social justice," Principal Shaw said of her school's "star."
The shy young man said he hopes his work will uplift and inspire others.
"I kind of just want people to feel like you can face your challenges," he said. "Don't just walk away from them. Never give up."
After the audience thinned from the small space inside Adler Studios, Kwasy stood almost alone, just feet away from where his plays were performed by young people, some of whom are currently living lives eerily similar to the characters in Kwasy's plays. The young man who played a homeless person is currently homeless himself, and calls a city shelter his home.
"Maybe I'll have a career in writing," Kwasy said. "It's encouraging what everybody has done for me. I never could have imagined it."