Protesters demanded Thursday night that Phoenix police identify the officer who shot and killed an unarmed black father of four children, in a confrontation that critics and community members likened to the deaths of Michael Brown in Missouri and Eric Garner in New York.
About 100 people marched to police headquarters a day after the department strongly defended the decision by the officer who shot 34-year-old Rumain Brisbon, who friends and family said was simply delivering dinner to his children, on Tuesday night. The Phoenix Police Department released a statement late Thursday saying that the officer involved in the shooting was a white, 30-year-old male with seven years of experience on the force.
"This one went bad from the standpoint of how it ended, but the officer was doing exactly what we want him to do," Sgt. Trent Crump, a Phoenix police spokesman, said at a news conference Wednesday.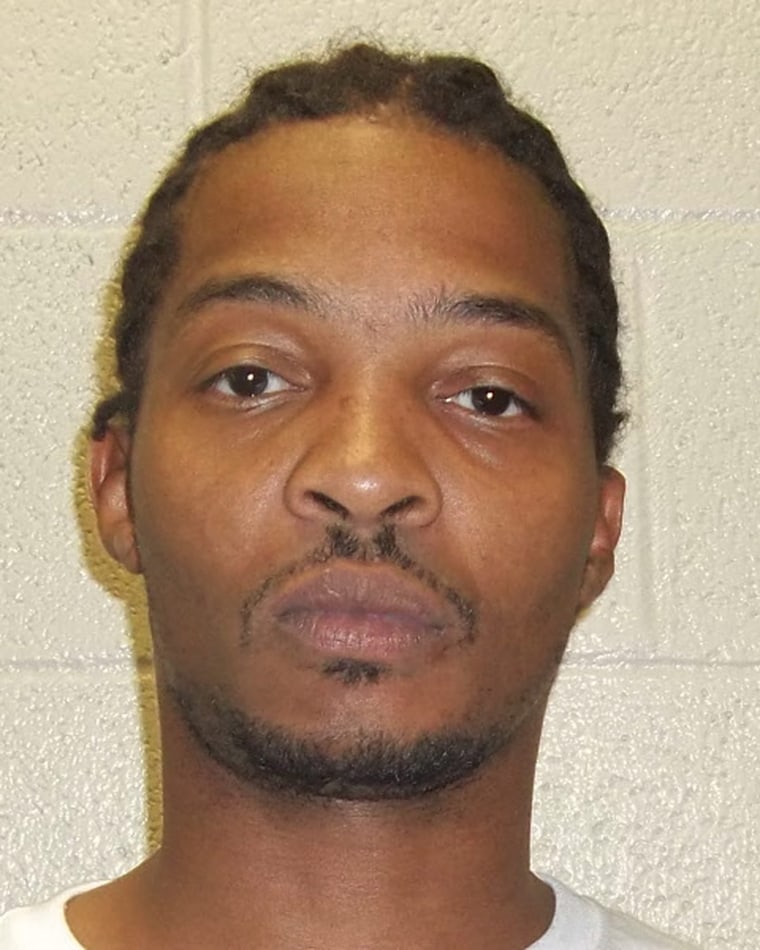 But Ann Hart, chairwoman of the African American Police Advisory Board for South Phoenix, said the shooting only reinforces "the impression it's open season for killing black men."
"We need to look into that," Hart told NBC station KPNX of Phoenix. "We need to take a deeper dive into why police officers are feeling compelled to shoot and kill as opposed to apprehend and detain, arrest and jail."
Another rally was scheduled for Friday night. With police being questioned about the deaths of unarmed black men not only in Phoenix but also in Ferguson, Missouri, and in New York, a nonprofit police foundation in nearby Tempe, Arizona, canceled a fundraising "Run From the Cops 5K" race scheduled for Saturday, citing "sensitivity, respect, and support for all sides of an important debate taking place all across our great country."
Crump told reporters that the officer and his partner were responding to a burglary call about 6 p.m. Tuesday (8 p.m. ET) when a local resident told them that men in a black sport-utility vehicle were dealing drugs. The license plate number given by the resident matched a vehicle owned by a resident of a block where police were already investigating a report of loud music, Crump said, so the officer approached the SUV, whose driver got out.
When the officer told the driver, later identified as Brisbon, to show his hands, the driver instead put his hands into the waistband of his pants, at which point the officer drew his gun, Crump said. Brisbon began to run away, but the officer chased him down, and they began struggling, Crump said.
"The officer believed he felt the handle of a gun while holding the suspect's hand in his pocket," Crump said. Unable to keep his grip on Brisbon's hand, the officer fired two shots, he added. The object in Brisbon's pocket was later discovered to be a bottle of pain pills. The Phoenix Police Department said in a statement later on Thursday that there was a semi-automatic handgun found on the driver's side floor board of the SUV where Brisbon had been, and a jar containing what is believed to be marijuana was also found in the vehicle.
The Rev. Jarrett Maupin, an organizer of Thursday night's march, told KPNX that Brisbon was probably justified in fearing for his life and trying to flee when the Phoenix officer approached him and his friend Tuesday night.
"The Phoenix Police Department does not treat white people this way," Maupin said. "What that officer did was harass and accost them."
Marci A. Kratter, an attorney for Brisbon's family, told The Arizona Republic newspaper of Phoenix that eyewitnesses would dispute the official police account and that "we intend to pursue this to the full extent of the law."
After two days of questions and doubts, a community rally for Brisbon is scheduled downtown Thursday night and a public march was scheduled for Friday.