Hurry up, and wait.
Almost six months after being arraigned on fraud charges, pharma bad boy Martin Shkreli still doesn't have a trial date.
Shkreli returned to Brooklyn federal court Monday for a hearing, where he pleaded not guilty to a new criminal charge, filed Friday, that alleges a conspiracy to commit securities fraud in the unrestricted securities of his former pharmaceutical company Retrophin.
Shkreli's former attorney, Evan Greebel, is a co-defendant in the case, and he also pleaded not guilty to the latest charge.
Shkreli, 33, last was in court May 3, when federal prosecutors and defense lawyers revealed he could be hit with additional criminal charges in the case.
That ended up happening late last Friday, when a grand jury in Brooklyn issued a superseding indictment that, in addition to the original seven of securities fraud and conspiracy counts, added an eighth charge against Shrekli. The new count charges Shkreli and Greebel with conspiracy to commit securities fraud by hiding Shkreli's control of stock, which he had transferred to seven employees.
Shkreli has said he is innocent of the criminal case, in which prosecutors claim he looted his former pharma company Retrophin for about $11 million to pay off investors he was suspected of previously defrauding in a hedge fund he ran. Retrophin's board ousted Shkreli in 2014, and later sued him for $65 million in connection with his alleged plundering of the company.
At Monday's hearing, in a crowded courtroom, the defense objected to setting the trial date because there are a number of documents they are still waiting to receive from the government, and they also wanted more time to digest the superseding indictment.
RELATED: 'Pharma Bro' Shkreli invokes the Fifth before Congress
Greebel's attorney, Lisa Rubin, said more than 3 million documents needed to be reviewed in the case. Also, she said, the new charge changes the tenor of the case, with respect to Greebel, who previously only faced a single criminal count.
Ben Brafman, Shkreli's lawyer, also argued against setting a trial date. "We're not looking to delay the process, we're looking to be informed by the process," he said.
Brafman also suggested there might be another reason why it could take a while before a trial could be scheduled. He might request that Shkreli be tried separately from Greebel because Shkreli's defense could hinge on "reliance of counsel," which would mean that Shkreli was acting on his attorney's advice.
However, Assistant U.S. Attorney Winston Paes said he didn't think the new charge changed the nature of the case in a material way, and thought a trial date should be set.
"That is the conduct that was also alleged in Retrophin's civil case," Paes said. "So there's no new evidence."
U.S. District Judge Kiyo Matsumoto ended up giving the defense what they were asking for by ordering the defendants back to court on July 14, with the hope of setting up a calendar of motions and possibly setting a trial date. Matsumoto suggested that a trial could be set for some time early next year.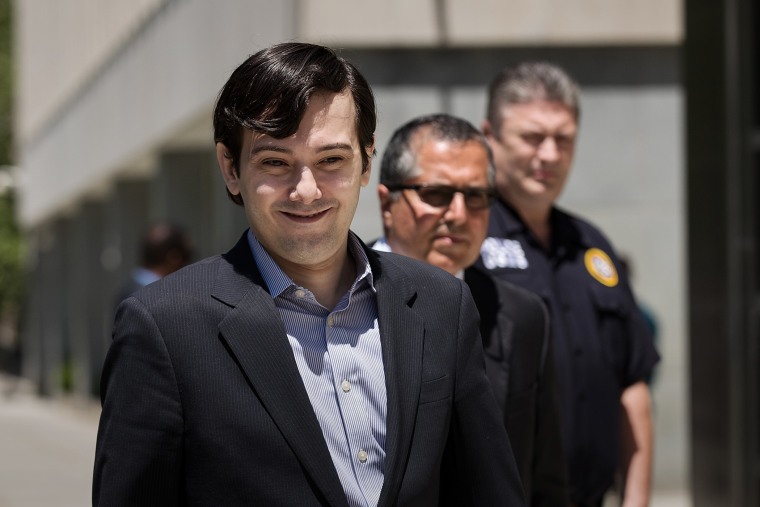 After the hearing ended, Shkreli Periscoped his trip back to his apartment, which included a stop at a Dunkin' Donuts, where he was recognized by another customer, who asked how the hearing went.
"It went great, the judge bitch-slapped the government, again," Shkreli said.
Shkreli gained notoriety last year after raising the price of a drug used to treat toxoplasmosis by more than 5,500 percent as CEO of Turing Pharmaceuticals, the company that he founded after Retrophin's board ousted him. The price of Daraprim jumped from $13.50 per pill to $750 per pill.
Although the price hike drew widespread outrage, it had nothing to do with the criminal charges that were subsequently lodged against him.
In February, Shkreli refused to testify before a congressional committee investigating drug price increases, citing his Fifth Amendment right against self-incrimination.
This story first appeared on NBCNews.com.