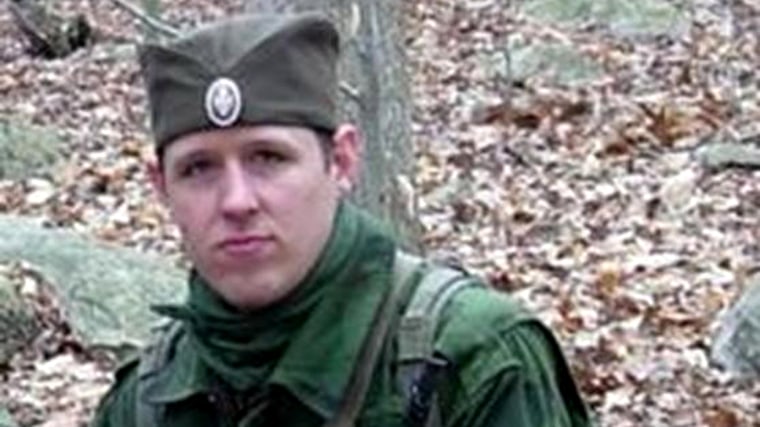 Suspected cop killer Eric Frein was captured Thursday in Pennsylvania after a 48-day manhunt, law enforcement sources with direct knowledge of the arrest told NBC News.
Law enforcement sources later said Frein, 31, was captured without incident Thursday afternoon by a U.S. Marshals task force near an airport hangar in Pocono Township. A rifle and a pistol were found inside a hangar, one of the sources said.
Frein is accused of killing State Police Cpl. Bryon Dickson and wounding Trooper Alex Douglass in an ambush on the Blooming Grove barracks on Sept. 12. Police found a diary entry, his AK-47, two homemade pipe bombs and several campsites, they but hadn't been able to capture him until Thursday.
In the diary, Frein — a military reenactment buff and survivalist — described how he fled in his Jeep but got only a half-mile before he encountered a roadblock.
"Got a shot around 11 p.m. and took it," he wrote in an entry dated Sept. 12. "He dropped. I was surprised at how quick. I took a follow-up shot on his head, neck area. He was still and quiet after that.
"Another cop approached the one I just shot," Frein continued. "As he went to kneel, I took a shot at him and jumped in the door. His legs were visible and still."