ST. LOUIS -- The family of Michael Brown called for peace and calm at a rally Sunday evening, the night before a funeral would be held for the unarmed black teen who was shot and killed by a white police officer two weeks ago.
"Tomorrow, all I want is peace while my son is being laid to rest," said Michael Brown Sr., appearing at "Peace Fest 2014" in Forest Park here with the parents of other slain black teens and civil rights leaders. "Please, please take a day of silence so we can lay our son to rest. Please. That's all I ask. And thank you."
The crowd held their hands in the air, waving peace signs, and many faces were somber. They held hands and raised their arms above their heads as the evening sun streamed through the clouds behind them. The mood was solemn and serious. A community driven to the streets by rage for so many days may finally be taking a moment to grieve.
The rally sought to bring attention to the shootings of young African-American men.
Other speakers echoed the family's requests for peace, keenly aware of the potential for more turbulence in Ferguson, which has been rocked by waves of violence since Brown was shot Aug. 9.
"The father has asked for a day of silence tomorrow," said civil rights leader and msnbc host Rev. Al Sharpton. "No matter what they say or do tomorrow, mum's the word until we lay Michael to rest. And then – justice!"
California Democratic Rep. Maxine Waters, a native of St. Louis, repeated the call. "Be peaceful tomorrow, and make sure that we give him the kind of homecoming that he deserves," she said.
The time for action would be later, she added, urging people to get involved in the political process. "There is power in Ferguson; there's power in the vote," she said. "If you are registered and you are voting, then you don't have to complain about the mayor, you can elect your own mayor."
Religious leaders from several faiths urged their devotees to heed  the calls. Despite the pleas, at least one march is planned for Monday in Ferguson.
Hundreds of people turned out for the festival on a grassy field in the urban park, braving another day of extreme heat. Before the Brown family arrived, the atmosphere was festive as children played on an array of bouncy castles while vendors supplied their parents with shaved ice, funnel cake, and crafts.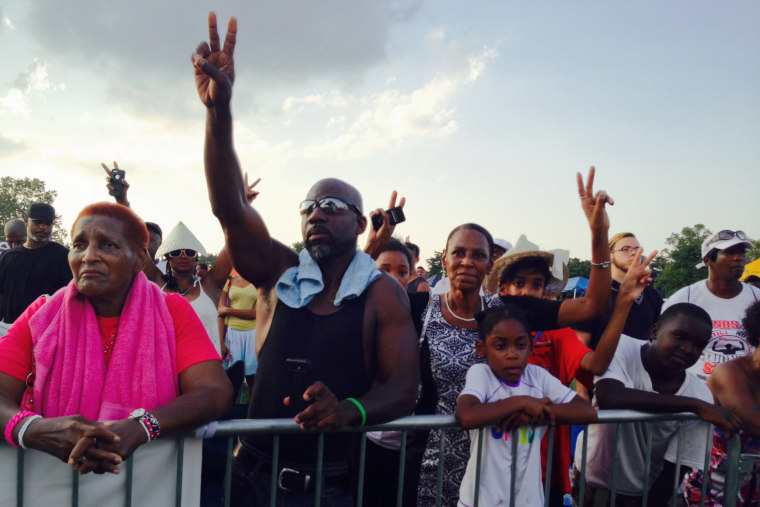 The parents of Trayvon Martin -- the 17-year-old boy who in 2012 was fatally shot by  neighborhood watchman George Zimmerman in Florida – also spoke, holding their hands in the air in the motion that has become the symbol of the Ferguson protests.
"The first thing we want to say is we love you guys," said Martin's mother Sybrina Fulton. "We all know that we need to stop the violence. We all know that. Now we need to educate somebody else to let them what's going on."
On Saturday, more than a thousand people – including veterans from the 1960s civil era and young children – braved near-record heat to march in unity and chanting "Courage will not skip this generation."
The past few nights have been relatively peaceful compared to the scene from a week ago. Demanding answers from authorities – including details about Darren Wilson, the white officer who shot Michael Brown – the community erupted into what resembled a war scene. President Obama has briefed the country on the situation twice, and U.S. Attorney General Eric Holder – who has ordered a federal investigation – arrived in Ferguson last week for an on-the-ground briefing.
Missouri Highway Patrol Capt. Ron Johnson said early Sunday morning, "We were honored to walk with these citizens who are committed to healing this community." Even police officers joined in the march. 
Johnson praised the community for bringing "peace and unity" to the streets in a night with no shootings, fire, tear gas, or Molotov cocktail, and only six arrests.
On Sunday, Missouri Governor Jay Nixon said on CNN's "State of the Union" that the bottom line is to make sure the investigations -- one by the local prosecutor and by the U.S. attorney general and the Justice Department -- are both thorough. "In order to get justice, you have to have thorough investigations with great transparency, and I think that both of those teams are working very hard to do just that," he said.
Concerns have been raised over the ability of St. Louis County Prosecutor Robert McCulloch to fairly prosecute Darren Wilson. A 23-year-veteran prosecutor, McCulloch, who is white, has angered many African-Americans for criticizing the decision by Gov. Jay Nixon to hand over policing duties in Ferguson to the state Highway Patrol, as well as in 2000 when he agreed with a grand jury to not press charges against two white police officers who shot and killed two black men. At a rally outside McCulloch's office last week, protesters demanded he recuse himself from the investigation.
When asked if Nixon had faith in McCulloch, he replied "I do know that everybody's working hard. I think the Justice Department being involved, the local prosecutor being involved, the investigators being involved, there's a lot of folks working on the street out there to make sure they get this one right, and I think that with that intention I think that they will move this case forward."
A funeral for Michael Brown will be held Monday at the Friendly Temple Missionary Baptist Church in St. Louis. Three White House officials are expected to be in attendance.