Celebrity chef Paula Deen is in hot water again after a picture was tweeted Tuesday from her official account showing her son in brownface. The tweet, which was deleted, whipped up a frenzy of backlash on social media.
In the photo, Deen's son Bobby is wearing dark facial makeup to parody Cuban-born "I Love Lucy" character Ricky Ricardo, while Deen, wearing a red wig, impersonates Ricardo's wife, Lucy. The photo was apparently taken from Deen's 2011 Halloween episode of "Paula's Best Dishes," which aired on the Food Network.
"Lucyyyyyyy! You got a lot of esplainin' to do!" the tweet reads — a catchphrase made famous on the classic sitcom, which starred Desi Arnaz and Lucille Ball. Also in the photo is Deen's longtime producer, Gordon Elliott.
In a statement released to NBC News, a representative for Deen said: "Paula Deen's Social Media Manager posted a picture this morning of Paula and Bobby Deen dressed in costume as Lucy and Ricky, from I Love Lucy. This photograph is from a 2011 Halloween episode of Paula's Best Dishes."
"Paula immediately had this picture taken down as soon as she saw the post and apologizes to all who were offended," the statement said. "As such, Paula Deen Ventures has terminated their relationship with this Social Media Manager."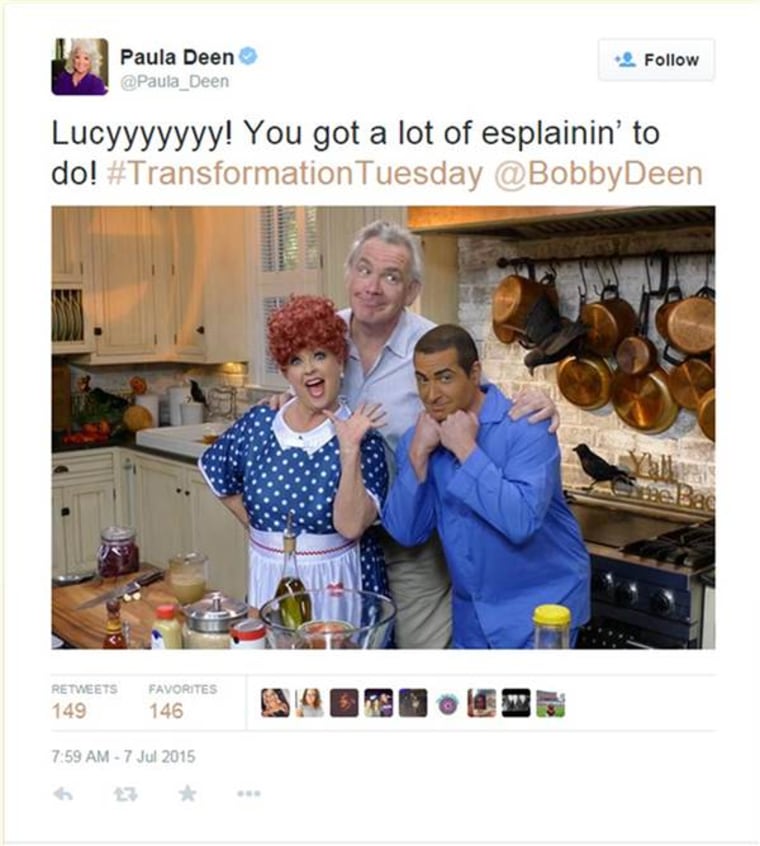 Deen, 68, once a popular TV chef known for bathing her Southern cuisine in butter, was embroiled in scandal two years when she admitted in a deposition to using the N-word and once considered throwing a "plantation-style" wedding. At the height of the outrage, she lost her Food Network programs and multimillion-dollar retail deals before tearfully telling Matt Lauer on TODAY that she is not racist.
Deen's dynasty has bounced back in recent months. The Food Network is scheduled to begin airing "Southern Fried Road Trip" — hosted by her adult sons, Bobby and Jamie — next week.