The back and forth that started on New York sports radio earlier this week has triggered a long-overdue conversation, not merely about the lopsided work-life balance in this country, but a more significant discussion about the changing role of men and fathers.
As I listened and watched the clips from the hosts and callers criticizing New York Mets second baseman Daniel Murphy for taking two days of paternity leave to spend time with his newborn son, I thought: "Really? Guys still think like this?"
Later in the day when the backlash to the ridiculous comments started, my faith in humanity was restored. Many sided with Murphy. And as I marveled at my 25-day-old son, so did I.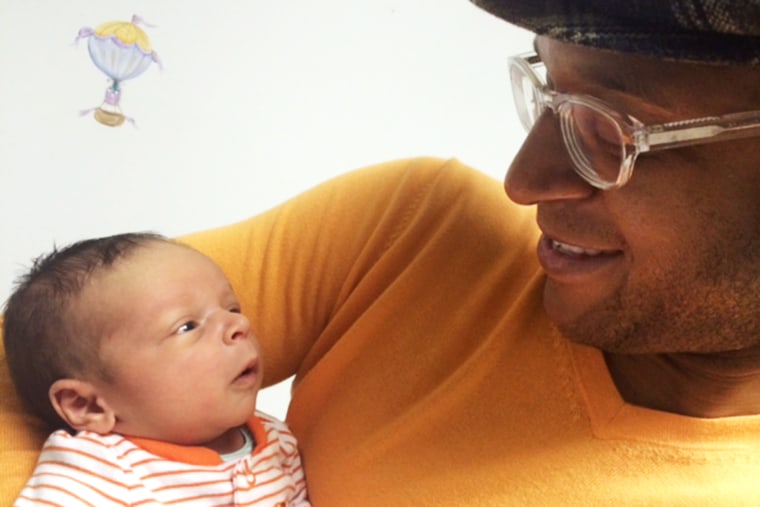 On the same night I learned I was going from barely able to take care of myself, to sharing responsibility for a child, my wife and I talked rather quickly about how much time we'd both take off from work. And as Del's birth approached, we decided to take off more time that we originally planned. 
Like many, we take our careers very seriously -- my wife is also a journalist, and our work demands occasional travel and late and unpredictable hours. But we talked to a lot of people who admitted they had regretted going back to work too soon after their child's birth. 
We welcomed Delano Joseph Melvin at 6:36 a.m. on March 10. At almost four weeks old, he spends his days and nights eating like he's in a contest and screaming at us when the food doesn't come fast enough or his diaper has changed color.
My employer provides two weeks of paid paternity leave.
I added a few vacation days and was gone for nearly three weeks. I wouldn't have traded it for anything and even that wasn't nearly enough time to bond with my new son, help change those diapers, feed, stare at him. But only when I started doing some reading did I realize that I am one of the fortunate few new parents.
Yes, we have the Family Medical Leave Act which forces medium and large companies to hold your job while you take up to 12 weeks of leave, but it doesn't guarantee pay. According to Department of Labor statistics, about 11.5 % of workplaces in this country voluntarily provide paid leave for some employees.
Those who offer that benefit to new fathers is even more minuscule and we should probably be concerned as a country about the company we're keeping. Among the 62 countries where paternity leave is required by law: Russia, Rwanda, Cambodia, Colombia, and Guatemala.
Realizing the federal government rarely takes the lead on anything, California stepped up in 2002 and became the first state to guarantee six weeks of paid leave for mothers and fathers. California's success proves wrong the claims that letting people leave work will tank state economies or impair small businesses.
They've done it out west and used a relatively small payroll-tax contribution to pay for a better work life balance. California didn't go broke doing it, and neither has New Jersey or Rhode Island which have similar plans.
The research extolling the virtues of paternity leave is extensive. The most recent and widely cited study came out last year and was titled "Children's Chances." It concluded with what many parents already knew: "When fathers take leave during infancy they are more likely to be involved in their children's lives down the road."
Having experienced it first-hand, I would argue that a modest investment that encourages fathers to start off on the right foot is a more than worthwhile one considering we all pick up the tab down the road when children whose fathers weren't there start growing up.
My first few weeks of fatherhood have been largely devoted to the things new parents spend their short days and long nights doing -- feeding, swaddling, soothing. But I would not trade these days for anything. In fact, next time, I'll likely take more.
Craig Melvin is an msnbc anchor and NBC News correspondent.