A tidal wave consisting almost entirely of Republicans swept into the national debate on Monday, with governors and presidential candidates alike demanding that the U.S. stop accepting Syrian refugees. It's a clear attempt to overpower President Obama while drowning out any safety threats to the U.S. homeland in the wake of the recent terror attacks in Paris.
At least 22 GOP governors have announced that they either oppose accepting Syrian refugees or will not allow any more -- either temporarily or permanently -- into their states, even as the Obama administration says it will continue to accept 10,000 Syrian refugees in the next year. Critics, meanwhile are decrying the move as fear-mongering at its worst.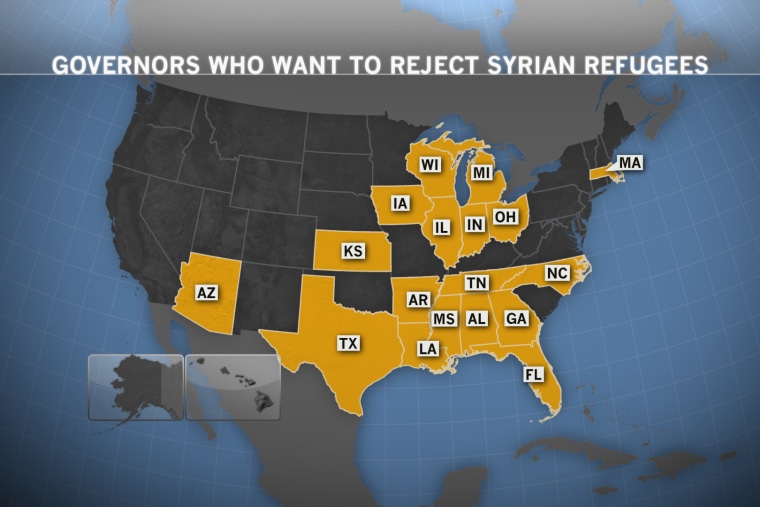 Those governors include Robert Bentley of Alabama, Asa Hutchinson of Arkansas, Mike Pence of Indiana, Bobby Jindal of Louisiana, Charlie Baker of Massachusetts, Bruce Rauner of Illinois, Rick Snyder of Michigan, Phil Bryant of Mississippi, Greg Abbott of Texas, John Kasich of Ohio, Nathan Deal of Georgia, Doug Doucey of Arizona, Scott Walker of Wisconsin, Rick Scott of Florida, Pat McCrory of North Carolina, Sam Brownback of Kansas, Terry Branstad of Iowa, Bill Haslam of Tennessee, Pat McCrory of North Carolina, Mary Fallin of Oklahoma, Butch Otter of Idaho and Chris Christie of New Jersey.
Christie, for his part, told conservative radio host Hugh Hewitt on Monday that even "orphans under five" should be barred from entry into the United States.
"I don't think orphans under five are being, you know, should be admitted into the United States at this point. But you know, they have no family here. How are we going to care for these folks?"
"The fact is you can come up with a number of different scenarios," Christie continued. "But in the end, I don't trust this administration to effectively vet the people that they're asking us to take in. We need to put the safety and security of the American people first."
RELATED: 'Paris is not alone'
Several Republican presidential candidates -- in addition to Christie, Kasich and Jindal -- are also trying to curb the flow of Syrian refugees. Retired neurosurgeon Ben Carson sent a letter to House Speaker Paul Ryan on Monday urging the GOP leadership to move legislation to eliminate all public funding for any ongoing federal programs that aim to resettle refugees or migrants from Syria to America. Former Gov. Mike Huckabee called on Ryan to resign if he doesn't stop the relocation of refugees into the country. Sen. Rand Paul of Texas introduced legislation in hopes of preventing terrorists from entering the U.S. as refugees.  And Texas Sen. Ted Cruz and former Florida Gov. Jeb Bush have gone as far as to suggest that U.S. assistance should focus on helping Syrian refugees who are Christian.
President Obama called suggestions that religion be a factor "shameful" at the G-20 meeting in Turkey. "That's not American," he said. "That's not who we are. We do not have religious tests to our compassion."
But Republicans are still ringing the alarm bell on Obama's plan, especially as concerns linger that at least one of Friday's attackers may have entered Europe by hiding among a group of migrants.
"Texas WILL NOT accept any Syrian refugees in the wake of the Paris attacks," Abbott tweeted. In a separate letter to Obama, he wrote, "I – and millions of Americans—implore you to halt your plans to accept more Syrian refugees in the United States."
Bentley tweeted, "I will not stand complicit to a policy that places the citizens of Alabama in harm's way. We refuse Syrian refugees."
Jindal, who is running for president, signed an executive order instructing state agencies to "take all available steps" to stop the relocation of Syrian refugees into Louisiana. Jim Lynch, a spokesperson for Kasich, who is also mounting a bid for the White House, said the governor doesn't believe the U.S. should accept additional Syrian refugees because of security issues and is looking at "what additional steps" Ohio can take to stop potential resettlement. Others, including Pence, Rauner and Snyder said they were temporarily suspending the resettlement of Syrian refugees. 
Syria is believed to be one of the home bases of the terrorist group known as ISIS, which claimed responsibility for Friday's attacks, killing more than 120 people and injured at least 350. But the flood of refugees who have been fleeing to Europe and other regions are by in large doing so to escape civil war and ISIS-related violence.
Even as governors say they won't allow Syrian refugees into their respective states, there are big questions if those governors can unilaterally make those decisions themselves. The Department of Homeland Security did not respond to a request for comment.
Kathleen Newland, co-founder of the Migration Policy Institute told MSNBC that the answer was "no."
"Immigration in all its form is a federal function so the states have no statutory control over it. They don't have the legal authority to do this," she said. Newland added, "This is the worst kind of demagoguery in my view. These refugees are people who are running from terrorists not trying to engage in acts of terrorism."
Newland noted there are layers and layers of security screenings (including from DHS, the State Department and the FBI) before refugees are even allowed to come into the country, which can take up to one to two years. "There are much easier ways for terrorists to enter into the United States if they are intent of doing harm, like using false passports," she said.
Robert McCaw, the government affairs manager at the Council on American-Islamic Relations said the Republican lawmaker and candidate's announcements were "more politicking than anything else" and were playing on a consistent streak of Islamaphobia.
"If lawmakers and presidential candidates want to use the tragedy in Paris for their own political gains and create fear and mistrust in our government's ability to process refugees it's a shame," said McCaw.
The Republican remarks stood in sharp contrast with Democrats. During Saturday night's debate in Iowa, former Secretary of State Hillary Clinton, Vermont Sen. Bernie Sanders and former Maryland Gov. Martin O'Malley all said the U.S. should take in refugees, while also stressing the need for proper screening. Clinton and O'Malley even reiterated their previous call to increase the number of refugees to 65,000.
On Monday, O'Malley responded to the wave of GOP governors refusing to allow Syrian refugees into their states. "Scapegoating an entire religious community and rejecting those fleeing ISIL's terrorism and persecution is what terrorists want...These are women and children dying and fleeing the same sort of carnage that was unleashed on the people of France," he said in a statement. 
At least five Democratic governors—Dannel Malloy of Connecticut, Peter Shumlin of Vermont, Mark Dayton of Minnesota, Jay Inslee of Washington and Tom Wolf of Pennsylvania – are promising to still accept Syrian refugees. "While details are still emerging regarding individuals responsible for the heinous attacks in Paris, all of those responsible committed atrocious acts of justice and must be brought to justice," Wolf said in a statement. "We must not lose sight of the fact that families leaving Syria are trying to escape the same violence and unimaginable terror that took place in Paris and Beirut."
So far, only one Democratic governor -- Maggie Hassan of New Hampshire-- has come out against Obama's policy of accepting Syrian refugees. William Hinkle, her communications director, said in a statement that the governor believes the federal government should stop accepting refugees from Syria "until intelligence and defense officials can assure that the process for vetting all refugees, including those from Syria, is as strong as possible..." Notably, Hassan  is running in a heated race for a U.S. Senate seat in New Hampshire, challenging incumbent Republican Sen. Kelly Ayotte, who has also criticized Obama's policy.