There have been at least five shooting rampages in public areas during the last month alone.
On Tuesday, a gunman killed a student at Reynolds High School in Troutdale, Oregon. Two days before, a married couple opened fire at a pizzeria and Wal-Mart in Las Vegas, Nevada, murdering two police officers and one civilian.
Last week on June 5, there was a similar incident at Seattle Pacific University in Washington. Thirteen days before that, at the University of California Santa Barbara on May 23. And just two days prior, an incident at Clark Street School in Milwaukee, Wisconsin.
In total, there have been 74 school shootings since 26 individuals, including 20 first-graders, died inside Sandy Hook Elementary School on Dec. 14, 2012, according to data compiled by Everytown for Gun Safety. Just in 2014 alone, there have been 37 gun-related incidents at schools; 79 shooting-free school days out of the total 116 since Jan. 1. Thirty-one states have experienced school shootings since Newtown. The events have occured most prevalently in Georgia, which has reached 10.
"We sit back and more or less wait to see where tragedy is going to strike again," Neil Heslin, the father of six-year-old Jesse Lewis who was killed at Sandy Hook, told msnbc.
"When I hear it's in a school, the first thing I think of is elementary kids, I think of Jesse and what happened that day. We continue to do nothing and it's really, really disgusting."'
"It could happen anywhere. My heart stops. When I hear it's in a school, the first thing I think of is elementary kids, I think of Jesse and what happened that day. We continue to do nothing and it's really, really disgusting," he said, adding that every shooting is a flashback of what the Newtown community experienced.
The Senate failed to pass a bipartisan background checks bill last April even after the tragedy in Newtown, Connecticut. Since then, most of Congress continues to neglect the issue.
The United States has more guns and gun deaths than any other developed country in the world, according to researchers who published a study last September in The American Journal of Medicine. The two New York City cardiologists found that the country has 89 guns per 100 people and 10 gun-related deaths per 100,000 people. The figures are more than any of the other 27 developed countries they reviewed. They used death figures from the World Health Organization and gun ownership numbers from the Small Arms Survey.
Additionally, the U.S. government released its 16th annual report related to school safety on Tuesday, just hours after the shooting in Oregon. The 208-page report details an overall decline in school crime within the past 10 years, but notes that certain states are disposed to school violence more than others.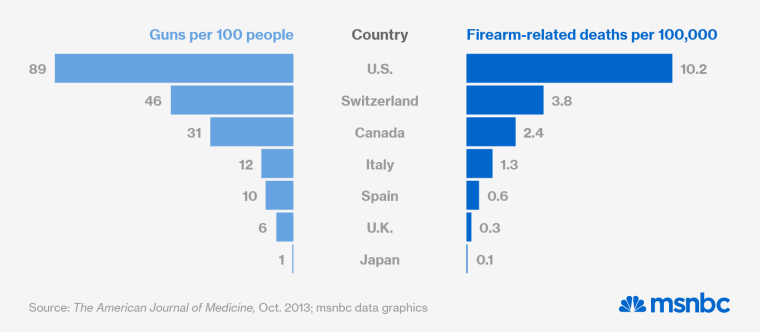 Danielle Vabner, whose younger brother, Noah Pozner, died at Sandy Hook, made a promise to herself after his death that she would push for change so that he "didn't die for no reason," she told msnbc. Hearing about another shooting in a public area each time fills her with anger, frustration, and disappointment, she said.
In the wake of the recent shooting at the University of California, Richard Martinez, a father of one of the victims, publicly expressed his disappointment with politicians failing to enact stricter gun laws, asking "where the hell is the leadership?" Martinez inspired a call to action from Everytown for Gun Safety, backed by former New York Mayor Michael Bloomberg, to urge Americans to create postcards addressed to their elected officials with the words: "Not one more."
It's not that some legislators aren't trying. Less than a month ago, the House passed a gun-control bill that would boost funding for background checks. State lawmakers across the country put Washington to shame as they continue to approve measures meant to strengthen gun regulation. California legislators are attempting to pass a bill that would allow law enforcement officials and the general American public to appeal to a judge for the temporary removal of firearms from an individual they view as a threat to public safety. They introduced the measure less than a week after the shooting at the University of California.
And grassroots organizations, including Moms Demand Action for Gun Sense in America, gain followers with each public outcry. The Indiana-based group is set to host a "stroller jam" on Wednesday outside of Target's annual shareholder meeting in Dallas, Texas. The moms have gained more than 200,000 signatures since they launched their campaign against the retailer requesting management ban armed customers from the stores.
RELATED SERIES: 'Too Young to Die'
But the efforts haven't been enough.
President Barack Obama said most issues don't surprise him after being involved extensively in Washington politics. But, he is stunned by the reality that the country's leaders haven't done anything about federal gun laws, not even after 20 six-year-olds were gunned down.
"My biggest frustration so far is the fact that this society has not been willing to take some basic steps to keep guns out of the hands of people who can do just unbelievable damage," Obama said Tuesday during a Q&A session on Tumblr. "We're the only developed country on Earth where this happens. And it happens now once a week. And it's a one-day story. There's no place else like this."
Prior to the one-year mark of the Newtown shooting, the Obama administration made legal a new rule that will grant mental health and addiction the same guarantee as physical ailments. The motion was the last to complete the president's 23 executive actions on gun violence that he created at the beginning of 2013 to curb gun-related incidents.
In addition to stricter laws, the public debate also mentions deeper changes to how the American public views and treats mental health and changes in school security systems. The right fears new laws could impose on their constitutional right to bear arms, while liberals view each shooting as another reason for new measures.
"It's going to be an inconvenience," Heslin said. "But an inconvenience is better than the tragedies that we've had."
RELATED: When Congress won't act on gun control, individual groups will
Wayne LaPierre, executive vice president of the National Rifle Association, during his first public address after the Newtown shootings called for the arming of more Americans, specifically in schools, to prevent shooting rampages. Had the principal at Sandy Hook been carrying a firearm, he suggested, she could have stopped the gunman from his killing spree. LaPierre placed blame on the media and Obama for the incident.
"I can't help but wonder where the next mass shooting will happen and where it's going to occur."'
Some at the grassroots level remain optimistic that a restrictive gun law – whether that be closing the loophole in the background checks system or limiting the amounts of ammunition capacity in firearms – will eventually pass. The current federal system doesn't require unlicensed private sellers to perform background checks on prospective purchasers nor to maintain records of the sales. The gunman in Oregon, a freshman at the high school, used an AR-15 type rifle in the attack and carried a semi-automatic handgun, according to police chief Scott Anderson. He obtained the firearms from his home, similar to the Newtown shooter who similarly used a military-style semi-automatic rifle. Such weapons allow shooters to fire a large number of rounds quickly without having to reload.
Vabner, who visited Capitol Hill to share her brother's story, last year took a break from pushing for change to return to school at the University of Texas at Austin. But, beginning this summer, she will rejoin the movement by focusing on survivor outreach with Everytown for Gun Safety.
"It makes me feel better that so many people have gotten involved and so many people deeply care about the issue," she said. "I have faith that there will be a change."
Heslin testified about his son last February during the Senate Judiciary Committee hearing on the failed assault weapons ban, supported most prominently by Democratic Sen. Dianne Feinstein of California (she was the author of the 1994 Federal Assault Weapons Ban that expired in 2004). He continues to lobby for legislation at the state level, including in Nevada, New Jersey, Texas, and Indiana.
"I feel terrible saying this," Heslin said, "but I can't help but wonder where the next mass shooting will happen and where it's going to occur."