The anti-government activists who took over a federal wildlife refuge in Oregon are going to face federal charges when the siege is over, the local sheriff told NBC News on Wednesday.
"The (FBI) has assured me that those at the Malheur National Wildlife Refuge will at some point face charges," Harney County Sheriff Dave Ward told NBC News.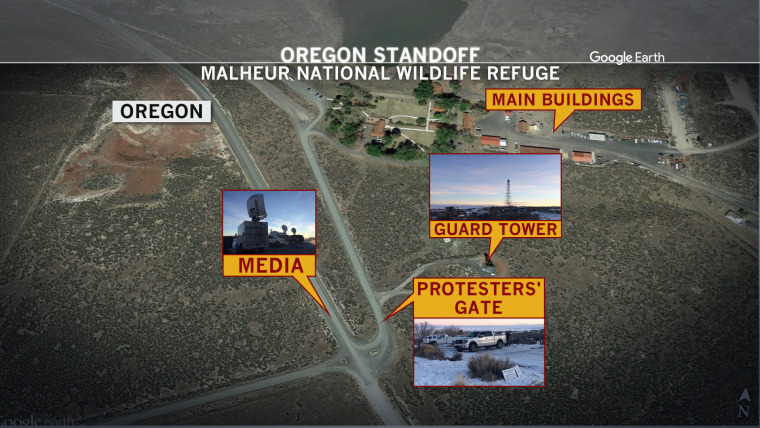 Ward did not go into specifics. A representative for the FBI, which has kept its cards close to the vest during the now five-day drama, told MSNBC there is "no information regarding arrests" and said he could not confirm Ward's assertion.
Meanwhile, the group's ringleader Ammon Bundy gave no indication when they would end the standoff.
"There is a time to go home, we recognize that," he told reporters at the facility Wednesday. "We are not quite there yet."
Bundy chuckled a bit when asked about the phony Ammon Bundy who caused a stir on Twitter when he compared the occupiers to civil rights icon Rosa Parks.
"First of all, I don't have a (Twitter) account," he said. "But from what I hear, he's been doing a pretty good job."
Earlier, 54-year-old occupier LaVoy Finicum said he'd sooner die than go to a federal prison.
"I have been raised in country all my life," Finicum, an Arizona rancher, told NBC News on Tuesday. "I have no intention of spending any of my days in a concrete box."
Jon Ritzheimer, 32, of Phoenix, warned the other heavily-armed occupiers huddled around a campfire and eating pizza that the feds were coming for Bundy, his brother Ryan Bundy, and Finicum.
RELATED: The Republican war on parks
"If you see that man taken down," he said, gesturing to Finnicum, "if you see that man lose his life, you know what to do."
Ritzheimer added, "Don't open fire unless fired upon."
Ritzheimer, who said he served two tours in Iraq as a Marine, posted a nearly 14 -minute video message to his wife and kids on YouTube before setting off with the Bundy brothers and Finicum for Oregon.
"I want to die a free man," a tearful Ritzheimer can be heard saying. "I've had to do a lot of soul-searching up here ... And I am 100 percent willing to lay my life down to fight against tyranny in this country."
Last May Ritzheimer led an anti-Muslim demonstration outside the Islamic Community Center of Phoenix.
Led by Ammon and Ryan Bundy — sons of Cliven Bundy, a Nevada rancher who became infamous for another standoff with the federal government in 2014 — the gunmen took over the unoccupied federal facility in remote Burns, Oregon on Saturday.
Their stated aim was to free two ranchers — Dwight Hammond and his son Steven — who were convicted of setting fires on government land. And they were determined to sound the alarm about what they claim is a government war against private ranchers.
But the Hammonds voluntarily turned themselves in to the feds and disavowed both the Bundy brothers and their followers, making the occupiers rebels with only half a cause.
Ward urged the Bundys and the others to get out of town. And soon "Militia Go Home" signs began being seen posted on telephone poles.