For years the Sierra Club has warned that international trade deals could be used by corporations to undermine U.S. environmental protections. Now the Canadian oil company TransCanada is attempting to do exactly that in response to President Obama's rejection of its Keystone XL tar sands pipeline.
TransCanada has given new meaning to the phrase "sore loser" by suing the United States for more than $15 billion in "compensation." The company has launched a lawsuit by using a dangerous provision in the North American Free Trade Agreement (NAFTA) called the investor-state dispute settlement. NAFTA's investor-state system gives foreign corporations, including big polluters, expansive rights to challenge U.S. environmental protections in unaccountable trade tribunals.
RELATED: Hillary Clinton protects left flank with TPP opposition
You may have seen investor-state dispute settlement in the news recently — Sen. Elizabeth Warren, Nobel Prize–winning economist Joseph Stiglitz, and many others have warned against its inclusion in the Trans-Pacific Partnership (TPP), a NAFTA-like U.S. trade deal with 11 Pacific Rim nations that could come before Congress this year. Like Warren and Stiglitz, the Sierra Club and other environmental groups are concerned about the extreme power that investor-state dispute settlement gives to already deep-pocketed corporations that want to challenge the laws that keep us safe and healthy. The TPP would grant that power to thousands more foreign corporations — roughly doubling the number of companies that could follow TransCanada's example and challenge U.S. climate and environmental safeguards in private tribunals.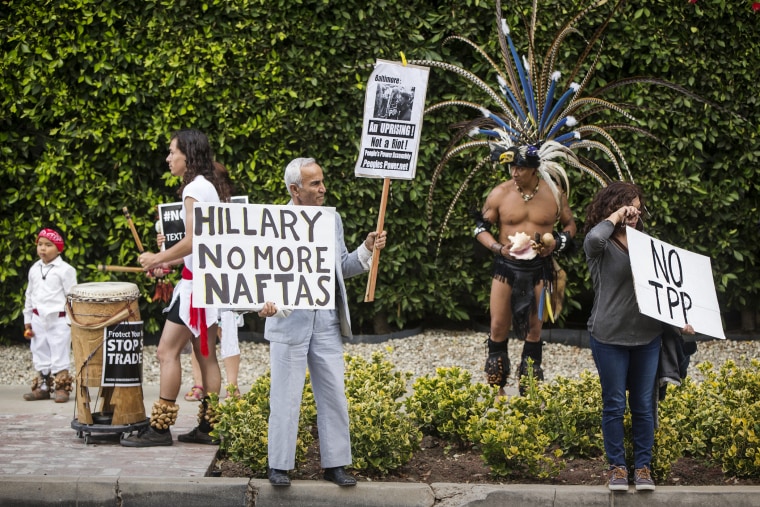 Like NAFTA, the TPP would give foreign corporations like TransCanada broad power to demand compensation for policies that do not conform to their "expectations." In other words, any time our government takes an "unexpected" step to protect our air, our water, our economy, or the health of our families from dangerous projects like Keystone XL, corporations could use that as a reason to ask a tribunal to order the government to pay. Because TransCanada expected Keystone to be built, it is claiming that President Obama's rejection was a violation of its special trade-pact rights.
This dispute won't be settled in a normal court of law, though. Instead, it will be argued in a trade tribunal with no accountability to any domestic legal system — a private legal system that is outside U.S. law. No judge will hear the case. Instead, three private lawyers will issue a binding ruling that cannot be appealed. Many of these tribunal lawyers actually rotate between rendering judgments and representing corporations in their cases against governments. Therefore, it's no great surprise when corporations come out on top and ordinary people either foot the bill or lose environmental and health protections.
This is unfair and unjust, pure and simple. We should be doing all we can to defend the environmental and health safeguards that keep us safe — not make them even more vulnerable to corporate attacks. Why would we want to lower our environmental standards to a lowest-common denominator dictated by the expectations of corporations who have proven they'd put profits before people?
RELATED: President Obama rejects Keystone XL pipeline proposal
Furthermore, at a time when virtually the entire world just agreed at the Paris climate talks that we must keep dirty fuels in the ground to avoid climate disaster, giant fossil fuel corporations see toxic trade agreements like the TPP as a way to trump the health and environmental protections that can keep dirty fuels in check and promote clean energy.
Luckily, opposition to the TPP is steadily growing, just as it did for the Keystone XL pipeline. Environmental groups, labor unions, public health advocates, and an array of diverse constituencies are voicing their opposition, whether because of investor-state dispute settlement provisions or one of the sweeping deal's other controversial provisions. Many members of Congress from both parties are already saying no to the TPP.
We've seen what can happen when we come together to say no to a bad idea. We defeated the Keystone XL pipeline, and we can defeat the Trans-Pacific Partnership. We need a new model of trade that puts the health and safety of people before the profits of big corporations that are already polluting our air and water.
Michael Brune is the executive director of the Sierra Club, the nation's largest grassroots environmental organization. Brune is the author of "Coming Clean — Breaking America's Addiction to Oil and Coal."