It's hard to believe that it has been a year since I received the devastating news that my mother and two of my cousins were among the nine people who had been shot and killed while praying at the Emanuel AME Church in Charleston, South Carolina. They were killed by a man filled with so much hate and armed with a gun. The pain of knowing three of my family members were killed in a racially motivated hate crime carried out against black churchgoers peacefully praying is something I carry with me every day.
I have spent the bulk of my professional life working as a trauma chaplain, but no amount of training could have prepared me for the shock, pain and emptiness that consumed me in the days after the deaths of my family members.
I struggled to answer why my loved ones and so many others had been killed. Along with so many Americans, I was baffled at how the shooter was able to get his hands on a gun and how we lived in a country filled with so much hatred.
RELATED: Have lax gun laws led to more homicides?
Racism, sexism, misogyny, nationalism, homophobia and religious intolerance — these are all things we have sadly experienced over and over in this country. But hate becomes even deadlier when we make it far too easy for those intent on causing harm to get their hands on a gun. And that is why we have to take action now to disarm hate.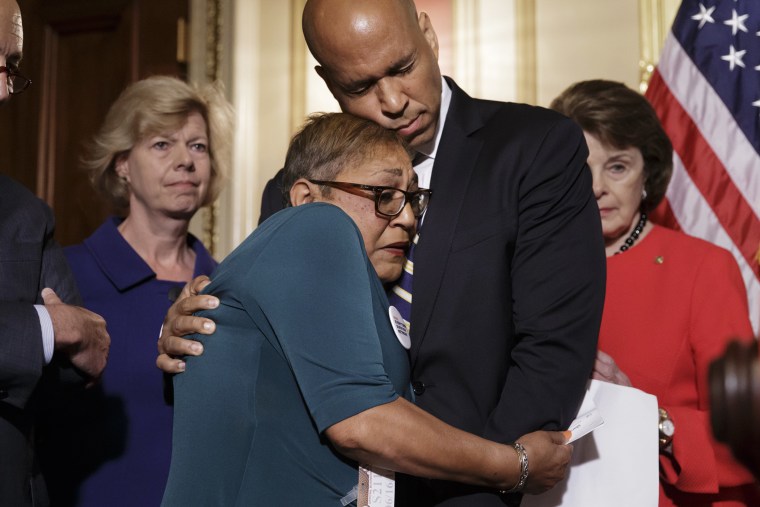 My mom's life was an expression of her faith, strength, and resiliency. Coming from humble means, Momma always wanted more. The circumstances of her life were hard, yet she found a way to keep on dreaming.
After the shooting in Charleston, I knew I needed to be part of the solution, to find a way to keep on dreaming — I needed to channel my pain into action. I became part of the Everytown Survivor Network, joining my voice with others who have experienced the same incomprehensible grief.
On Sunday, when I learned that 49  people were killed at a gay nightclub in Orlando, and 53 more were injured, making it the largest mass shooting in modern U.S. history, I turned off the news and stopped looking at social media. I was overcome with sadness and anger. I was full of heartbreak for the victims' families and for those who are lucky enough to survive but who will be forever changed physically and emotionally by the sheer horror of that  day.
I am still learning how to walk this walk of action and advocacy. I must profess I do not know all of the subtleties of our nation's weak gun laws, but I do know about the unspeakable grief that accompanies the deaths of loved ones who have been killed by gun violence. I do know there is more we can all do — and must do — to prevent the next tragedy.
And I know that America is with us. In less than a week since the Orlando tragedy, more than 16,000 Americans have called their members of Congress and more than 60,000 people have signed a petition demanding more from our elected leaders.
As our communities come together to remember the horrific events that took place in Charleston one year ago, the tragedy that occurred in Orlando on Sunday, and for the more than 90 Americans killed every day by gun violence and the hundreds more injured, I ask everyone to join me in disarming hate. I urge everyone to call your senators and tell them you want them to work toward passing gun safety legislation now. Together, we can build a safe future and spare other communities from experiencing tragedy by someone who never should have access to a gun.
Sharon Risher is a chaplain and a volunteer with the Everytown Survivor Network and Moms Demand Action for Gun Sense in America.