The Oklahoma GOP took to Facebook on Monday night to share the following "lesson in irony": The federal government discourages people from feeding animals at national parks, and yet it still provides food assistance to impoverished citizens.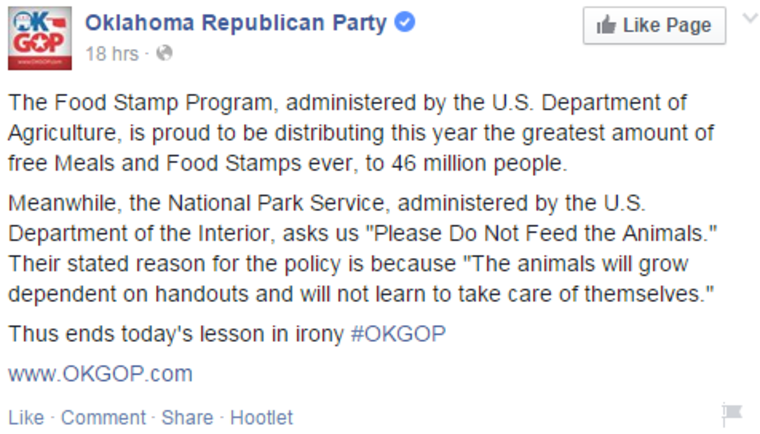 After many took exception to the likening of food stamp recipients to wild animals, the state's GOP deleted the post. On Tuesday, Oklahoma Republican Party Chairman Randy Brogdon offered an apology, explaining that the post "was supposed to be an analogy that compared two situations illustrating the cycle of government dependency in America, not humans as animals."
As Think Progress notes, the "don't feed the animals analogy" has been employed by multiple Republican politicians in recent years — including a South Carolina gubernatorial candidate in 2010, who explained his opposition to food stamps by saying his grandmother "told me as a small child to quit feeding stray animals. You know why? Because they breed."
RELATED: GOPer: Blacks' 'welfare crazy checks' show education funding doesn't work
The Oklahoma Department of Human Services on Tuesday afternoon released a statement offering its view of such rhetoric in no uncertain terms.
"Shame on you for comparing people in poverty and with disabilities to animals! That was an appalling and uniformed comment," the statement said. "Obviously you did not bother to know the majority of the 604,000 people receiving food benefits in Oklahoma are people who are aging, people with disabilities (including disabled veterans) and the working poor who are raising children. ... The people who need this meager benefit are dependent upon it in order to keep themselves and their children from starving. Is that the kind of dependency you are suggesting we discourage?"
Correction: The original article mistakenly said the Oklahoma Republican Party posted on Facebook on Tuesday night, and that the party chairman apologized Wednesday. The dates have been updated.