CINCINNATI – After taking office in 2010, Democratic Ohio State Rep. Alicia Reece was determined to push back against Republican-sponsored voting restrictions. So Reece did what a lawmaker is supposed to do: She introduced bills, drew up amendments, pushed for hearings and testified before commissions. But with the GOP in complete control of state government beginning January 2011, she didn't get far.
Reece, 42, grew up immersed in the civil rights movement. She volunteered for Jesse Jackson's Rainbow PUSH Coalition before she was old enough to vote, and at college in Louisiana she organized her dorm to fight David Duke, a onetime state lawmaker and former Ku Klux Klan leader who was running for governor. So with Democrats shut out in Columbus, and no end in sight to GOP efforts to restrict access to the ballot, Reece decided to go back to her roots.
"I tried to work on the inside," Reece, 42, explained on a recent Saturday over lunch at Pleasant Ridge Chili—the self-proclaimed inventor of gravy cheese fries. "Now, I had to go outside, and get organizing a people's movement."
That's how Reece later found herself at a Cincinnati strip mall barbershop, urging customers, staff—even the guy who stopped by selling iced tea—to sign a petition to get the Voters Bill of Rights (VBOR) on the ballot this fall. The initiative would permanently enshrine voting rights into Ohio's constitution. The goal, backers say, is to end once and for all the partisan assault on voting that in recent years has roiled the nation's most pivotal presidential swing state.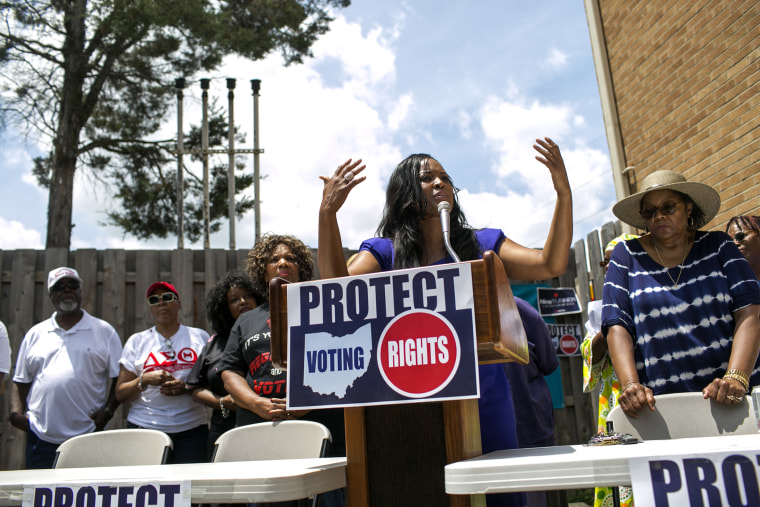 "Let's end this conversation," Reece said. "Let's make sure that the next generation doesn't have to keep fighting on this issue."
Citing similar efforts to restrict voting in other states, Reece said she sees the VBOR campaign as a template for how to use people power to protect access to the ballot. It comes at a time when, across the country, supporters of voting rights are increasingly pursuing grassroots strategies. In North Carolina and Texas—two of the places hardest-hit by Republican-backed voting restrictions—voter registration campaigns focused on minority communities are in full swing. Even the Democratic National Committee has launched a new effort to mobilize new voters.
"I truly believe that the Voters Bill of Rights can be a model where the citizens can have the ultimate voice," said Reece. "It can be something that can go across the country state by state, just like we're getting attacked state by state."
Adding to the urgency of the task is the partisan climate in Washington.
Ohio wasn't directly affected by last year's Supreme Court ruling that badly weakened the Voting Rights Act, since the state wasn't under federal supervision in the first place. But the court's decision, along with Congress's lack of interest so far in fixing the landmark civil rights law, has voting rights advocates in the Buckeye State anxious about the future. Conservatives have made little secret that they'd like to see the law narrowed still further, making it harder to stop racial bias in voting all across the country.
"The federal government increasingly is not going to be there to protect us," said Cincinnati mayor John Cranley, a Democrat and VBOR supporter, at a rally for the petition drive Saturday afternoon. Standing next to Reece and other local Democrats in a scorching hot parking lot behind a union hall, Cranley declared, "We're going to have to protect ourselves."
To qualify the initiative for the ballot, VBOR supporters need over 387,000 signatures from registered voters by July 2—by coincidence, the 50th anniversary of the signing of the Civil Rights Act. That's a heavy lift. But it's not hard to see why the measure's backers want to draw a permanent line under the voting battles of the last decade.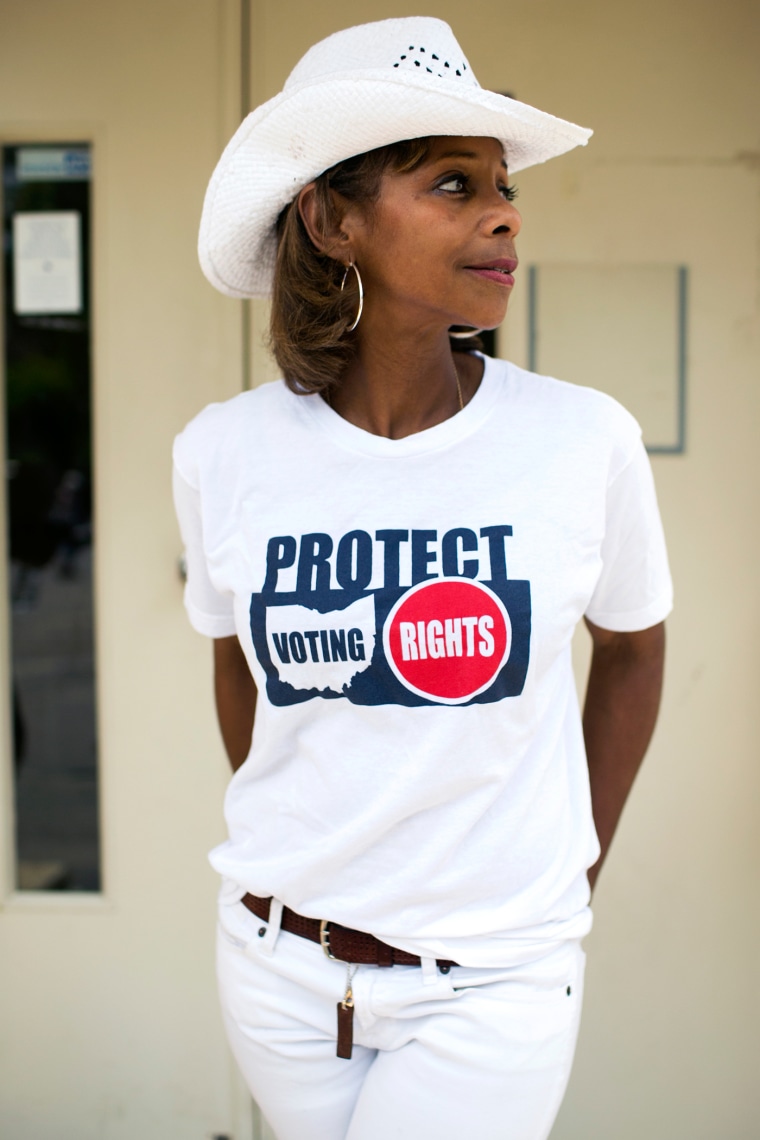 In the 2004 presidential election, some Ohioans—disproportionately racial minorities and college students—waited ten hours or more to vote, after the Republican secretary of state ignored efforts to expand access. It was an effective suppression tactic: A Democratic study estimated that 174,000 would-be voters gave up in frustration, while President Bush won the state, and with it that year's presidential contest, by 119,000 votes.
With Ohio the national poster-child for election problems, the state responded in the following years by expanding voting access—with some Republican support. To reduce lines on Election Day, it established, among other measures, a lengthy early voting period, including a "Golden Week" where Ohioans could register and vote on the same day. Things ran smoothly in 2008, when Barack Obama won Ohio, boosted by record minority turnout.
And that's when the GOP started having second thoughts.
"They thought that even if we had all this access, certain people wouldn't vote," Reece said of Republicans. "Minorities wouldn't come out and vote in record numbers, we don't think college students are gonna vote, we don't think low-income families are really gonna come out. And then when President Obama got on the ballot and all of these groups of people came out, they said, 'oh my gosh, this is not what we had in mind.'"
After Republicans took control of state government in January 2011, the push to pare back voting began and it hasn't let up since.
That year, the House passed the nation's tightest voter ID law (it stalled in the Senate). In 2012, Secretary of State Jon Husted ended weekend voting—threatening the "Souls to the Polls" drives that many black churches had run—before a federal court restored it. Last year, lawmakers passed measures that cut the minimum number of voting machines counties must have on hand, and made it easier to remove voters from the rolls. In February, they followed up by cutting the Golden Week of same-day registration, and making it harder to get an absentee ballot—measures that seemed designed to bring back the insanely long lines of 2004. For good measure, Husted again eliminated Sunday voting, before being reversed by a court once more. There's even a new push by a conservative group for voter ID.
The Voters Bill of Rights aims to put a stop to all this. It would guarantee 35 days of early voting including weekends, bar photo ID requirements, and establish online registration, among other provisions. Most important, it would sanctify voting as a fundamental right, making it much easier to challenge voting restrictions in court. (ID laws in Pennsylvania and Arkansas were struck down this year based on their state constitutions' guarantee of a right to vote.)
Getting the initiative on the ballot is a tall order. According to the complex rules of the process, Reece and co. need 387,247 valid signatures from registered voters, equal to 10% of all votes cast in the last gubernatorial election. But they also need to get at least 5% of total votes cast in 44 of Ohio's 88 counties—meaning they're having to run a truly statewide campaign with little institutional support. Organizers aren't saying how many signatures they've already collected—though if they don't meet the goal for this election, they can use the signatures for a future effort.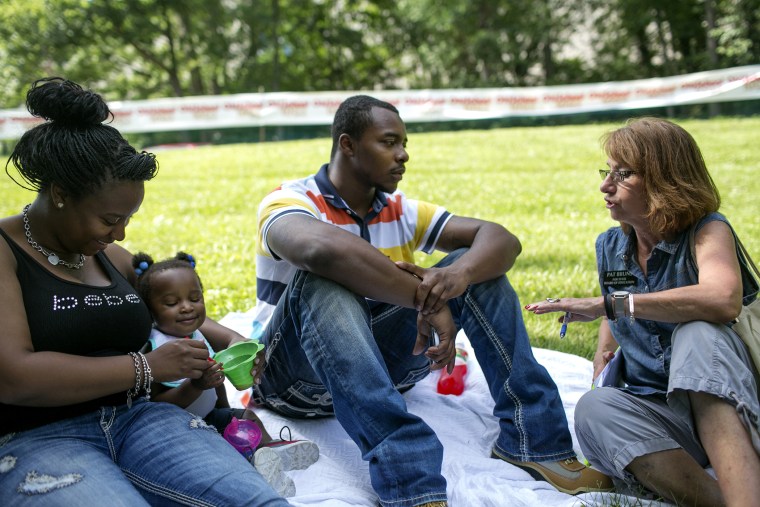 Lately, things have started to come together. The campaign recently hired an experienced state Democratic organizer as a full-time staffer. The Ohio Democratic Party has pledged 100,000 signatures. And the effort got a big boost last month when labor unions signed on, committing staff and volunteers. In 2011, the state's powerful labor movement provided the muscle for a ballot initiative that repealed a Right to Work law passed by Republicans earlier that year.
But Caleb Faux, the chair of the Hamilton County Democratic Party, said he fears it might be too little too late. Organized labor drove the campaign against Right to Work from the start. This time, they got involved only recently, and haven't committed to provide nearly the same level of resources.
"It's a tough hill to climb," Vaux said.
Some election law experts have reservations about embedding specific voting policies in a state's constitution.
"State constitutions are (and should be) hard to change," said Justin Levitt, a professor at Loyola Law School, who last year testified before Congress in support of strengthening the Voting Rights Act, via email. "That's in part because it's a limit on legislative discretion. But that limit has a significant downside. As a species, we're fairly notoriously bad at accurately predicting unintended consequences."
Levitt said a mandate requiring even sparsely populated counties to foot the bill for so much early voting—far more than they'd likely need to accommodate voters—might be especially problematic.
But to Ohio's overworked voting rights advocates, that's preferable to the alternative: being forced to continue waging a battle with no end in sight that many Americans thought was won decades ago.
"We've made progress. We came from slavery to the civil rights movement," Reece told the crowd at the rally Saturday, fighting off heatstroke to urge supporters to keep pushing. "But the question is, what is our movement? What are we going to do to make sure our next generation never has to deal with this issue again?"