The FBI has opened an investigation into the case of a white police officer who was charged with murder on Tuesday for the shooting death of an apparently unarmed black man in North Charleston, South Carolina. The department's Civil Rights Division and the South Carolina U.S. Attorney's Office will also participate in the investigation, the Justice Department said in a statement Wednesday.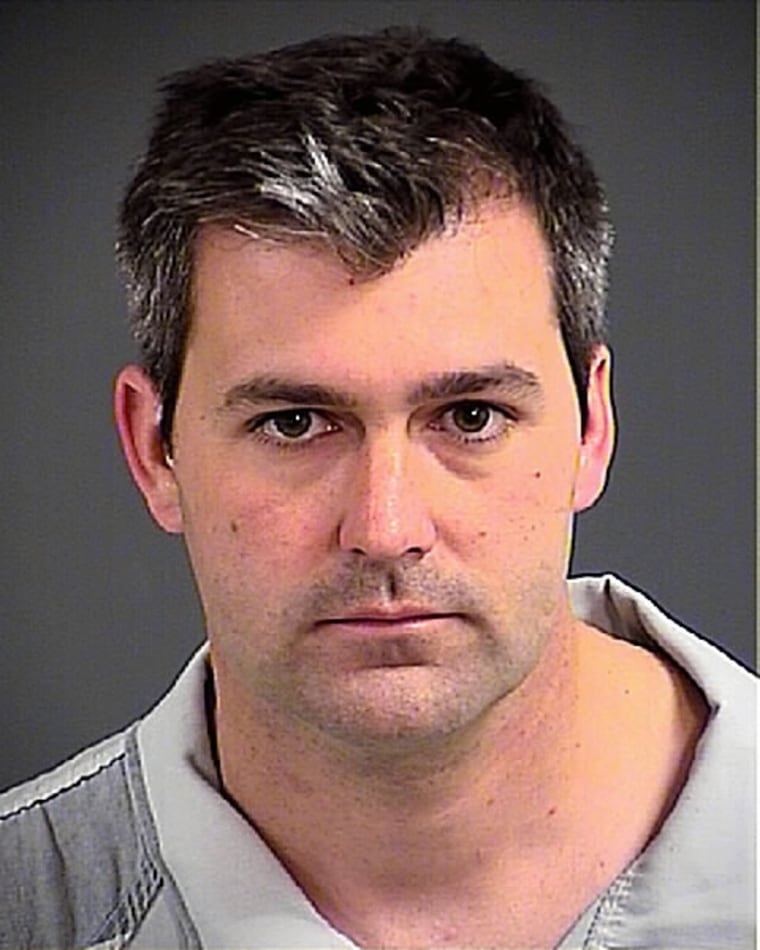 The decision to charge the officer came after a video obtained by The New York Times surfaced showing an incident that took place Saturday morning in which the officer, Michael T. Slager, fires eight shots at the man, Walter L. Scott, apparently hitting him in the back as he runs away. The shooting occurred after Slager stopped Scott, who was driving a Mercedes Benz, for a broken taillight, according to the Times.
Slager told officials he feared for his life and that Scott had taken his stun gun, the Times reported. Scott apparently had wires from the officer's Taser still attached to him before he turned and ran into an empty lot, according to reports. The video shows the officer dropping an object just before firing the shots. Then, after Scott is on the ground and cuffed, Slager is seen walking back to pick the object up and return to drop it by the victim's body. The video was reportedly taken by a bystander and provided to the Times by the victim's lawyer.
During a press conference held on Wednesday by North Charleston Mayor Keith Summey and Police Chief Eddie Driggers, audibly upset audience members interrupted the officials at times by shouting "no justice, no peace," "we want Driggers," and "mayor's gotta go."
"With several protests planned today, I join community leaders in North Charleston in calling for peace," South Carolina Republican Sen. Tim Scott said Wednesday on Twitter and in a statement. "I understand the hurt, the frustration and the anger many are feeling today. But violence solves nothing." 
When asked if the officers had tried to save Scott's life after he was shot, Driggers said, "In the end of it, what I saw was what I believe to be a police officer removing the shirt … and performing some kind of life saving maneuver … I do not know," he said. He added that he was "sickened" by what he saw in the video.
Scott's father, Walter Scott. Sr., told "TODAY" Wednesday that if it weren't for the video of the incident, "It would never have come to light. They would have swept it under the rug, like they did with many others. When I saw it, I fell to my feet and my heart was broken."
"The way [Slager] was shooting that gun, it looked like he was trying to kill a deer ... I don't know whether it was racial, or it was something wrong with his head," Scott Sr. added.
The South Carolina NAACP released a statement Wednesday thanking the U.S. Attorney's office, the FBI and the South Carolina Law Enforcement Division for helping bring charges against Slager, and praised the "brave citizen" who filmed the fatal encounter. 
RELATED: What we know about the cop who shot Walter Scott
"The rapid response by law enforcement in this matter does bring some level of comfort to the community in the hopes that the judicial process will render an adequate measure of justice for the victim," the state NAACP president, Dr. Lonnie Randolph, Jr., said in the statement. "We will continue to monitor the investigation and resulting litigation as it moves through the Courts."
An attorney representing the Scott family, L. Chris Stewart, spoke at a press conference held in North Charleston on Tuesday night. "What happened here today isn't what happens all the time — but somebody was watching," he said. "There was a witness that came forth with video [that] showed the initial reports were wrong. And that doesn't happen all the time in this country."
Stewart emphasized that, regardless of race, gender, age or ethnicity, the officer was wrong for shooting someone whose back was turned and running away.
He added, "If things happen when nobody was watching, would we be here today?" The question was echoed by South Carolina state Rep. Justin Bamberg, an attorney who also spoke at the press conference.
"At the moment he turned and ran and was no longer a threat to anyone else, that officer was completely, wholeheartedly unjustified in shooting Mr. Scott," Bamberg said.
He added that many people ask what would have happened if the video had not surfaced, and if, instead, the officer's reports were the sole evidence of the shooting. "Fortunately for the family, fortunately for SLED [South Carolina Law Enforcement Division] as the investigating agency, and fortunately for the solicitor's office, we don't have to ask that question anymore," he continued.
Bamberg said that the family plans on filing a civil suit, and that there is currently legislation pending in the state House for equipping police officers with body cameras. 
South Carolina Sen. Lindsey Graham offered the Scott family his thoughts and prayers. "The horrific video is very difficult to watch and deeply troubling on many fronts," he said in a statement released Wednesday. "I have full confidence this incident will continue to be investigated by the relevant authorities, the legal process will proceed, and ultimately, justice will be done."
RELATED: Police officer charged with killing unarmed driver lying facedown
Both Graham and South Carolina Gov. Nikki Haley defended the state's law enforcement as a whole. "What happened in this case is not acceptable in South Carolina, nor is it reflective of our values or of the way most of our law enforcement officials act, and I assure all South Carolinians that the criminal judicial process will proceed fully," Haley said in Tuesday night statement. "This is a sad time for everyone in South Carolina, and I urge everyone to work together to help our community heal."
Summey said during a press conference Tuesday that "this is a bad decision by one, not of those 343" other police officers in the department.
"When you're wrong, you're wrong and if you make a bad decision, I don't care if you're behind the shield or just a citizen on the street, you have to live by that decision," Summey added. "And so we as a city want the family to know that our hearts and our thoughts are with them, that our prayers are with them, anything that we can do for them, we're here to do."
The Justice Department released a report in early March detailing racially disparate policing in Ferguson, Missouri, where a police officer shot and killed unarmed black teen Michael Brown Jr. in August 2014. While the officer in that case was not charged and race was not shown to be a factor in the shooting, Brown's death sparked protests in Ferguson and around the country.  On Tuesday, the city of Ferguson, which has a predominately white police force and a population that is primarily African-American, held its first elections since the incident. 
Correction: An earlier version of this story incorrectly identified South Carolina Sen. Tim Scott as a Democrat. He is a Republican.