We asked, and you answered. Nearly a month after the Affordable Care Act exchanges opened on Oct. 1, we wanted to know how enrolling for health insurance has worked people across the country.
Here's what you told us: the website may not be working, but the law is.
A stay-at-home mom whose son has epilepsy, commenter Samantha Kilgore, said her family has been paying for a high-deductible insurance plan that cost them more than $12,000 a year. After using the ACA website calculator, Kilgore said that the cost of the monthly plan would drop to $150 and reduce her deductible to $3,000.
"To anyone who has ever tried to shop for insurance pre-ACA, who has had to hear that your child isn't worth covering, or that they would cover him after he has been medicated (at the cost of $600 a month) and seizure-free for a documented 12-month period…well, this is life-changing," Kilgore said. 
For self-employed people, like commenter SanDiegoJeff, who said he'd gone without health insurance for more than a decade and paid around $1,200 out-of-pocket for prescriptions to cover diabetes and other conditions, health insurance through the ACA has reduced overall costs.
"I get it that 'Obamacare' won't be good for everyone, maybe those covered under their employer's group plan," Jeff said. "But I've been waiting far too long for something like this that can give me a little peace of mind that I'm not financially screwed in the event of a catastrophic event like a car accident, heart attack, or whatever."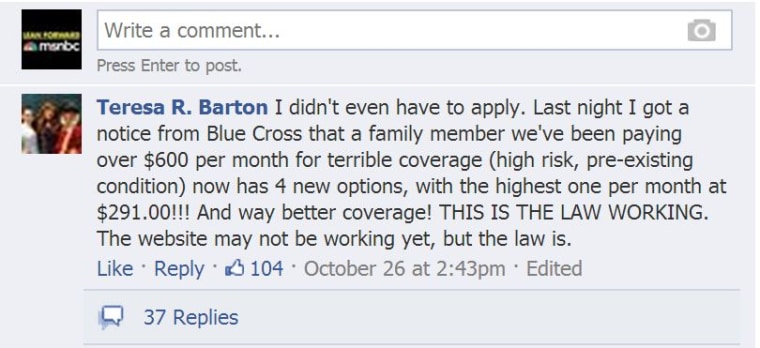 Rates for some customers who already had insurance dropped in some areas.
"We got a letter from Blue Shield right before Oct. 1 that our $1,000/mo. Rate was dropping to $800 for the two of us Jan. 1 due to increased competition, etc," commenter Danna Joy Dykstra-Coy wrote on Facebook. "We were easily able to use the Covered California exchange to learn we qualify for $485/mo. In tax credits. This is great news for us."
The ACA rollout hasn't been trouble-free. In response to criticism that the healthcare.gov website wouldn't let users sign up, President Obama announced a "tech surge" to fix it. The White House said it planned to have the website running smoothly by the end of November and that Quality Software Services would take over as general contractor.
Last week, a number of Democrats, including West Virginia's Joe Manchin, urged Obama to delay the ACA deadlines.
"Nobody should be forced to buy a policy that costs more than what they had, and is inferior to what they had," Manchin said. "Those things have to be worked out." 
Some customers who do not qualify for subsidies and already have insurance may face an increase in cost. If a significant number of those customers opt out of buying insurance and instead pay the relatively small fine, prices across the board could also rise.
"I signed up for the affordable care and it was NOT affordable at all," wrote commenter Linda Nelson Bohrer. "The deductibles are impossibly high, which is like having no healthcare at all. We may afford the bronze plan, but that is not at all what would be helpful to us since we could never ever meet or afford the deductible."
Commenter Barbara Stratton said the bronze plan she found in the Washington state exchange charges $182 more per month for lesser coverage than the plan she has now, but said her major concern is that the ACA hasn't done enough to reform the health industry.
"We'll still pay massive amounts to middlemen, the insurance companies, that have incentives to maximize profits by denying or cheapening care and keeping their shareholders happy," Stratton said. "We'll still have for-profit hospitals that likewise have to keep shareholders happy by charging us $15 for a Q-tip and reducing staff, and can't or won't tell us in advance the cost of various procedures. We'll still have a system of fee-for-services, which encourages unnecessary tests and procedures rather than rewarding results that improve health."
Despite the spike for some customers, Jessica Barba Brown, communications director for Enroll America, said that overall prices have come in lower than expected, thanks to increased competition in the state exchanges and the expansion of Medicaid.
Barba Brown added that the rollouts of major programs always have hiccups.
"These things start out really slow," she said on Weekends with Alex Witt Sunday. "We expect another spike of interest after Jan. 1 and another spike before the deadline in March 2014," she said.
The White House will release enrollment data from the first few months of Obamacare in November.