Two weeks after the president delivered the health care headline of the year—Obamacare enrollment reaches 8 million—the administration has published the story behind it.
In an issue brief released Thursday afternoon, health officials confirmed that 8 million people selected private ("marketplace") health plans through the state and federal insurance exchanges during the enrollment period that ran from October 1 through April 19. An additional 4.8 million enrolled in Medicaid during that period, and an estimated 5 million bought individual policies outside the exchanges. Together, the figures push the six-month total to nearly 18 million.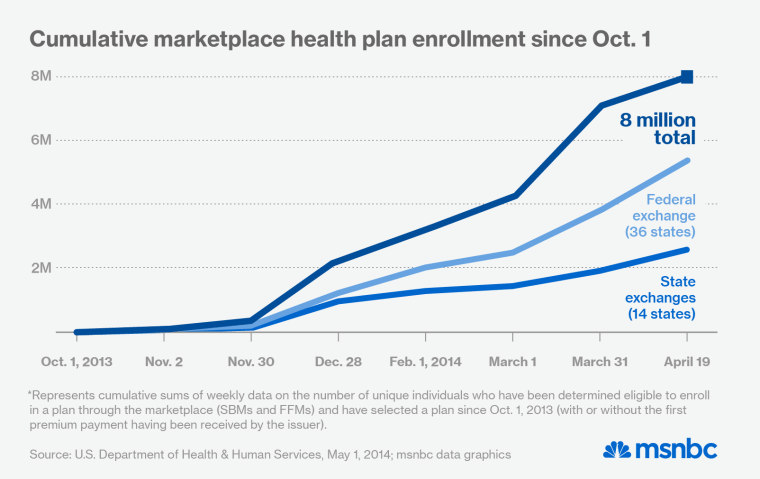 No one knows exactly how many of the new enrollees were previously uninsured—the early estimates vary widely—but the new report suggests the coverage is expanding. Among the 5.2 million people who requested subsidies through the federal exchange, only 13% (695,000) reported having health insurance when they applied. It could take two more years to tease out the law's impact on insurance coverage, but a recent Gallup poll suggests the uninsured population shrank by more than a percentage point (from 17.3% to 16.1%) between December and January, continuing a six-month decline.
The health care landscape still varies dramatically by region, but the gains in coverage weren't limited to blue states. Hostile state officials have worked actively to undermine Obamacare in Texas, Florida and Georgia, but they were among the dozen states where enrollments doubled in March, helping to push the national total 2 million beyond the projected 6 million. 
The vast majority of new enrollees will get some help with the cost. Some 85% of the 8 million new marketplace enrollees qualified for tax credits to offset their premiums. The proportion was even higher (95%) among the 5.4 million who enrolled through the federal exchange that covers 36 states.
Marketplace health plans offer five levels of coverage—starting with "catastrophic" plans (low premiums, high cost-sharing) and topping out with "platinum" plans (high premiums, low cost-sharing), with bronze, silver and gold in-between. Silver was by far the most popular choice, commanding 65% of the overall market and 76% among consumers who qualified for subsidies in the federal exchange. The bias toward silver was especially strong among young adults, who make up 28% of enrollees.

The new report offers a preliminary breakdown of enrollment by race and ethnicity. The figures are admittedly sketchy, based on information volunteered by a subset of shoppers, but they suggest low participation among Latinos. African Americans make up 13.3% of the population eligible for marketplace health plans, but they accounted for 16.7% of enrollment. Latinos make up a larger share of the eligible population (14.5%), but they racked up a smaller share of enrollments (10.7%).
In a conference call with reporters on Thursday, federal officials said that the fear of deportation may have stunted participation among Latino families with mixed immigration status. Applications for marketplace plans include questions about citizenship, but government agencies use the information only to determine eligibility, not to identify and prosecute undocumented immigrants. Myra Alvarez, associate director of the HHS Office of Minority Health, said her agency would expand its outreach and education efforts between now and next fall's enrollment period.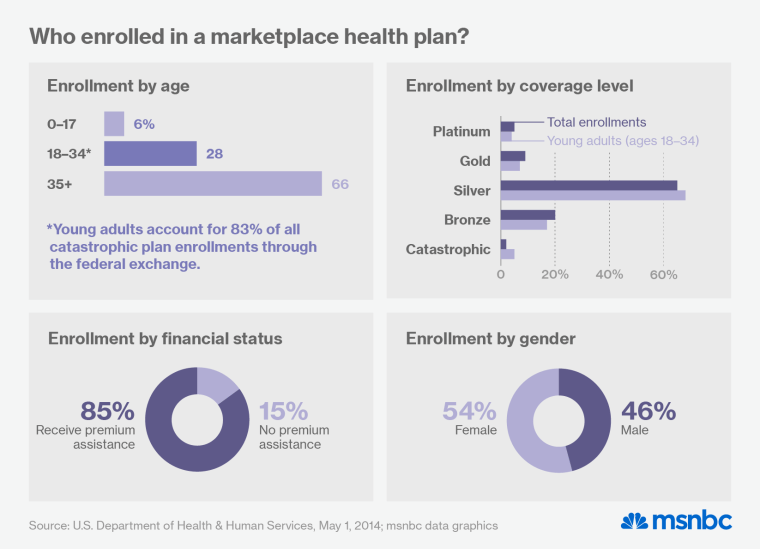 Republicans critics remain skeptical of the enrollment numbers, saying paid premiums are a better measure of success. True enough, but it's too early to do that accounting. On Wednesday, House Republicans tried to undercut the enrollment figures by announcing that one-third of the new enrollees hadn't paid their first premiums by April 15. However, payments weren't yet due on the large number of plans selected during the surge at the end of the enrollment period, so even if that assessment is accurate, it's all but meaningless.
"Together we are ensuring that health coverage is more accessible than ever before, which is important for families, for businesses and for the nation's health and wellbeing," outgoing HHS Secretary Kathleen Sebelius said in releasing the Thursday's report. This year's numbers back that claim.