A year after a deadly tornado flattened the city of Joplin, Mo., in 32 minutes, taking with it 161 residents and thousands of homes, President Barack Obama told the city's graduating high school seniors Monday night that the country can learn from their persevering spirit.  
"That story is part of you now," Obama said at Joplin High School's commencement ceremony at Missouri Southern State University. "You've grown up quickly over the last year. You've learned at a younger age than most that we can't always predict what life has in store for us. No matter how we might try to avoid it, life can bring heartache. Life involves struggle. Life will bring loss."
On May 22, 2011, an EF-5 tornado – the strongest ever measured – ripped through Joplin, claiming among its victims one graduating senior returning home from commencement and six other public school students. It also destroyed 7,500 buildings, including Joplin High School.
---
When Obama last visited, one week after the tornado a year ago, the area was declared a federal disaster area. It was the deadliest tornado in six decades.
Joplin: Before and after tornado cleanup
"It's bittersweet," senior student Taylor Camden told Reuters after the seniors finished a commencement practice on Friday. "It's going to be a sad, emotional day for a lot of people just to be at graduation. We all lost something, and everyone here lost their high school."
After the tornado, every high school student received a MacBook laptop, courtesy in part to a $500,000 donation from the United Arab Emirates. Singer Katy Perry sponsored the prom in part and someone else organized a prom dress drive. The girls received free makeup. One woman who lost her home and business, made 1,500 cupcakes for the prom.
Read President Barack Obama's remarks
"I imagine that as you begin the next stage in your journey, you will encounter greed and selfishness; ignorance and cruelty.  You will meet people who try to build themselves up by tearing others down; who believe looking after others is only for suckers," Obama said.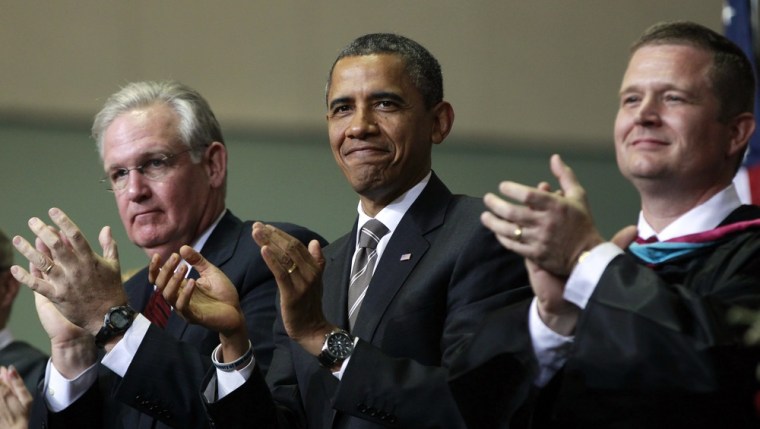 "But you are from Joplin. So you will remember, you will know, just how many people there are who see life differently; those who are guided by kindness and generosity and quiet service."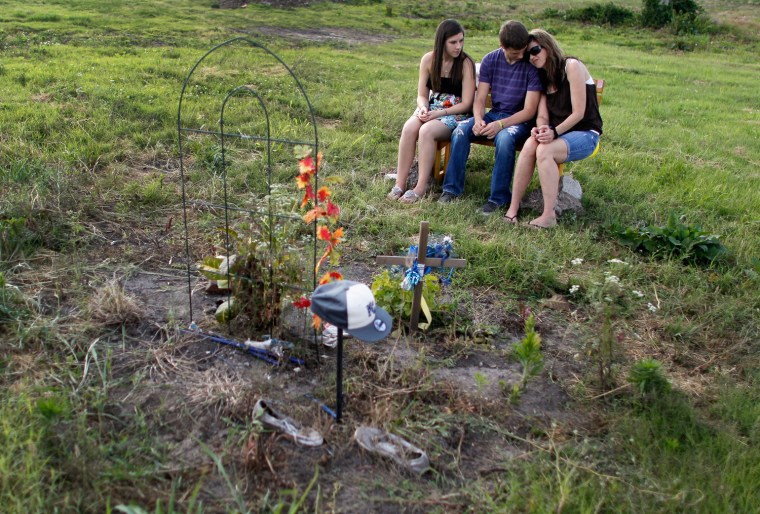 Rachel Berryhill, who took shelter in a bathroom with her family when the tornado tore the roof off their house, already lives that mantra. She told Reuters that she no longer stresses about the small things in life, like the style of clothes she wears.
"I've become more caring, more attached to people," she said. "I'm trying to live my life in a better way."
On Monday evening, Deborah Allen watched her eldest grandson graduate with a happy but also heavy heart.
"This day is joyful," she said. "Tomorrow will probably be a time of sadness for a lot of people."
Melissa Rogers, whose twins Devin and Danielle were graduating, said she watched Joplin grow stronger over the last year.
"It wasn't that we didn't know it before, we didn't really have the opportunity, but since the tornado we've just all really come together," she said. For Rogers, too, the event stirred up emotions. She lost two loved ones in the storm.
Teachers and students told the St. Louis Dispatch that fights and disciplinary violations declined dramatically.
Throughout the prepared speech, Obama wove in stories of the city's efforts to rebuild, noting that at the first town hall meeting, residents were handed Post-It notes and asked to write down their hopes for the city's future. More than 1,000 notes covered a wall, inspiring the city's planners today.
In the last year, two-thirds of the destroyed homes have received building permits to rebuild, according to Reuters, and the city has rebuilt with help from thousands of volunteers.
The president praised those volunteers, telling of a man from Japan who flew in because Americans had helped after the tsunami, of a busload of football players who drove in to dig through the rubble, and of a 9-year-old boy who donated $360 from a car wash he had organized. He praised the schools superintendent, who decided to keep students in Joplin, fashioning a school out of a vacant box store at the mall, according to the St. Louis-Dispatch. A food court doubled as the cafeteria.
"There are so many good people in the world," Obama said to the 428 graduating seniors. "There is such a decency, a bigness of spirit, in this country of ours. Remember that.  Remember what people did here. And like the man from Japan who came to Joplin, make sure to pay it forward in your own life."   
Reuters and NBC's Ali Weinberg contributed to this report.
More content from msnbc.com and NBC News: