President Obama announced Tuesday a major new effort by the United States to help confront the global threat posed by Ebola, the deadly virus whose outbreak has overwhelmed several West African countries and is threatening to spin out of control.
"Faced with this outbreak, the world is looking to us, the United States, and it's a responsibility that we embrace," the president said Tuesday afternoon during an address at the Centers for Disease Control and Prevention (CDC) in Atlanta.
"We know that if we take the proper steps, we can save lives. But we have to act fast."'
In what he said is the largest international response in the history of the CDC, Obama made public his plans to increase U.S. aid to combat Ebola by sending thousands of military and health personnel and millions of dollars to West Africa to avoid a humanitarian disaster.
Four American workers have contracted the disease while working abroad, but the president reiterated that researchers and governments continue to agree the chances of an Ebola epidemic in the United States are "extremely low." Officials are prepared to take action, however, in the unlikely event a domestic outbreak occurs, he added.
"The world knows how to fight this disease and to prevent it from spreading," Obama said. "We know that if we take the proper steps, we can save lives. But we have to act fast. We can't dawdle on this one."
As many as 3,000 military personnel will assist in training new health care workers and building treatment clinics in the countries affected by the disease, specifically Guinea, Liberia, and Sierra Leone, where people have died in the streets and clinics have denied treatment to some patients due to a lack of resources. Maj. Gen. Darryl Williams, commander of U.S. Army Africa, will oversee the military members.
The U.S. Department of Defense will allocate $500 million for the effort. Some of the funds will be used to construct 17 new treatment centers, each with 100 beds, and 10,000 sets of protective equipment and supplies to help 400,000 families protect themselves from the epidemic that is spreading exponentially.
The U.S. government previously asked Congress for $88 million, after first promising or spending $175 million in fighting the virus in Guinea, Liberia, and Sierra Leone. Officials aren't taking the funds from an established budget, but Congress can divert the money from emergency legislation.
"We are seeing the effects of a devastating and exponentially growing outbreak in West Africa. The goal here is to surge American expertise, including our military logistics and command and control expertise, to try and control this outbreak at its source in West Africa," Lisa Monaco, assistant to the president for homeland security and counterterrorism, said Tuesday on "Morning Joe."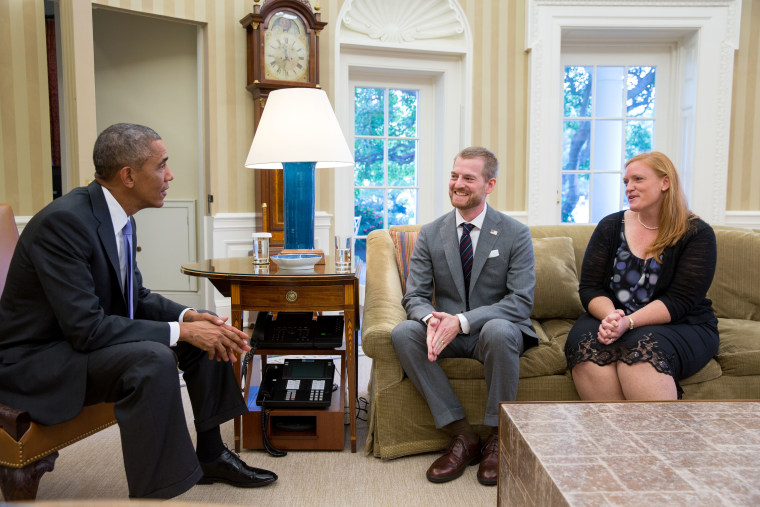 Ebola is a severe, often fatal disease in humans. One of the largest outbreaks since the virus was first identified in 1976 has affected thousands of people throughout West Africa since March when it was detected in Guinea. More than 2,400 men, women, and children are known to have died from the outbreak, and nearly 5,000 other people have been infected with the disease, according to the most recent figures from the World Health Organization (WHO). As many as 20,000 additional individuals could be infected by December if officials don't strengthen current control efforts.
The disease infected two American health workers, as they attempted to save patients suffering from the virus in Liberia. The doctor and hygienist, who ultimately were treated in the United States, were released in August from Emory University Hospital in Atlanta and declared "disease-free." Obama met with one of the former patients, Dr. Kent Brantly, and his wife, Tuesday inside the Oval Office. Dr. Brantly also spoke during a Senate Appropriations Committee hearing that evening.
"This is not just a disease, these are people who need help. These are societies that are collapsing because of the weight of this burden. We just need people to go help," he said.
Doctors continue to treat a third U.S. patient, who was flown last week from Liberia to Nebraska. His condition is steadily improving, NBC News reported. A fourth American, who was working for WHO as a physician, is also being treated at Emory.
Senate Minority Leader Mitch McConnell, Republican of Kentucky, commended Obama's action on the virus.
"I support these efforts to contain the Ebola epidemic, and know that we will monitor this humanitarian crisis in the weeks ahead," he said in a statement. 
Later this week, the United States will chair a UN Security Council emergency meeting Thursday to address the ongoing epidemic, marking just the second time in history that members have met to address a public health crisis.
"Time is of the essence," Sen. Tom Harkin of Iowa said during the hearing. "But it has to be done correctly rather than rushing in and doing things that may even make it worse."