The nation's first caucus and primary are over. The winnowed Republican field has now turned its attention to South Carolina's February 20 GOP primary, and Democrats in Nevada will caucus on the same day. Success or failure in these early contests can not only lead candidates to drop out, they also signal to voters which candidate has a better chance of being their party's nominee. To see how this happens, we can use data from the NBC News|SurveyMonkey Weekly Election Tracking Poll.
In almost every weekly tracking poll, we have asked individuals who they support in their party's presidential primary contest. We also ask who they think will be their party's eventual nominee.
Among Democrats, supermajorities think that Hillary Clinton will win. A month before Iowa, this was 79 percent, but it has decreased to 66 percent in the most recent data collection. This decrease follows a narrow Clinton win in Iowa and significant loss in New Hampshire. After two contests, Democrats think Bernie Sanders has an increasingly good chance of being the party's nominee.
This change, however, is somewhat misleading. It lumps all Democrats together regardless of whom they support. It could be the case that Clinton's supporters have less faith that she can win, or Sanders' backers are more confident he can succeed.
In fact, the first figure below shows the latter is the case. More than 90 percent of Clinton supporters in each week think she will be the party's nominee, with a high of 97 percent in early January and a low of 93 percent last week.
In contrast, more than 57 percent of Sanders' supporters thought Clinton would win when asked in early January, and only 41 percent thought Sanders would be the nominee. But we have seen a reversal after Iowa and New Hampshire. Last week's poll shows Sanders backers believing he will win the nomination by a 2-to-1 margin. This means that Sander' rise in perceived viability is a result of his supporters becoming more convinced that he has a chance to win.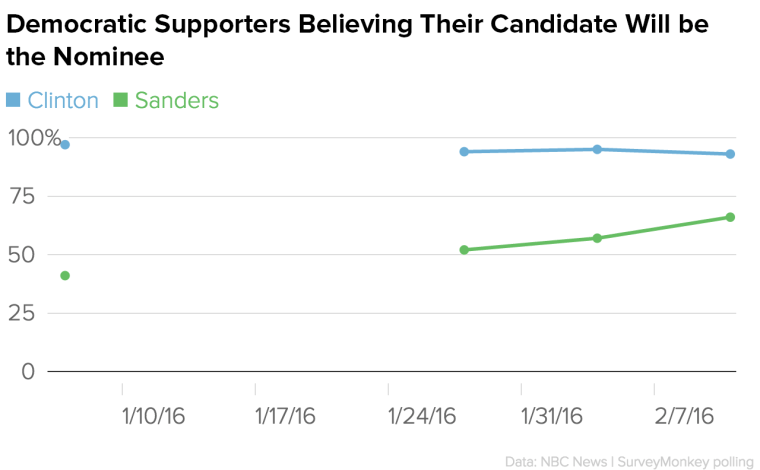 Turning to the other side of the aisle, Republicans continue to believe that Donald Trump is the most likely candidate to be their party's nominee. As was the case for Democrats, these beliefs clearly respond to the election outcomes to date – after Iowa, the number of respondents thinking Trump would be the party nominee dropped 20 percentage points, but it has rebounded to 56 percent following his win in New Hampshire.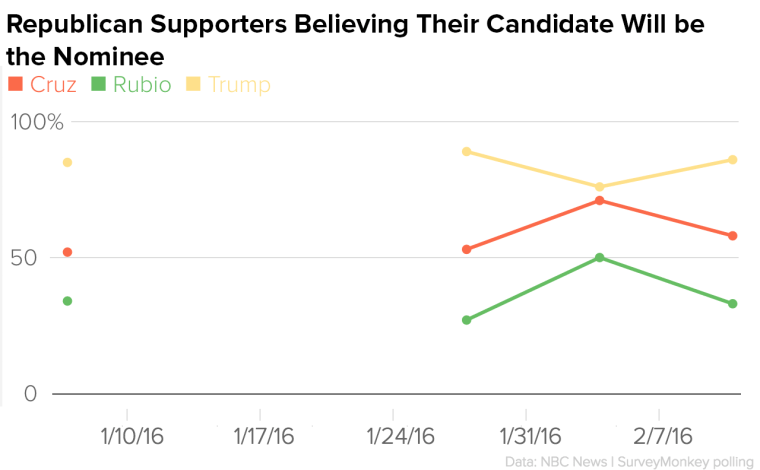 Trump's fluctuations move in as a counterpoint to those of Ted Cruz and Marco Rubio. Cruz maintains a solid second place throughout the time period, with his success in Iowa translating into 31 percent of Republicans interviewed the week after the contest thinking he would be the party's nominee.
Digging deeper reveals that a majority of Trump and Cruz supports have always thought that their candidate could eventually win.  The second figure reveals that while there are some fluctuations in response to the results of Iowa and New Hampshire, Rubio supporters are much more lukewarm about their candidate's chances. Before Iowa, only 27% of his supporters thought that he would win the nomination.  After Iowa his supporters became more optimistic – with 50 percent believing that he could win. But this fell to 33 percent following New Hampshire.
These perceptions suggest a couple possible patterns of behavior going forward. People who think their favored candidate has a better chance of winning their party's nomination will probably be more likely to support their candidate by volunteering, donating or doing some other activity. In contrast, if people think their candidate has lower chances of winning, they may be less likely to participate on behalf of that campaign, feeding into the likelihood that candidate will not win.