NBC News projects that Republican Thom Tillis has narrowly defeated incumbent Democratic Sen. Kay Hagan in the North Carolina U.S. Senate race, one of the most closely watched campaigns of 2014 election season.
With 99% percent of precincts reporting, Tillis topped Hagan by a 2-point margin. 
Like other Republican challengers, Tillis has been working relentlessly to tie Hagan to President Obama, who has a 56% disapproval rating among Tar Heel state voters, according to the NBC News exit poll there.
Tillis was fairly successful in tying Hagan to the president. Half of voters, 52%, feel that Hagan agrees with the president too often, just 6% feel she does not agree with him enough, and about 37% feel it is about the right amount.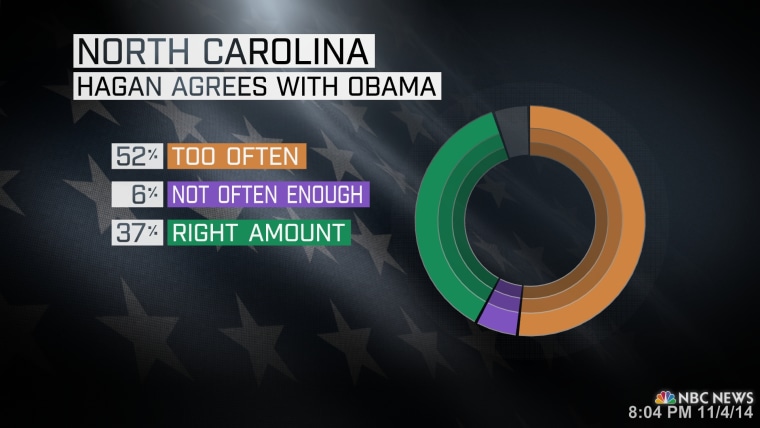 Tillis' main vulnerability has been the budget cuts, particularly to education, that he championed in the state legislature. When asked about Tillis' positions on the issues, 42% of voters say he is too conservative, 16% say he is not conservative enough and just over a third, 37%, feel his positions are about right. 
The race between Hagan and Tillis was among the tightest in the country and perhaps the most expensive in history, with spending in the race expected to top $100 million.
Leading into Election Day Hagan was holding a little more than a percentage point edge over Tillis. But the race was ultimately decided based on the effectiveness of each campaign's ground game and push into Election Day, particularly around minority outreach efforts.
State conservatives, Tillis included, hoped to use the election as a referendum on President Barack Obama, taking every opportunity to join Hagan and the president at the hip. While Hagan had kept her distance from Obama while campaigning, he tracked a radio ad urging voters to vote for Hagan that aired the night before the election. The Tillis campaign quickly, expectedly, posted it to Tillis's website.
But for many voters black in particular, a bloc that would ultimately determine the election, the race was as much about supporting the president and the Democrats as it was about fighting back against Tillis and his record in the state legislature.
As speaker, Tillis pushed through an ultra-conservative agenda that included a slew of new voting laws that included provisions to require a photo ID to vote, the elimination of same day registration, chipping away at early voting and eliminating out of precinct voting.
The laws have had a disproportionate impact on minority, poor, young and elderly voters, all key Democratic voting blocs.
North Carolina's black grass roots organizers, civil and voting rights groups as well as an emerging network of young activists, beat the pavement for months ahead of the election. College students held "storm the dorms" event where they went dorm room to dorm room to inform fellow students about the new voting laws. Voting rights groups like Ignite NC canvassed neighborhoods in vulnerable minority neighborhoods and passed out 20,000 voter information guides and pamphlets.
But if there has been any force that could be credited with spurring and maintaining the mobilization against policy and politicians who've worked against minority, women and the poor, it's Rev. William Barber and the Moral Monday movement he leads.
On the eve of the election Barber held one last Moral Monday rally, this one in Greensboro. A couple hundred people from across the spectrum, black, white, young and old gathered in the city's Government Square in a show of energy.
"We need to turn out every vote that's concerned about progress," said Barber, head of the North Carolina NAACP. "You have to understand the Moral Monday movement. We're talking about a new fusion movement. We believe we are in the embryonic stage of a new fusion movement like the movement that changed America in the 1860s and changed America in the 1960s."
Barber, an activist and preacher as eloquent and intelligent as there is on the scene today, described the movement as "a broad, deep, state-based, anti-racist, anti-poverty, pro-justice, transformative, deeply moral, deeply constitutional, fusion movement."
"And we're not going to turn a loose this hope," he said. Barber's vision for the Moral Monday movement, built on prolonged civil disobedience in the face of what he and others describe as oppressive and suppressive political forces, embodies the broader political battle in North Carolina. The state at once harbors some of the most conservative, old-South contingents of Tea Party and conservative Republicans, but also progressive liberals around the state's metropolitan corridors.
Those lines are not wholly but largely etched along racial lines.
But despite a black voter surge during early voting at a rate 45% higher than in 2010, it simply wasn't enough to push Hagan over the extremely thin margin that separated her and Tillis in the final days of the election. 
NBC News election unit contributed to this report.