DES MOINES, Iowa — It wasn't an endorsement, but on Monday GOP presidential candidate Marco Rubio received a powerful stamp of approval from Joni Ernst, one of the state's popular senators just a week out from the Iowa caucuses.
"I have said I'm not going to endorse in this race and that is a promise that I am going to keep to Iowa," she told a crowd of about 100 gathered at a Des Moines rally for Rubio.
But she continued: "I am going to introduce someone that is very near and dear to my heart and a good friend to me and that is Senator Marco Rubio."
Ernst touted him as someone who "understands" the threats facing the nation, who "has the confidence necessary as a leader to contain or destroy ISIS."
"Beyond our national security, he is a father just as I am a mother, and I know that he wants to work hard to make sure that American Dream is alive for our children," she said.
RELATED: Latest polling sets the stage for Republicans' key stretch
Though it wasn't an endorsement, Ernst's show of support was hardly surprising — they share staff, and Rubio's team has been touting his path to victory in the presidential race as similar to hers in her Senate race last cycle. Rubio Communications Director Alex Conant and communications aide Caitlin Conant both worked on Ernst's race in 2014, and his top adviser, Todd Harris, also advised Ernst on her run. Rubio was the only 2016 contender to endorse her in a competitive five-way primary in that race.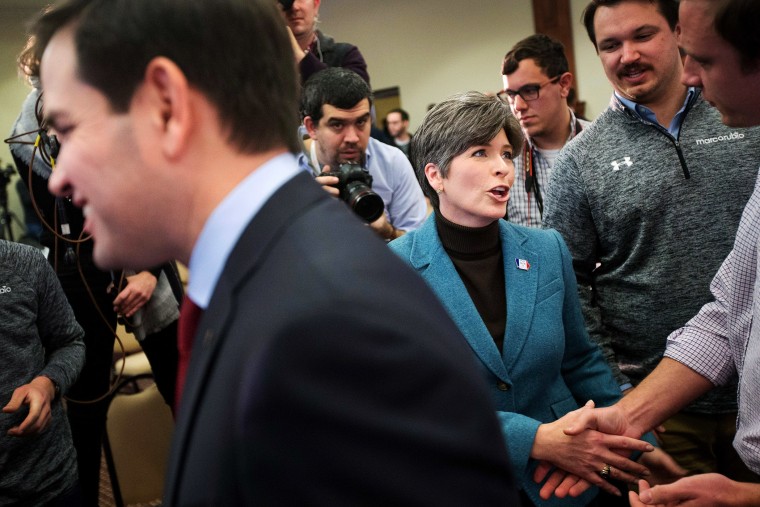 In introducing Ernst, Jack Whitver, Rubio's Iowa chairman, said that what she did in her race is "very similar" to what Rubio will do as the GOP's nominee — "she quickly brought together the Republican Party, she united all the factions, and because she did that…she won big." Rubio's advisers see him as a similarly unifying figure, a candidate that can draw both conservative and establishment support and make the strongest play for the White House in the general.
During his own speech, Rubio made the similarities between the two explicit, drawing comparisons between their humble upbringings and insurgent Senate bids.
"We had so much in common in those races—she wasn't supposed to win, and they told her she wasn't supposed to run…but like I did back in 2010 we didn't listen to those people but we ran and we won," he said.
Rubio has been emphasizing his insurgent 2010 bid in recent days as his stalling poll numbers in both Iowa and New Hampshire have raised fresh doubts about his viability in the primary. Last week in New Hampshire, Rubio noted that his opponents have spent over $20 million attacking him.
"That's not grassroots money, that's money from the establishment," he told reporters on Thursday. "We have always had to take on the establishment. We'll do it again because the Republican Party needs to turn the page and move forward, and we will."
RELATED: What to watch on the GOP side with Iowa caucus a week away
But a good weekend of endorsements — and a handful of polls that suggest Ted Cruz may be losing some support in the state to Donald Trump — have Rubio well-poised to take advantage of a possible burst of momentum in the final week before voters head to the caucuses to vote.
Rubio's advisers admit they'd be satisfied with a solid third-place finish in the state, with Cruz and Trump taking up much of the conservative oxygen in Iowa. But a surge in the final week could boost him to a better-than-expected finish, which would translate to momentum in the potentially more important vote in New Hampshire, where he's locked in a four-way fight for the establishment mantle.
Rubio said Monday he's planning to "work really hard" to turn that potential momentum into kinetic energy on Election Day.
"I would say over the next week we're going to work really hard to get as much support as we can get and I feel very good about where that's going to lead," he said.
This article originally appeared on NBCNews.com.