Today marks the 154th anniversary of Cinco de Mayo, a bicultural celebration that has become synonymous with margaritas, cervezas (beer) and the occasional controversy. But we found most people don't know the real story behind this holiday.
So here are five facts that will probably surprise you about Cinco de Mayo:
1. It's not Mexico's Independence Day: Cinco de Mayo commemorates the triumph of the Mexican army at the Battle of Puebla on May 5, 1862. This victory occurred over 50 years after Mexico's Independence Day, which is celebrated on September 16.
"The significance of Cinco de Mayo is that it represents Mexican resistance to foreign intervention, it is a moment where Mexico as a young nation rallied to defend itself," said Raul Ramos, associate professor of history at the University of Houston. "But it was not a struggle for independence. Instead it represented a struggle against imperialism."
Ramos noted that prior to the first Cinco de Mayo, Mexico was a nation with strong regional differences, from the Pacific coast to Northern Mexico to the Yucatan. "The Battle of Puebla helped the country coalesce around the idea of a unified Mexican identity."
2. Cinco de Mayo commemorates a military victory over France — not Spain. Why was Mexico at war with France? Because the Mexican government had defaulted on its foreign debt to several European countries, so France invaded our southern neighbor.
Napoleon III hoped to install a monarchy in Mexico (which he was able to do for a few years before Mexico ousted the French). "The French army was considered the best army in the world at the time, and they had not been defeated in decades," Professor Margarita Sánchez of Wagner College told NBC News. "So this was a real David versus Goliath situation that inspired Mexicans at home and in the U.S."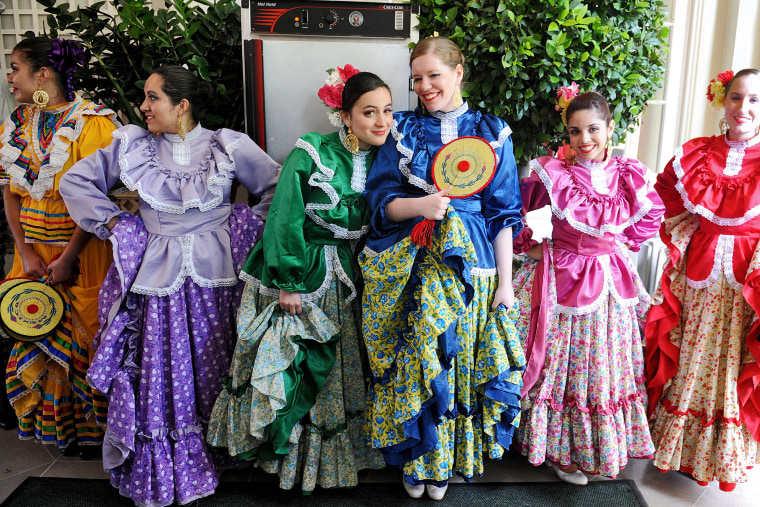 In fact, Los Angeles is host to what is routinely described as the largest Cinco de Mayo party in the world, a multiday event known as Fiesta Broadway. The scale of these festivities even dwarfs those in Puebla.
RELATED: Cinco De Mayo: A Quintessentially 'American' Holiday
"It (Cinco de Mayo) started out as a cultural celebration, then became bigger and bigger," said Sánchez. "And at some point it became very commercial; with people taking advantage of the day to drink all the Coronas they can drink."
The evolution of Cinco de Mayo can be seen as a metaphor for Mexican-American assimilation. The first American Cinco de Mayo celebrations date back to the 1860s, when Mexicans in California commemorated the victory. About a century later, Chicano activists rediscovered the holiday and embraced it as a symbol of ethnic pride.
In the 1980s and 1990s, corporations (especially the alcohol and restaurant industries) began promoting Cinco de Mayo as a way to reach Hispanic consumers and sell products like tequila and beer. So over time, this "foreign" holiday has become firmly ingrained in U.S. consciousness; Cinco de Mayo received its own commemorative postage stamp in 1998 and is also customarily observed at the White House.
4. Cinco de Mayo has a connection to the U.S. Civil War. David Hayes-Bautista, Professor of Medicine and Director of the Center for the Study of Latino Health and Culture at the University of California Los Angeles, has written that Cinco de Mayo is very much an American holiday.
His research shows that the celebration began among Mexicans in California in the mid-19th century. The Battle of Puebla, he explained, occurred at a time when the Confederacy was expanding into New Mexico and Arizona, getting closer to California (which was a free state).
RELATED: Want a Good Cinco de Mayo Celebration? Go To Portland, Oregon
"Back then, when Latinos here got the news that French were stopped at Puebla, it electrified the population, and propelled them to a new level of civic participation. Latinos joined the Union army and navy and some went back to Mexico to fight the French," Hayes-Bautista told NBC News.
"For Mexicans in the U.S., the Civil War and the French invasion of Mexico were like one war with two fronts. They were concerned about France, which sided with the Confederacy, being on America's doorstep." Had the Battle of Puebla gone differently, there is a real chance that the Civil War might have gone differently.
5. The hero of the original Cinco de Mayo was a Texan. General Ignacio Zaragosa, who led the ragtag Mexican forces to victory over the superior French army, was born near what is now Goliad, Texas. "This fact should make Americans, especially Texans, very proud of their connection to that event," said Raul Ramos of the University of Houston. "But often it doesn't resonate. The Mexican aspect of Texas history has been so marginalized and ghettoized, it takes extra effort for people to learn about it."
Ramos pointed out that the fact that a Tejano (or "Tex-Mex") has a link to Cinco de Mayo reflects the reality that Mexican history is part of American history. "It gives you a sense that our countries have had a shared history going back hundreds of years," he said. "It is something that extends to cultural and national ties as well as family ties."
Margarita Sánchez of Wagner College takes a pragmatic view of what Cinco de Mayo has become. "I wish it were celebrated with more depth, with more opportunity to learn about Mexican history," she said. "But a day of celebration is a day of celebration — and that is good for everyone."