Police in Irving, Texas, announced Wednesday that no charges will be filed against 14-year-old Sudanese-American high school student Ahmed Mohamed, who was arrested Monday in Irving after bringing a homemade electronic clock to school.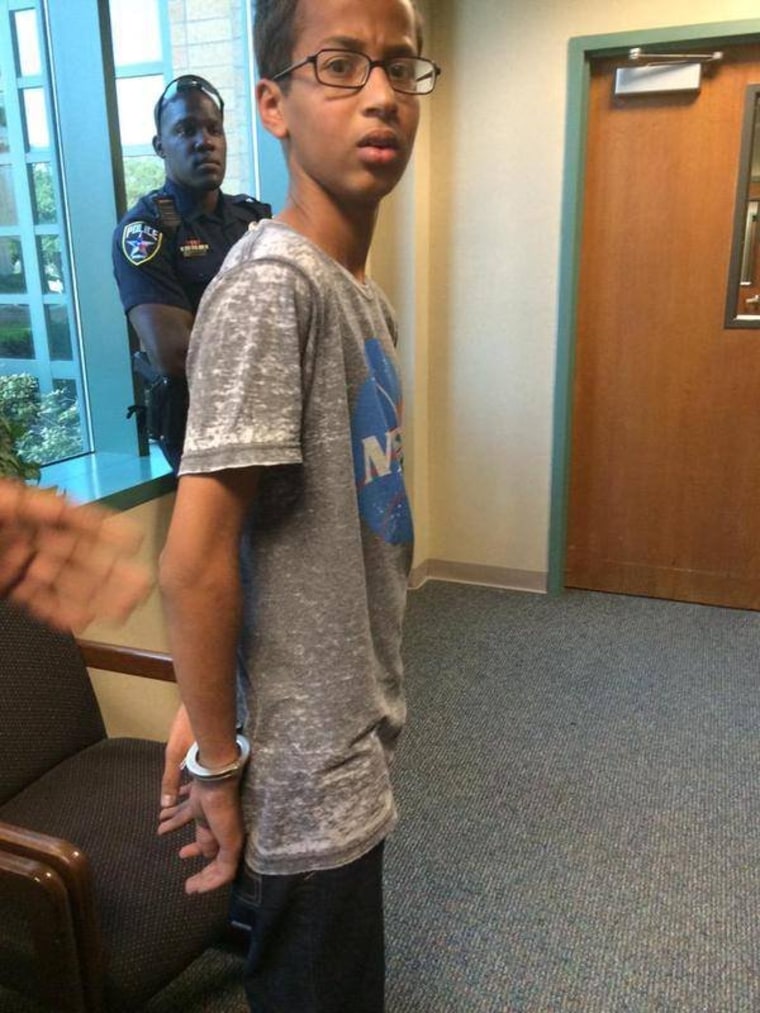 Mohamed, who is also Muslim, told The Dallas Morning News he had been active in the robotics club in middle school and wanted to show his new teacher what he could do.
"He was like, 'That's really nice,'" Mohamed said. "'I would advise you not to show any other teachers.'"
But when the clock's alarm accidentally went off during class, Mohamed showed the clock to his English teacher, who said that it looked like a bomb, and confiscated it. Mohamed was pulled out of class, and brought to the school principal and five police officers. According to NBC Dallas-Fort Worth, he was questioned, handcuffed, and taken to Irving police headquarters for interrogation, fingerprinting, and mug shots, even though he repeatedly insisted that it was a clock.
"Clearly, there were disassembled clock parts in there, but he offered no more explanation than that," Irving Police Officer James McLellan told NBC Dallas Fort Worth.
Mohamed told NBC Dallas Fort Worth that his family surname repeatedly came up in police questioning. "I really don't think it's fair, because I brought something to school that wasn't a threat to anyone. I didn't do anything wrong. I just showed my teachers something and I end up being arrested later that day," he said.
RELATED: Texas student says he's falsely accused of making 'hoax bomb'
Mohamed's family suspects that the arrest was related to his last name and September 11. Irving Mayor Beth Van Duyne was in the media spotlight earlier this year for a bill that Muslims say targeted their community.
"This all raises a red flag for us: how Irving's government entities are operating in the current climate," Alia Salem of the Council on American-Islamic Relations (CAIR) told The Dallas Morning News. "We're still investigating, but it seems pretty egregious."
In a statement Wednesday from the ACLU of Texas, executive director Terri Burke said, "Ahmed Mohamed's avoidable ordeal raises serious concerns about racial profiling and the disciplinary system in Texas schools. Instead of encouraging his curiosity, intellect, and ability, the Irving ISD saw fit to throw handcuffs on a frightened 14 year-old Muslim boy wearing a NASA t-shirt and then remove him from school."
Supporters, including President Obama, took to Twitter to offer their support for Mohamed with the hashtag #IStandWithAhmed, which trended overnight. #HelpAhmedMake gaining traction as well.
Some noted how differently white children inventors are treated, and lamented the costs of continuing Islamophobia, while others invited Mohamed to discuss college and career opportunities with them.
This article originally appeared on NBCNews.com.