In an effort to reform the way New York City handles mentally ill inmates, Mayor Bill de Blasio announced a new, $130 million program on Tuesday that's aimed at reducing unnecessary arrests and incarceration while addressing behavioral health needs of prisoners.
The move comes following two recent, worrisome deaths involving mentally ill prisoners at Rikers Island, the city's main jail complex. Last February, Jerome Murdough, a 56-year-old homeless former U.S. Marine, died in an overheated cell at the jail — an incident that was later ruled accidental. And last September, mentally ill Bradley Ballard, 39, died after mutilating himself while left alone in his cell for seven days.
RELATED: Obamacare helping more youth to get mental health treatment
The program — a product of a task force the mayor created in June — allocates the $130 million over four years and, when appropriate, hopes to insure individuals with behavioral health needs do not enter the criminal justice system in the first place. If they do enter, they will be treated outside of a jail setting and treatment will be "therapeutic rather than punitive in approach." The plan, which doesn't require City Council approval, also includes additional training for police officers and an expansion of supervised release programs.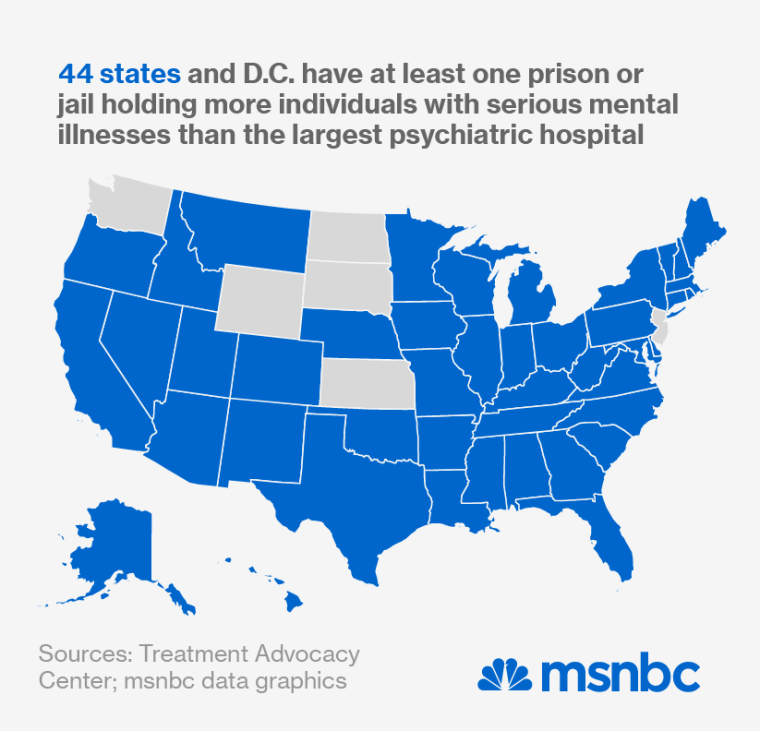 "Enduring crime reductions must embrace approaches that go beyond police activity," said de Blasio in a memo accompanying a report on the plan. "We know that many of the issues that ultimately end in time behind bars start well before and last well after contact with the criminal justice system, and implicate many more players than the jail system alone."
According to the report, while there has been an overall reduction in jail population (13,049 inmates in 2010 versus 11,408 this year), the percentage of those with mental health issues has steadily grown. In 2010, inmates with mental illness made up 29% of the city's jail population while today it stands at 38%.
The report identifies a group of 400 individuals — many with mental health issues — who frequently return to the city's jails. Those 400 have been sent behind bars more than 18 times in the last five years (accounting for more than 10,000 jail admissions) and show a higher prevalence, 67%, of mental health needs. The majority — 85% — of their charges were misdemeanors, bringing up concerns about whether or not criminal justice resources were being best used. 
RELATED: Bill de Blasio tells Democrats to 'be bold'
"For many with behavioral health needs, the criminal justice system is a revolving door leading to multiple, costly short stays behind bars over the course of their adult lives," the report says.
Jennifer Parish, the director of the Mental Health Project at the Urban Justice Center in New York, applauded the plan, saying it is a shift away from responding to inmates who have mental health needs solely through the criminal justice system. But she expressed concerns over the report not going far enough to fully address the issue of solitary confinement. Some city council members have pushed for an end to the practice as a whole. "We don't have a clear picture yet," said Parish.
Of the $130 million that will go to the plan, $40 million will come from asset forfeiture funds contributed by the District Attorney of Manhattan. The remaining $90 million will come from city funds.