A man lies on a gurney with his sweater pulled up, his sunken stomach visible. In a second photograph, a young child stares into the camera, revealing a protruding ribcage after raising a baggy sweatshirt. 
These are the people of Madaya, Syria, and they are showing the world that they are starving. 
The new photos, received by MSNBC on Friday from a nurse working at a field hospital there, are the latest images to emerge from this western Syrian village, which is under siege by the regime of Bashar al-Assad. The nurse said the photos, which show starving citizens seeking care in the hospital, were taken Friday.
The nurse, Dr. Khaled Idlibi, says the hospital sees around 300 patients a day, and that the cases are growing increasingly dire -- including illness from eating grass, and in some cases the meat of cats and dogs.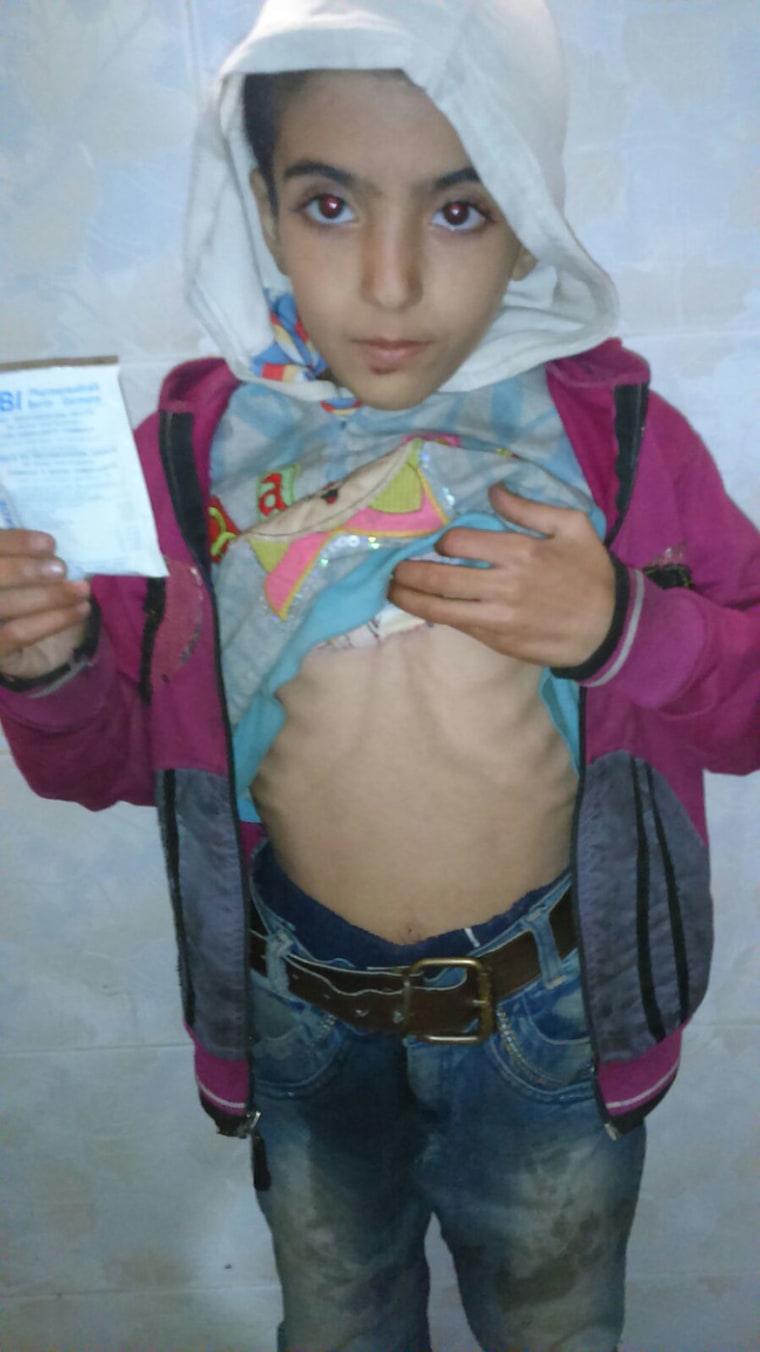 Madaya has not seen United Nations aid since October nor medical evacuations since December. But it may soon see some relief. The UN on Thursday said it had received permission from the Syrian government to access Madaya to deliver aid there in the coming days. 
Madaya's suffering drew worldwide indignation this week when activists began posting images and videos from the village to the Internet. An NBC Nightly News report Thursday included some of those videos. In one video, a boy named Mohamed Essa tells the camera he has not eaten in seven days. In another scene, the people of Madaya scrounge for leaves and grass, from which they make soup.
"You can just look at the pictures. As a doctor, I'm looking at children with sunken eyes, deep sunken eyes, all the tell-tale signs of malnutrition," Dr. Saleyha Ahsan, a doctor who has treated child victims in Syria, told NBC News Thursday during an interview in London.
The Ohio-based Syrian American Medical Society (SAMS) Foundation, a volunteer organization which published videos to its Facebook page on Wednesday, says that a medical team on the ground in Madaya recorded 31 deaths by late December resulting from the siege, many of the deaths from protein deficiency and malnutrition. Others among the dead were killed by sniper fire and landmines, according to the group.
The UN in its statement Thursday reported only one starvation death in Madaya, but the organization said that the 42,000 people in Madaya face "further hunger and starvation," and that landmines and armed fighters have hampered humanitarian efforts.
The UN also said Thursday it had received government permission to deliver aid to two villages in Syria's north, Keraya and Foah – which are held by rebel forces.
Syria analysts say Madaya is being punished because rebel forces have besieged those two northern towns, trapping civilians in the three villages in a war of starvation. There are 15 such besieged locations throughout the country, the UN said, comprising 400,000 people.
The war in Syria has ground on since the spring of 2011, when Assad, the Syrian dictator, cracked down on popular protests against his family's four-decade rule.
Despite the new promise of aid to Madaya, Syrian activists working to tell the village's story are not hopeful, saying the aid will provide only short term comfort.
"We have been suffering with this for five years," said Ammar Ghanem, a Syrian-born doctor living in the United States and volunteering for SAMS. 
"We don't see solutions for the future coming," Ghanem said. "That's why we're feeling hopeless."