A United Methodist clergyman will not stand trial for officiating the wedding of his gay son, church leaders said Monday, marking a major victory for the marriage equality movement and a potential sea change within one of the nation's largest Christian denominations.
"I am grateful to report that the matter concerning the Reverend Dr. Thomas W. Ogletree will not result in a church trial as a just resolution has been achieved," said Bishop Martin McLee of the New York Annual Conference Monday in White Plains, N.Y. "I call for and commit to a cessation of church trials for conducting ceremonies which celebrate homosexual unions or performing same-gender wedding ceremonies and instead offer a process of theological, spiritual, and ecclesiastical conversation."
Rather than hold a trial -- which many have criticized for its costly, secretive and divisive nature--McLee promised to convene a public forum within six months for participants to discuss matters of human sexuality and the United Methodist Church (UMC.)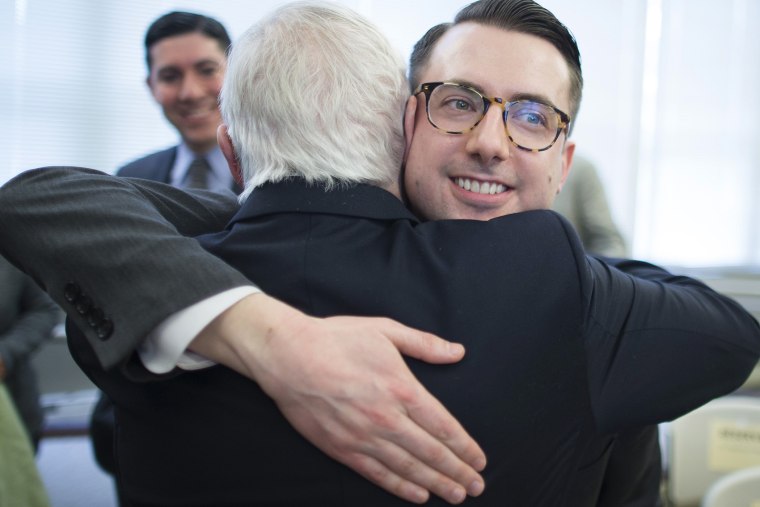 At its core, the intensifying debate hinges on two seemingly contradictory messages in the UMC rulebook, known as the Book of Discipline. While gays and lesbians are welcomed as members, church law classifies the practice of homosexuality as "incompatible with Christian teaching." Members of the clergy are instructed to minister to all people, but have been tried for presiding over same-sex weddings, or for being "self-avowed practicing homosexuals" themselves. 
As far as he knew, McLee said he was the first sitting bishop to call for an end to church trials, though he stopped short of saying he would never turn to the process in future cases.
"Church trials produce no winners," said McLee. Rather, they "result in harmful polarization and continue the harm brought upon our gay and lesbian brothers and sisters."
The mood was celebratory Monday morning at the Learning Center of the New York Annual Conference of the United Methodist Church, with press conference attendees taking moments for prayer and, at times, song. Ogletree, who served as dean at both Yale Divinity School and Drew Theological Seminary, was surrounded by family including his son, also named Thomas Ogletree, and his son-in-law, Nicholas Haddad. Their wedding, which Ogletree officiated, took place in 2012.
"By the time my son began to think throughout the meaning of who he was, I had already become convinced that our policies toward gay and lesbian people were unjust," said Ogletree Monday, the day his trial was slated to begin. "I already knew he was a person of integrity and wisdom and I trusted him. And I have to confess that he did a remarkable job in finding an incredible man as his husband. He's been an inspiration to me as well, and I treasure these men."
The younger Ogletree said he was "really proud" of his dad.
"Obviously, there's still a lot more work to do," he said to msnbc, following the press conference. "But I think anytime where you can move from a situation where you're focusing on punishment and trials to dialogue and discussion is a good thing."
Monday's announcement comes less than three months after a very different outcome in the case of Rev. Frank Schaefer. The Methodist leader was tried and defrocked for presiding over the wedding of his gay son, and for subsequently refusing to denounce same-sex marriage in compliance with church law. Schaefer's was the first trial since the worldwide General Conference last reaffirmed the UMC's position on homosexuality in 2012, and highlighted a deepening rift within the church over gay rights. Many feared more trials and sanctions were on the horizon and threatened to drive away members, particularly from the younger generation, who tend to be more liberal on social and political issues.
"I have an intense sense of calling and obligation to my generation, and to helping them find empowerment within this church," said 31-year-old Hannah Adair Bonner, who took a leave of absence from her position as an ordained elder in the church last October, in an interview with msnbc. "I felt like I needed some breathing space and some clarity to be able to look at the church and be able to separate what is institution, and what is community, and how can we move forward in order to build a loving and just community, rather than idolizing, or idealizing, or protecting, or fighting over, or fighting for the institution."
Bonner said she's now starting to see a way back the church.
Not everyone was as happy, however, with the direction Monday's press conference seemed to signal. Rev. Randall Paige, one of the complainants who brought charges against Ogletree, said in a statement that he was "dismayed" by the settlement, and that it did not represent a "just resolution" to him.
"The impact of this settlement today will be that faithful United Methodists who support the church's teachings will feel ignored and will face their own crisis of conscience, as to whether they can continue to support a church that will not abide by its own rules," said Paige. "In addition, clergy in the New York Annual Conference and other like-minded annual conferences, are now given a green light to disobey the Discipline and perform same-sex services at will, without any consequences."
For Ogletree, whose roots in social activism date back to the Civil Rights Movement, the Discipline is not infallible. Rather, it's a living document, one that has been and should continue to be corrected.
"What I like about the Book of Discipline is it begins by reminding us of our failures," said Ogletree. "We have a history of supporting slavery; when the United Methodist Church was first formed, it accepted segregation as an essential ingredient of our church life; we denied women ordination … And I'm so grateful then for the initiative that McLee has taken because I think he's creating an environment in which we can create another paragraph to that introduction -- that at one time, believe it or not, we said that 'homosexual practices are incompatible with Christian teaching.'"