LONDON — A new interactive mural by cult graffiti artist Banksy popped up in London Monday morning — but good luck getting a look.
Painted on the wall of a building site opposite the French Embassy, the piece is the latest in a series from the secretive artist criticizing the way refugees and migrants are treated at the Calais "Jungle" camp in northern France.
RELATED: Banksy paints 'son of a migrant from Syria' Steve Jobs at refugee camp
The mural, based on the iconic poster for the hit musical Les Miserables, depicts a young girl with tears in her eyes, and the French national flag in the background.
Next to the spray-painted image is a QR code which, when captured on cell phone, links to a video showing French police using tear gas to disperse crowds in the Calais Jungle earlier this month.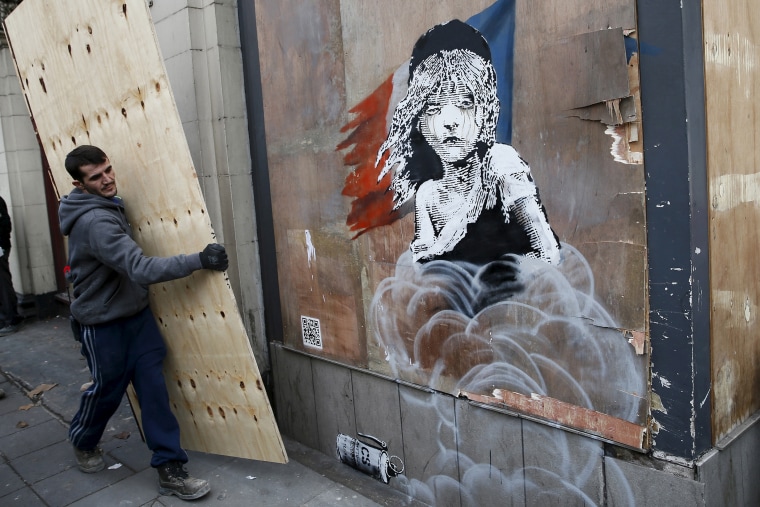 But the powerful statement was not there for long. Banksy fans who came to see the artwork were disappointed to find it hidden behind wooden boards.
"I heard about it on Twitter this morning," said Jason Illagan, 32, who came to see the mural on his lunch break. "I saw pictures of it online. It would have been good to see it in person."
Marina Truelove, 55, has long been a fan of Banksy's work and thinks it is an "absolute disgrace" that someone covered it up.
"This I heard about on the radio last night, and I just thought I've got to see it," she told NBC News. "I'm just really annoyed that they've taken it down so early."
This isn't the first time Banksy has used his cult art power to draw attention to the refugee crisis in Europe.
In December, the artist visited Calais and created a work depicting Steve Jobs, the late founder of Apple, with a bag over his shoulder and an early model of an Apple computer in his hand. In a rare statement reported in the British media, Banksy explained that he painted Steve Jobs because he was the son of a Syrian migrant from Homs.
And last summer, Banksy exhibited Dismaland, a sell-out dystopian theme park installation that portrayed the refugee crisis in several of its pieces. Many of theremnants of the artwork were later taken to Calais to help make shelters for residents.
Many of those hoping to see his latest work on the streets of London's upscale Knightsbridge expected to see another iteration of Banksy's political message.
"His images are so strong and so poignant that you've only got to look at them to see what his message is," Truelove told NBC News. "Banksy is wherever the politics are and for now this is poignant and relevant politics… until the refugees are looked after the way they should be."
This article first appeared on NBCNews.com.