Members of Moms Demand Action for Gun Sense in America are kicking their pleas up a notch by including print and digital advertisements for the first time in one of the group's corporate campaigns aimed at Kroger to prohibit the open carry of firearms.
The ad campaign, titled "Guess Which One," includes a series of images that feature subjects carrying semiautomatic rifles inside the supermarket chain, whose stores allow customers to carry guns. They appear standing next to other people who are disobeying the company's in-store policies.
For example, one picture shows a man standing next to a child, who is eating an ice cream cone in the frozen food aisle. The text asks: "Kroger doesn't permit outside food and drink inside their stores. So why would they allow this loaded gun?" Another image shows an armed woman standing next to a shirtless man in the produce section. And in another, a man with a gun at his side appears next to a teenager standing on a skateboard.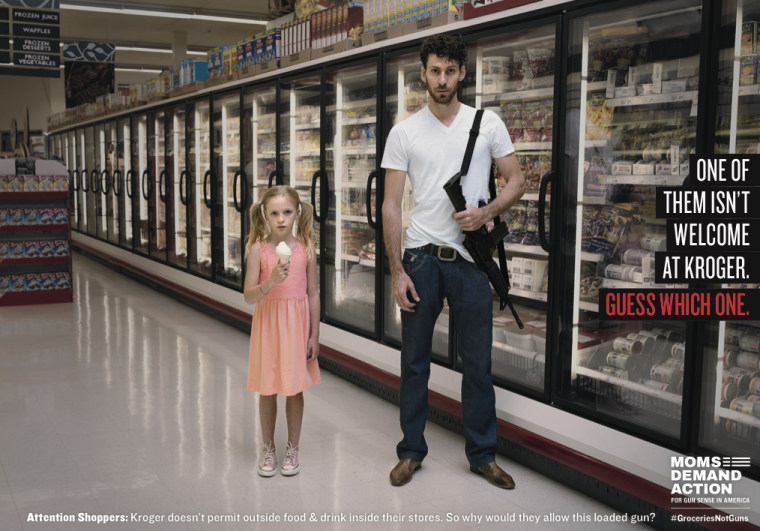 Members of the group brought their most recent campaign to America's food aisles for the first time last month by demanding the management of Kroger ban customers from carrying guns into locations across the country. A Kroger spokesperson previously responded, expressing the company's trust in its customers to act responsibly.
The demand follows the pro-gun control group's seven other victories among coffee, fast-food and retail companies. Members created their petition, now signed by 115,000 supporters, in the wake of demonstrations involving customers openly carrying guns at Kroger stores in Arkansas, Kentucky, Michigan, North Carolina and Ohio. Legislation regarding the open carry of handguns varies by state; local governments can enact regulations banning guns in a specific area within its jurisdiction, as long as management posts signs alerting patrons to the rules.
Moms Demand Action will run the new ads nationally, including in USA Today, the Cincinnati Enquirer, Houston Chronicle and Detroit Free Press. The group also bought billboard space in Cincinnati, Ohio, where the supermarket's headquarters are located.
Kroger, the nation's largest supermarket chain and the second largest retailer in the country, operates in 34 states and the District of Columbia. The company's sales last year totaled $98.4 billion.
Moms Demand Action is based in Indiana and has chapters across the country. The organization previously succeeded in persuading other large businesses to change gun policies at stores. including Target, Sonic Drive-In and Chipotle. They began the campaigns last fall with Starbucks, less than a year after the 2012 shooting massacre inside Sandy Hook Elementary School that killed 20 first-graders.
Moms Demand Action, along with members of Everytown for Gun Safety and Americans for Responsible Solutions (ARS), continues to make personal pleas to elected officials in their advocacy for stronger gun laws, ahead of this year's midterm elections. Earlier this week, ARS aired two new TV advertisements that target Arizona Republican candidate Martha McSally for her opposition to closing existing loopholes in the federal background checks system.