Mississippi's last abortion clinic won a major victory at the conservative 5th Circuit of Appeals, which said a law intended to make the state "abortion-free" and close the clinic was unconstitutional.
"Pre-viability, a woman has the constitutional right to end her pregnancy by abortion," wrote E. Grady Jolly, a Reagan appointee, for the panel. The law requiring that abortion providers have admitting privileges to local hospitals, which Mississippi's Jackson Women's Health Organization had been unable to obtain, "effectively extinguishes that right within Mississippi's borders."
The judges' hands were tied by the fact that a separate 5th Circuit panel had already said an identical law in Texas, where it has closed about half of the state's abortion clinics, was constitutional even if it had no basis in medical necessity. Tuesday's ruling, which is on the preliminary injunction, says the law is only unconstitutional as it has been applied to the Jackson clinic. It cites a principle that states can't violate their citizen's rights by claiming they can go out-of-state. 
One judge, Emilio Garza dissented, writing, "The sole act of crossing a state border cannot, standing alone, constitute an unconstitutional undue burden on the abortion right because the Constitution envisions free mobility of persons without regard to state borders." 
The admitting privileges law was scheduled to take effect in July 2012, but was blocked by a lower court, which said if the state got its way, the result would be "a patchwork system where constitutional rights are available in some states but not in others."
The physicians at Jackson Women's Health Organization have repeatedly attempted to comply with the law at seven local hospitals, but none would grant the privileges in question. That, of course, was the desired outcome: Mississippi governor Phil Bryant declared, while signing the law, that the goal was to "try and end abortion in Mississippi." 
Federal courts have been split on the broader question of admitting privileges laws, and whether they violate a woman's right to an abortion by shutting down clinics. In November, the Supreme Court signaled it had the votes to accept the case and resolve that question.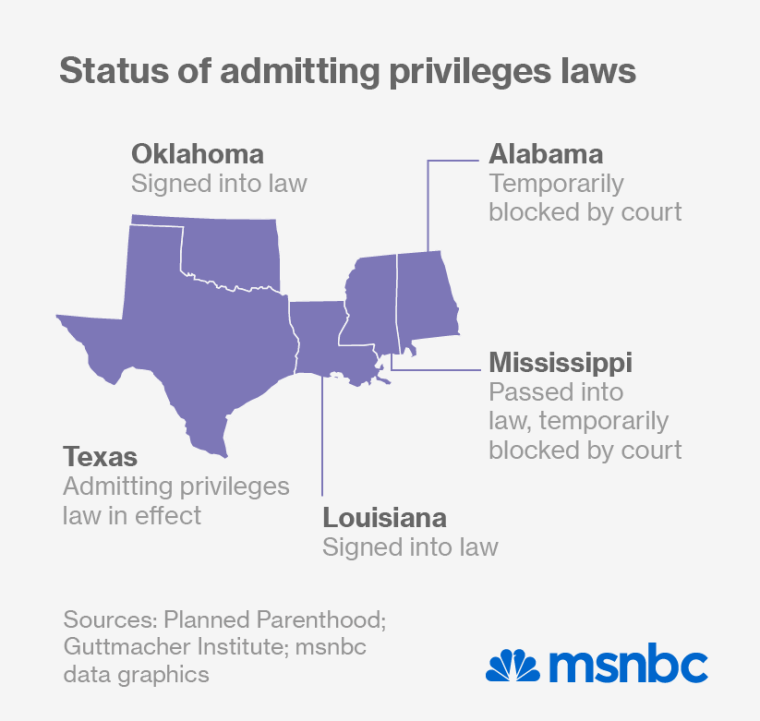 "Today's ruling ensures women who have decided to end a pregnancy will continue to have access to safe, legal care for now in their home state," said Nancy Northup, President and CEO at the Center for Reproductive Rights, which represents Jackson Women's Health Organization. "But there is still only one clinic in the entire state, and it is still threatened by a law advanced by politicians over the opposition of respected medical associations, with the sole intent of closing that clinic permanently."
At oral argument in April, Grady had signaled his skepticism. "It seems you have a steep hill to climb when it's the only abortion clinic in the state." 
Paul E. Barnes, the attorney for the state, responded, "There's nothing inherently burdensome about crossing state lines." But as Judge Stephen A. Higginson noted, other neighboring states have also passed the same admitting privileges laws: By now, Texas, Alabama, Louisiana, and Oklahoma. 
This week, a trial began in Austin, Texas with a similar claim, challenging the admitting privileges law there as applied to two clinics, Whole Woman's Health in McAllen and Reproductive Services in El Paso, which both operate in underserved areas. The same lawsuit seeks to block a separate requirement to require abortion clinics to be mini-hospitals, which would leave only about a half-dozen clinics in the entire state.