Problems keep piling up for the NFL.
The league is facing mounting pressure from sponsors and advocacy groups as domestic abuse allegations continue to mount against players, and embattled NFL commissioner Roger Goodell has come under harsh criticism for his response.
Arizona Cardinals running back Jonathan Dwyer was arrested and questioned Wednesday on suspicion of aggravated assaults against his 27-year-old wife and his 18-month-old son. In addition to $25,000 cash bond which must be posted, Dwyer cannot have contact with the alleged victims, cannot travel outside of Arizona and cannot have involvement with weapons, drugs or alcohol, NBC News confirmed with the Maricopa County Sheriff's Office. 
The arrest was regarding two separate incidents which allegedly occurred in late July. The reported acts of violence allegedly took place in a Phoenix residence a day apart. The alleged female victim fled the state with the child after the incidents reportedly occurred. Although Dwyer has denied physically abusing the woman and child, his wife has reportedly kept records of the alleged assaults. According to TMZ, official court documents say Dwyer headbutted his wife in the face and broke her nose.
Moments after news of Dwyer's arrest broke, the CEO of PepsiCo, a major sponsor of the league, released a strongly worded and personal statement on the allegations of domestic violence by NFL players. The company did not go so far as to back out of its sponsorship deal with the NFL.
"I am a mother, a wife and a passionate football fan. I am deeply disturbed that the repugnant behavior of a few players and the NFL's acknowledged mishandling of these issues, is casting a cloud over the integrity of the league and the reputations of the majority of players who've dedicated their lives to a career they love," CEO Indra Nooyi said. She also expressed support for embattled NFL commissioner Roger Goodell, saying, "I know him to be a man of integrity, and I am confident that he will do the right thing for the league in light of the serious issues it is facing."
Verizon released a statement on Thursday, in which they pledged to help the NFL prevent domestic violence. "We intend to use our leverage and our leadership to keep the dialogue going on an issue that's been tucked behind closed doors for way too long, and we'll continue to work with our partners at the NFL to be a voice for change and a force for good, not just in the league but in our society as a whole," their CEO Lowell McAdam said.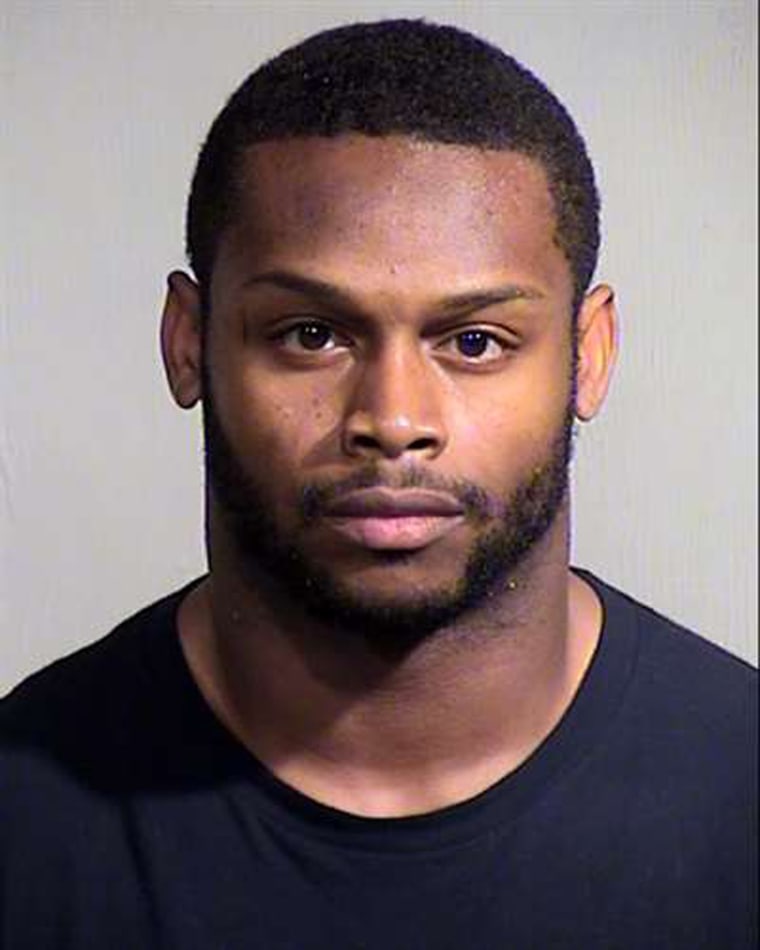 Phoenix TV station KTAR reported that Dwyer was pulled from practice Wednesday to be questioned by authorities. Dwyer faces one count of aggravated assault causing a fracture, one count aggravated assault involving a minor, two counts of criminal damage, and one count of preventing the use of a phone in an emergency. Since the news broke the Cardinals have deactivated Dwyer. He will be exempt from playing football, but will continue receiving pay.
"We became aware of these allegations this afternoon when notified by Phoenix police and are cooperating fully. Given the serious nature of the allegations we have taken the immediate step to deactivate Jonathan from all team activities. We will continue to closely monitor this as it develops and evaluate additional information as it becomes available," said the Cardinals in a statement.
"This will be reviewed under the NFL's Personal Conduct Policy," NFL spokesman Brian McCarthy said in a statement.
This arrest comes in the wake of highly publicized abuse allegations against prominent NFL players such as Ray Rice, Adrian Peterson and Greg Hardy. Rice has already been suspended from the league indefinitely for his involvement in an act domestic violence against his now-wife in February.
The NFL says commissioner Goodell "never intended" to consider Rice's appeal of his suspension from the league on Wednesday. Late on Tuesday the NFL Players Association (NFLPA) filed the appeal on Rice's behalf, arguing that the league should not be able to punish a player twice from the same infraction.
Rice was initially suspended for just two days his violent encounter with then-fiancee Janay Palmer, became public. Goodell increased the punishment when a graphic video of Rice knocking out Palmer was released by TMZ last week.
The NFLPA has asked that a neutral and jointly separated arbitrator take over the case from Goodell.
Meanwhile, the Minnesota Vikings put Adrian Peterson back on the team's inactive list on Wednesday after receiving heavy criticism for initially authorizing the embattled player to take the field while facing an injury to a child charge.
"Adrian wants to continue his work in the NFL and contribute to his team and community. In order to do so, he is prepared to resolve this matter in the appropriate legal forum rather than the court of public opinion. I have spent my entire career asking people to wait until all the facts are in, and I'm doing so again today. Ultimately, it will be up to a judge and jury to decide this case, which is the way it should be. Ours is the greatest legal system in the world, and Adrian is confident that a just result will emerge once all the facts are presented," Rusty Hardin, Peterson's attorney, said in a statement.
The Carolina Panthers have also placed defensive end Greg Hardy on their exempt list as he faces the fallout from a conviction for abusing and threatening to kill his ex-girlfriend. The Panthers were widely criticized for allowing Hardy to play last week.
"Today, Greg Hardy made a decision to take a voluntary leave of absence to resolve his pending legal issue. The NFLPA and NFL worked with Greg, his representatives and the Carolina Panthers on this matter. We support this decision and hope the best for him and his family," said the NFLPA in a statement.
Vikings management deactivated Peterson prior to last Sunday's game for allegedly beating his 4-year-old son with a wooden switch. But the team on Monday reinstated the player after losing to the New England Patriots the previous day. The Vikings reversed that decision Wednesday. The most recent move to bar Peterson from team activities comes after Wheaties, Nike, Castrol, and the Radisson hotel chain each suspended sponsorship of the athlete.
"Nike in no way condones child abuse or domestic violence of any kind and has shared our concerns with the NFL," Nike said in a statement released on Wednesday.
The Minnesota branch of the Special Olympics has also distanced themselves from Peterson. "On Tuesday, Sept. 9 we announced Adrian Peterson as an Ambassador for Unified Sports. However, in light of the information that has come out since then, we are abstaining from any engagement with Adrian Peterson at this time," the organization said in a statement. 
Late Wednesday, Hyperice, a company that produces ice compresses for athletes, pulled its sponsorship of Peterson.
"We're disappointed when off-the-field matters don't go the proper way, and we're just trying to do the right thing," Mark Wilf, Vikings owner and president, said Wednesday during a press conference in Minnesota. "We're doing our best as ownership and as a franchise to do the right thing."
"Adrian is an unselfish person and saw all of the light that was coming on this, and felt on his side as well that by him stepping back would give our team an opportunity to focus on football," Rick Spielman, the team's general manager, said during the news conference.
The move "will require that Adrian remain away from all team activities while allowing him to take care of his personal situation until the legal proceedings are resolved," the franchise said earlier in a statement.
The mother of the child that Peterson allegedly abused made comments on Wednesday through her attorney, Kelly C. Dohm. "My client is hurt and outraged that the press would publish throughout the world pictures of their minor son and publish statements allegedly made as part of the private and confidential criminal investigative file," said Dohm.
She asked the press and the public to "cease and desist" publicizing the information gathering in connection to indictment of Peterson.
Minnesota Gov. Mark Dayton on Tuesday previously called on his state's team to suspend the player, who hasn't denied beating his child and surrendered to authorities after being indicted less than a week ago. 
"After further reflection we have concluded that this resolution is best for the Vikings and for Adrian. We want to be clear: we have a strong stance regarding the protection and welfare of children, and we want to be sure we get this right. At the same time we want to express our support for Adrian and acknowledge his seven-plus years of outstanding commitment to this organization and this community," the team said in the statement.
The NFLPA also commented Wednesday on the Vikings' decision to bar Peterson from team activities.
"Adrian Peterson made a decision to take a voluntary leave with pay to take care of his personal and legal issues," the NFLPA wrote in a statement. "We support this decision and hope the best for him and his family."
Meanwhile, McDonald's, Anheuser-Busch, Campbell Soup Company, USAA, Bose, PepsiCo and Visa released separate statements condemning domestic violence and questioning the NFL's track record to date. "Domestic violence in any form is unacceptable. It has no place in the NFL or our society more broadly. As a long-standing sponsor we have spoken with the NFL about our concerns regarding recent events, and reinforced the critical importance that they address these issues with great seriousness," Visa executives wrote in a statement released Wednesday.
None of the businesses, however, pulled their advertising from the NFL's games.
CoverGirl is dealing with criticism from the public for its role as the "official beauty partner" of the league. Prior to the recent news, the cosmetics brand collaborated with the NFL to launch team makeup looks. With the addition of a black eye to the model representing the Ravens, the advertisement for the Maryland team has been altered to be a message against domestic violence.
Patriots quarterback Tom Brady, arguably one of the most recognized faces in the NFL, continues to remain silent on the various allegations of domestic abuse currently plaguing the league. But other athletes, including New York Jets backup quarterback Michael Vick, have taken a public stance. Vick, who was suspended by the NFL in 2007 for violating the personal-conduct policy and served nearly two years in prison for federal dog-fighting charges, alluded to giving Rice a second chance.
"A lot of us had great careers and everything was in our favor, and you do the wrong thing in one hour of the day and everything turns around and is obviously not in your favor anymore," Vick said during an interview Tuesday with WFAN sports radio.
House Minority Leader Nancy Pelosi has also weighed in, calling out her local San Francisco 49ers for letting defensive end Ray McDonald play last Sunday after being arrested in August for a domestic violence incident involving his pregnant girlfriend. "Now our coach says, innocent until proven guilty, due process and all of that, but the fact is he shouldn't have played," said Pelosi. 
Fans and legislators continue to demand Goodell's resignation. He has insisted that he never saw the footage of Rice punching out Palmer until last week, but an Associated Press report claimed that an NFL official received the tape in April. The NFL's handling of the Rice incident is currently being investigated by former FBI Director Robert Mueller.
Attorney Gloria Allred resurfaced 2006 domestic violence allegations made against NFL star wide receiver Brandon Marshall on Wednesday, claimed that Goodell ignored the charges. Clarence Watley, the father of the alleged victim Rasheedah Watley, joined Allred at a press conference and called for Goodell's resignation.
"In my letter to commissioner Goodell, I told him that I wanted to express my feelings and distress of how disappointed I was in the way the Denver Broncos had handled this situation since Brandon Marshall's draft into the Broncos organization," Clarence said.
The Peterson and Rice incidents have shed light on the NFL's history of dealing with domestic violence issues.  This new scrutiny comes on the heels decades-long debate about the name of the Washington Redskins also continues to taint the league. For years, elected officials, civil rights leaders, and fans have called upon the NFL to replace the team's name, which they have called a "racial slur." Democratic Sen. Maria Cantwell of Washington this week made public her plans to introduce legislation to eradicate the NFL's tax-exempt status because of Goodell's refusal to change the name.
A group of nine Democratic House lawmakers and one Republican last May renewed the discussion about the controversial name when they sent a letter to Goodell and Redskins owner Dan Snyder. Several other legislators have since crafted similar letters to the two leaders. Some legislators have urged Goodell to follow National Basketball Association Commissioner Adam Silver, who earlier this year fired Los Angeles Clippers owner Donald Sterling after a recording surfaced of the 80-year-old making racist comments.
Additional reporting by Michele Richinick