More than five million Americans won't have health insurance coverage if their states don't expand Medicaid by 2016, a new White House report found.
An estimated 5.7 million uninsured people won't receive health coverage in 24 different states that have opted not to accept federal funding to expand the country's social health care program, according to the document, which was released Wednesday by the White House Council of Economic Advisers.
Additionally, the states will lose billions of federal dollars that could boost their local economies.
On the other hand, if every state expanded Medicaid, the number of Americans carrying health insurance would increase by 10 million in two years.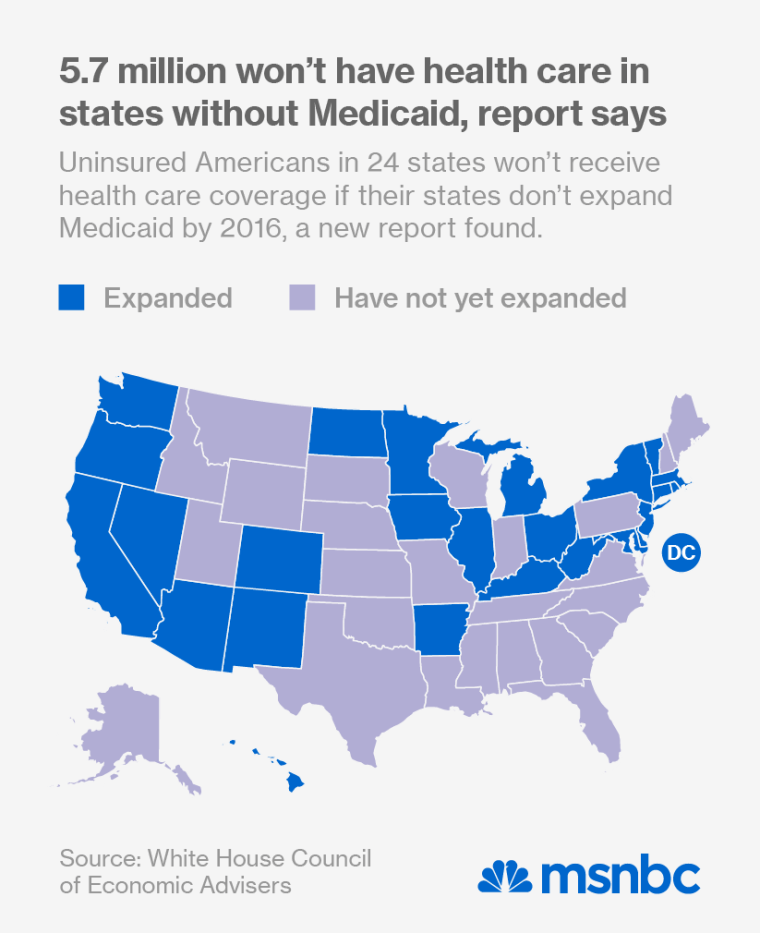 If leaders in a state like Louisiana change their minds and accept Medicaid expansion, 265,000 residents could be covered, The Times Picayune reported. Some of the other states not yet expanding Medicaid include Alaska, Florida, Maine, Oklahoma, Pennsylvania, Texas, and Utah.
Certain residents who live in the 26 states and the District of Columbia that will expand Medicaid will qualify for health coverage if their incomes are $16,105 for a single adult. At least 5.2 million people have gained Medicaid or Children's Health Insurance Program coverage in the areas that have accepted the program. Among the states expanding Medicaid are Arkansas, California, Colorado, Hawaii, Massachusetts, New Hampshire, and New York.
The open enrollment period to sign up for the Affordable Care Act (aka Obamacare) began last October with the now-infamous botched rollout of the health care website. Obamacare has since expanded affordable health coverage to millions of Americans.
Medicaid, jointly funded by the federal government and states, provides health insurance to eligible low-income families and individuals. It is a large component of the ACA's overall approach to expanding health insurance coverage. The government will pay all of the costs of covering newly eligible individuals through 2016.
The report details the effects of states' decisions regarding Medicaid expansion on access to care, financial security, overall health and well-being of residents, and state economies.