The NBC News national exit poll found that midterm voters are evenly divided -- 48% supporting and 48% opposed -- on the legality of same-sex marriage, similar to the views of voters in the 2012 presidential election.
RELATED: Judge strikes down Kansas gay marriage ban
Support for gay marriage had been building over the past few election cycles. Four years ago, 41% of voters nationwide said same-sex marriage should be legal in their home state. In 2012, 49% of voters supported it.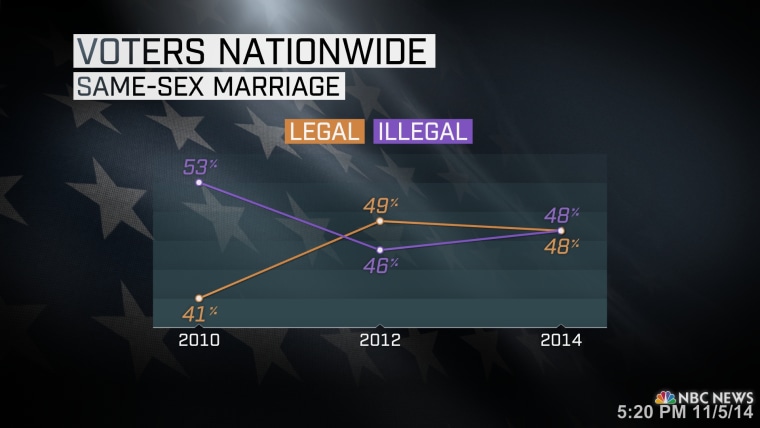 Proponents of gay marriage have seen huge gains since the Supreme Court struck down the Defense of Marriage Act in June 2013. In 32 states and Washington, D.C., same-sex couples can now marry legally. Kansas would become the 33rd state to recognize gay marriage if the state's attorney general does not appeal a court ruling that struck down a gay marriage ban there.
Support for the issue has shifted most dramatically among younger voters. In 2010, a bare majority -- 52% -- of voters under the age of 30 said same-sex marriage should be legal in their state. Now, that number stands at 64%.
RELATED: Government recognizes same sex marriages in six new states
Older voters have also increasingly supported legal same-sex marriage, although the shift has not been as large as among their younger counterparts. Four years ago, just 29% of voters age 65 and over supported gay marriage. Today, nearly 4-in-10 -- 38% -- of this group say gay and lesbian couples should be able to marry legally in their state.
In past years, Republicans used same-sex marriage as a wedge issue to their advantage in close elections to draw their base out to the polls. In 2004, 11 states had ballot referendums barring gay marriage – all of which passed.
Four states just started to allow same-sex marriages one month ago, after bans there were overturned by the courts. A majority of voters in two of those states – 62% in Colorado and 55% in Alaska – support legal recognition. That is not the case in the other two states where the courts have ordered officials to recognize same sex marriage. Voter support for legalizing same sex marriage stands at 39% in North Carolina and 31% in West Virginia.
Visit NBC News Decision 2014 for more exit poll results and election returns.