The South Carolina police officer who shot and killed Walter Scott after he turned and ran says an infamous video does not show the whole story of what happened on the morning of April 4 — and he says the truth will come out.
"Just that three seconds of the video came out. And everybody thought I was racist, and I just got out of my car and just shot him in the back for no reason,"Officer Michael Slager told NBC News in a Skype interview from jail.
"That's what makes me upset is that nobody knows what actually happened," he said. "But now it's gonna come out."
RELATED: Majority of white and blacks feel race relations are bad, poll finds
The comments came as his lawyer outlined a defense: Slager didn't know Scott was unarmed, felt threatened, and made a quick decision to shoot because he believed Scott might pull a gun and shoot him first.
And in documents filed Tuesday ahead of a bail hearing on Thursday, Savage argues the state's own evidence shows Slager did not commit murder.
The filings allege that Scott's DNA was found on Slager's Taser, and that gun shot residue was found on Scott's hands — purportedly indicating there was a struggle for both weapons.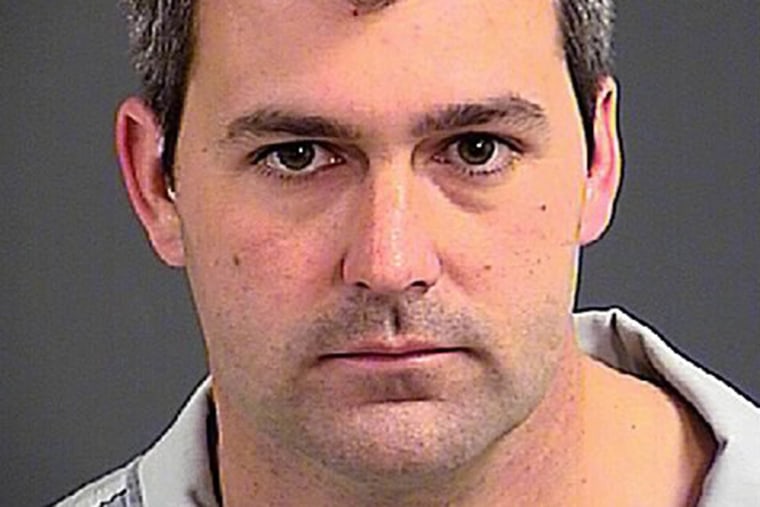 A grand jury indicted Slager for murder in the North Charleston shooting, and a video clip recorded by a passerby made it the latest episode to call police conduct into question, particularly in encounters with unarmed black men.
Slager stopped Scott, 50, for a broken taillight. A dashboard camera inside the officer's cruiser captured video of Scott fleeing on foot.
When the officer caught up, the bystander's video captured what appeared to be the end of a struggle, and then Scott turning to run. Slager fired eight times from some distance.
The officer's lawyer, Andy Savage, told NBC News that Scott grabbed Slager's Taser and fired it twice at the officer, only missing because he didn't know how to operate it.
Slager fired "because he felt threatened," and had no way to know Scott was unarmed because he had not had the chance to pat him down, his lawyer said.
"He sees irrational behavior of a suspect, at that time," Savage said. "He sees a guy who's committed four felonies in the last minute and a half — violently resisting arrest, assaulting a police officer, robbing the police officer of his weapon Taser, and using that Taser in attempt to harm him. Four felonies in the last 30-45 seconds."
After he took off running, Scott pivoted, the lawyer said, at which time the officer figured "the logic is that was going for a weapon."
"Four months later, you can sit down with your cold beer and your TV show and watch the video and say, 'Ah, he wasn't armed,'" Savage said. "Well, good for you. Would you have known that at the time that the officer had to make a life-and-death decision? The guy has violently attacked him, violently tried to use the Taser against him."
The video also raised suspicion because Slager, after Scott was down, appeared to drop the Taser beside Scott's body.
Savage, the lawyer, said that only appeared suspicious through the prism of other cases of fatal encounters between police and unarmed black men, including Michael Brown in Ferguson, Missouri, and Eric Garner on Staten Island.
"If you wanted to erase all those background issues in the prism you're looking through," Savage said, "you would say he's securing a weapon." Thirty seconds later, he said, the officer picked up the weapon and holstered it.
Savage described his client as a "Joe Six-Pack" and "just a regular guy." He said that Slager is sorry for what happened.
"He's certainly very concerned about the loss of life," Savage said. "I don't want to say he's desperate about that. But he realizes that his actions resulted in the death of somebody. That's a heavy thing for anybody.
"If an average guy, whether he's driving a car and runs over a pedestrian or — whatever it is and there's a loss of life, it comes back and haunts you," said Savage. "And he's haunted by that."
Scott's family meanwhile says that despite any new evidence, they believe Slager committed murder.
"What truly matters in this case is this, the context to this situation is already caught on tape," said Scott family attorney Chris Stewart. "Everything else we've seen is distraction information, trying to make people think whatever transpired before is relevant and important. But it's not."