COUNTRY CLUB HILLS, Missouri — Michael Brown Sr. sat in the front row of a little storefront church on Sunday, his head slightly bowed as the pastor delivered a thundering sermon on slow justice and children taken too soon. 
At one point, the congregation drew close, clenching their eyes in prayer and extending their hands toward Brown, a father still grieving the death of his son, Michael Brown Jr., killed two months ago in nearby Ferguson.
"As I said last Sunday," the Rev. Carlton Lee said, "there is a war going on against our young men."
Brown Sr. nodded softly. 
"I can get by maybe day by day. People probably look and see me, probably think that I'm doing OK and I'm really not."'
The killing of Brown's unarmed 18-year-old namesake by a Ferguson police officer on Aug. 9 rocked the family to its core, but also drew a fault line across race and class lines that has extended from the region throughout the nation. The family has kept a relatively low public profile since the younger Brown's death, addressing the occasional crowd of supporters or leading marches in Brown's honor.
But in a rare interview on Sunday, Michael Brown Sr. spoke exclusively with msnbc, detailing how his faith has helped him power through his grief, and how the pressure to fight for justice for his son belies his broken heart.
"To be honest, it's a whole lot on my back now. It's a situations where I'm not going to never heal in the inside," Brown Sr. said, standing outside of the Flood Christian Church, about a two-minute drive from where his son was shot. "I can get by maybe day by day. People probably look and see me, probably think that I'm doing OK and I'm really not."
"It's just something I have to work on, just stay prayed up and be positive to people around the world and other folks, the people that need me to be strong with them," he said. "Because we have a lot of support and I have to be strong for other people, too."
This weekend, thousands of Brown family supporters including many from out of state, descended upon Ferguson for what organizers have billed as a "Weekend of Resistance," in which protesters have marched, rallied and staged acts of civil disobedience. Hinged on calls for justice for the slain young men, organizers say the actions are to broaden the call for justice for countless nameless, faceless young people killed by cops each year and end to police brutality.
"I get my strength from a higher power. It's hard to explain because I actually don't even know how I'm moving around, but he does," Brown said, glancing up into the clouds. "It's petty hard. It's just hard, it's hard, it's hard."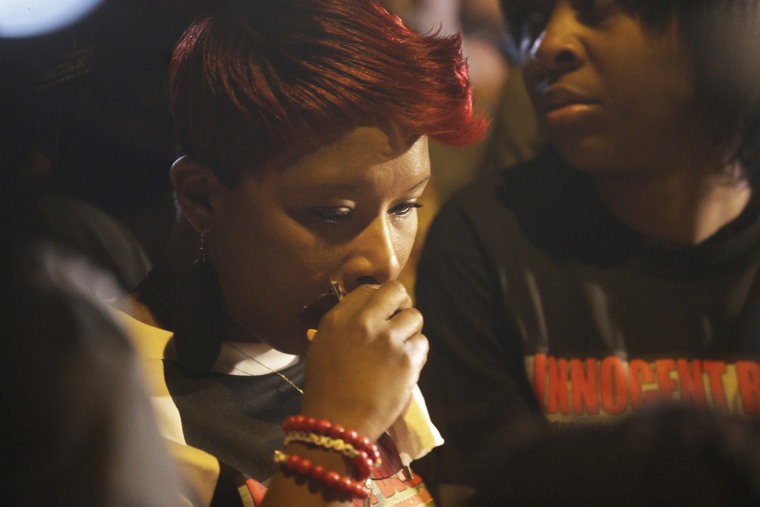 On Saturday night, Brown's mother, Lesley McSpadenn, led a two-mile march of a hundreds from the scene of her son's killing to the Ferguson police department. A hush fell over the awaiting crowd as they parted to make way for McSpadden and members of her family. McSpadden, with dark sunglasses on her face, never addressed the crowd, which had swelled to about 1,000 people.
A family member grabbed a bullhorn from one of the protesters and asked them to remain focused.
"Peace, peace, peace," he called out.
The events came just days after the killing of another black teen by police in nearby St. Louis addend an extra jolt of anger as protesters there have tangled with police and question the police version of events in that case. 
The family of that teen, Vonderrit Myers Jr., 18, was scheduled to attend services at Flood Christian on Sunday, but in the middle of Rev. Lee's sermon he received a text from the teen's father cancelling.
"I just can't move," Lee said the text read.
Drenched in sweat and undoing his tie, Rev. Lee lamented that neither teen, both 18, both their father's namesake, never got the opportunity to grow into men because officers "decided to be judge, jury and executioner."
Police say Myers shot at an off-duty officer with a 9mm handgun, which jammed after Myers squeezed off three shots. The officer responded by firing 17 shots, police said.
In the wake of Michael Brown Jr.'s death over the summer, thousands of protesters from Ferguson and across the many small, predominately black municipalities that dot the suburbs of St. Louis took to the streets in anger over the younger Brown's death. Many were insulted that police left his body in the street uncovered for more than four hours and fed up by what they say has been continued harassment and abuses by police. 
Police say Officer Darren Wilson killed Brown during a struggle for the officer's gun, a story refuted by a half-dozen witnesses who say the officer gunned Brown down as he attempted to flee and then surrender.
Unrest erupted just hours after the shooting. Hundreds gathered along main streets. Looters struck local businesses. Some shops were torched. In the following weeks as spontaneous protests grew larger and more unwieldy, so did the police response. 
Meanwhile, as images of Ferguson on fire were being beamed across the nation, Brown's father and mother, Lesley McSpadden, called for peace. But they also called for justice.
"An arrest for me would be justice," Brown Sr. told msnbc, standing outside of the Flood Christian Church on Sunday.
Supporters have demanded the same and more, calling for the county prosecutor overseeing the case, Bob McCulloch, to step down. Critics don't believe McCulloch can be trusted to run a non-biased prosecution of the case, given a family with deep ties to law enforcement and past failing to indict white officers who've killed unarmed black men. McCulloch convened a grand jury several weeks ago and it has yet to decide if Wilson should be charged in Brown's killing. A spokesman for the prosecutor's office said the jury has by now heard nearly all of the evidence in the case and has heard testimony from the key witnesses, including Wilson who testified before the body for about four hours. 
"An arrest for me would be justice."'
In the absence of a decision and with still vague and scant details regarding the shooting, protesters have grown increasingly angry, albeit more organized. Many expect more violence if an indictment is not handed down. And on the streets of Ferguson, almost to a person, say they have little faith that an indictment will happen.
State and local officials have been planning in case of violence, including the possibility of a forced evacuation of Ferguson. 
Brown Sr. said he's busy grieving and fighting in his dead son's name and that all his family wants is peaceful protests. When asked if he's concerned about more violence if Wilson isn't indicted, he said simply, "I just have to pray."
"As long as they're not using my son in vain on what they are doing as far as the looting and stuff like that, I have no control over anyone," he said. "Only thing I can do is pray for their soul to be able to go home to their families and have a positive outlook on their situation."
Despite the handful of bad apples that have sought to provoke police and enflame an already seething situation in Ferguson, Brown said he's in awe of how much support his family has received.
"We just really appreciate all the love and support from all over the world," he said. "The last thing that he said before he passed was that everyone was going to know his name. I didn't know it would be this way."